LPGA Tour No. 1 Lorena Ochoa subject of new documentary

By
William K. Wolfrum
,
Contributor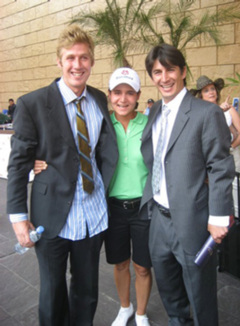 View large image
Christopher Vitiello (left) and Jonathan Ochoa spend some quality time with the subject of their documentary, Lorena Ochoa. (Courtesy Christopher Vitiello)
Christopher Vitiello has discovered a foolproof method on how to get your career rolling after you graduate from college.
"You have to find a friend who has a famous family member, and you make a documentary film about them," said Vitiello, who has those requirements in longtime friend Jonathan Ochoa, cousin of the world's No. 1 woman golfer, LPGA Tour star Lorena Ochoa.
After graduating from UC Santa Cruz, Vitiello proposed the idea to his friend, who jumped at the idea of making the film about his famous kin.
"I was stuck in that 'everything is a movie' mode," said Vitiello. "This is what I'm loving to do right now. And Jon jumped on it."
That was in 2006; since then the two have seen everything from Lorena getting an award at Augusta, to helping a child with his homework at the school she funds in Guadalajara, Mexico.
"We've gone from Donald Trump's Mar-A-Lago to one of the poorest communities in Mexico and all along the whole spectrum," Vitiello said. "We've met so many different people, all connected to Lorena."
In making the as-of-yet-untitled 90-minute documentary, the young filmmakers (both are 24) have seen both of their families come together to help make the vision a reality. Vitiello's father has helped the pair greatly, including gifting his son with the camera the pair now use, and the two are quick to thank MOM Productions (their mothers), as well as virtually all other family members.
"I think we've gotten rides to and from airports from every one of our siblings - it really is a team effort," said Vitiello, who graduated with a degree in anthropology. "They see the motivation. They themselves are inspired by Lorena."
Vitiello and Ochoa, who look to get as wide a release as possible for the film in 2008, have also done whatever it takes themselves to raise money for their film, working as valets and caddies, as well as at toy stores and other jobs to scrape together the money they need to keep the film rolling.
In the end, both Vitiello and Ochoa and their families have been touched and motivated by Lorena's spirit and positive personality. Vitiello spoke of when his mother met Lorena for the first time, "and she still doesn't stop talking about her."
"When we started is when she started to take off, winning a lot of tournaments. Watching her handle herself, with that pressure, has been really amazing," said Ochoa, who studied sports management and multimedia in the United States, Spain and Australia. "I feel like we've seen her grow up on the course and off the course. She really gives people her full attention when talking with them."
Having spent time with Lorena in Mexico, the pair have been constantly amazed at just how popular the former Arizona State golfer has become in her home nation.
"To put it into perspective, last week at the Morelia Corona Championship, the President of Mexico showed up to giver her an award," Jonathon Ochoa said. "Right now in Mexico, the Mexican soccer league playoffs are about to start, but in the paper they're putting women's golf stories ahead of soccer stories."
Through the journey, the pair have seen firsthand how Lorena has adapted to her role as a celebrity, and has become even more focused on her golf game.
"For me a huge turning point was the win against Annika at Bighorn; after that she has an inner confidence that hasn't left since," Vitiello said. "Then we saw her after the off season, and it was like she grew into herself - she just has so much confidence."
In making the film, the pair - who together make up Los Pistoleros Productions - is looking to take a deeper look inside the mind of a top professional athlete, with Lorena Ochoa's battle to win her first major part of the story line. The pair look to wrap up filming at the Women's British Open in St. Andrews, where they hope their film gets a happy ending.
"If Lorena wins, that would be amazing," Jonathan Ochoa said. "The home of golf, a Mexican lady winning there. It would just be a perfect peak to our movie."
May 10, 2007
William K. Wolfrum keeps one eye on the PGA Tour and another watching golf vacation hotspots and letting travelers in on the best place to vacation. You can follow him on Twitter @Wolfrum.