What to do for Dad? Father's Day 2016 golf gift guide

By
Kiel Christianson
,
Senior Writer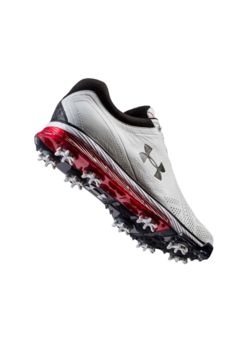 View large image | More photos
Under Armour's flagship line of golf shoes is making an instant impact on Tour. (Courtesy of Under Armour)
Father's Day 2016 will find me returning from a quick visit to Oakmont for the early rounds of the U.S. Open. If you are in the position geographically and/or monetarily, a great Father's Day gift would be a trip to Pittsburgh to watch some of the Open. In fact, Pittsburgh has become a true urban success story, rebuilding and reinventing itself into a hub of high-tech firms, art galleries, haute cuisine and recreational activities of all sorts, including golf.
But if Pittsburgh, Oakmont and the U.S. Open aren't in your plans, here are a few excellent alternative golf-related gifts for Dad:
Cigars and Cigar Monster Humidor Jar
The 1990s were boom years for both golf course construction and cigars. Since then, the prices and accessibility of premium smokes and several premium courses have actually come down a bit.
If Dad enjoys a rich, smooth stogie now and again, Famous Smoke Shop (www.famous-smoke.com) is probably the best online source for cigars and accessories. There's even an auction site, along with a link (www.cigarmonster.com) where there's a name-your-price section. I'm particularly fond of my Cigar Monster Humidor Jar ($20) that vacuum-seals my bargain smokes -- such as one of the best cigars I've ever smoked, the Romeo y Julieta House of Capulet Toro ($93 box of 20).
If you want some advice to find Dad's favorite cigar, check out the affiliated www.cigaradvisor.com site.
PuttHugger
Is your dad a sucker for clever gadgets? If so, pick up a PuttHugger ($10, PuttHugger.com) for him. This little 4-in-1 contraption clips onto the shaft of your putter and provides ball markers, pitch mark repair tool, ball towel, and club rest (or cigar rest, if you prefer). The only catch is that you need to watch to make sure it doesn't snag on your golf bag as you pull your putter in and out.
Under Armour Tempo Tour golf shoe
Under Armour was big before Jordan Spieth, just not in golf. After last year, though, UA has become a power player in the world of golf apparel.
This year marks the introduction of the first UA golf shoes. The top of UA's inaugural golf shoe line is the UA Tempo Tour ($220). These shoes might be a bit stiffer than expected out of the box, but they provide a rock-solid foundation for your swing, including maybe the best support for my outer arch that I have ever felt in a shoe.
They passed my test for all new golf shoes: walking 18 holes straight out of the box with no blisters. The asymmetric black and white design is eye-catching, too.
Golf Buddy CT2
GPS devices have proliferated over the past years, providing golfers not just yardages to the center of the green but to front and back and to hazards. Some popular manifestations of these devices are phone apps and watches.
But if you don't want to carry your phone on the course (like me) or don't like wearing a watch when you play (again, like me), the Golf Buddy CT2 ($150, golfbuddyglobal.com) is a great alternative. The no. 1-ranked micro-GPS device comes pre-loaded with 38,000 golf courses worldwide, with yardages to greens and hazards for all of them.
Best of all, the tournament-legal CT2 fits in your pocket as easily as a ball-marker and has a 17-hour battery life. The only downside is that it is so compact, older eyes might have a little trouble focusing on some of the information if reading lenses aren't available.
POWERHANDZ Pure Grip Golf Gloves
Maybe ol' Dad could use a boost in his strength and fitness regimen. POWERHANDZ makes weighted gloves for training in all sorts of sports. The Pure Grip Golf Gloves ($70, powerhandz.com/golf) are bulked up with up to 16oz of flexible weighting to build finger and forearm strength, increase clubhead speed and help you get a feel for where your hands are during the swing.
Be careful with the sizing, though; my hands aren't huge, but the L-sized gloves are so snug that they are tough to get on and off. (They fit my 12-year-old son perfectly.)
Top Flite Gamer Stand Golf Bag
Papa need a brand new bag? At Dick's online (dickssportinggoods.com), there's a great sale on the Top Flite Gamer Stand Bag ($99). The full-length dividers between the 14 club slots, the waterproof faux-fur valuables pocket and the insulated cooler pocket keep your most important gear safe, along with six additional pockets. The Gamer bag weighs only 6 pounds and features comfy dual straps and pop-out carbon-fiber stand legs.
BIG MAX Autofold FF Pushcart
Add to Dad's fitness by giving him a new pushcart to wheel that new golf bag around. The BIG MAX Autofold FF ($270, BigMaxUSA.com) is the latest engineering marvel from the top "trolley" maker in Europe (where most golfers walk rather than ride).
The Autofold FF is a three-wheeled cart that allows you to fold up its wheels with one simple movement of the hand, rather than having to flip a bunch of separate levers.
Pinnacle Soft and Pinnacle Rush Golf Balls
The two new lines of Pinnacle for 2016 are nothing short of revolutionary. They are simply named and easy to remember -- and easy on the wallet at just $16/doz. The Pinnacle Rush comes in white and yellow and has a slightly higher-compression core and firmer outer cover. This construction maximizes distance but allows for reasonable feel around the greens, especially for mid- to high-handicappers. My son told me to be sure to tell everyone that, "The Pinnacle Rush is the most awesome ball ever!"
The Pinnacle Soft comes in white and a light pink. It is the softest Pinnacle ever, with compression in the mid-40s, and the cover is softer than the Rush. To me, the Soft is one of the best budget friendly, low-compression balls on the market. If Dad is looking for feel around the greens, these are a great alternative to the high-priced "tour" balls.
GolfNow.com gift card
Last but not least, take Dad out to play with a gift card from GolfNow.com (giftcard.golfnow.com). Nothing makes us dads happier than playing with the family. Even my wife and daughter come out to play the local par-3 course with me on Father's Day.
It's the best day on the course of the entire year -- and the reason I'll happily decline the opportunity to be at Oakmont for the final round of the U.S. Open. With all due respect to the USGA, I'd rather play the par-3 with my wife and kids.
Happy Father's Day!
More photos
«
»
May 27, 2016
Kiel Christianson has lived, worked, traveled and golfed extensively on three continents. As senior writer and equipment editor for WorldGolf.com, he has reviewed courses, resorts, and golf academies from California to Ireland, including his home course, Lake of the Woods G.C. in Mahomet, Ill. Read his golf blog here and follow him on Twitter @GolfWriterKiel.