Golf in Portugal's Algarve region: Head east for cheaper tee times, less congested golf courses

By
Clive Agran
,
Contributor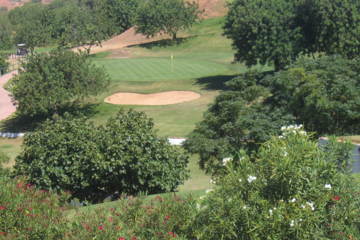 View large image | More photos
The pretty par-3 10th hole at Benamor Golf Course in Portugal's Eastern Algarve region. (Clive Agran/WorldGolf.com)
The western half of Portugal's Algarve region is stuffed with famous golf courses. Still, the cheaper, less crowded Eastern half boasts some top-notch courses of its own, including Quinta da Cima G.C. and Monte Rei.
FARO, Portugal - They say you can divide the world into two - those who divide the world into two, and those who don't.
You may or may not have known that, possibly depending upon which of the two groups you belong to, if indeed there are two groups. But I bet you didn't know that you can divide the Algarve into two!
Assuming that you're sufficiently interested in what might appear to be a rather philosophical discussion to be hanging in there, you are now probably wondering in what way can the Algarve be divided?
Could it be along political lines and split between those who wish the Algarve to remain part of Portugal and separatists who would prefer it to be an independent golfing state? Or maybe it's a cultural clash between golfers and non-golfers where the former want to treble the number of golf courses over the next 10 years, dump the Euro in favor of making Titleists the official medium of exchange, and ban the wearing of T-shirts and denim in all public places.
The truth, as is often the case, is rather more prosaic. The divide in the Algarve is simply geographical between east and west. So, if you want to impress your golfing friends with your altogether more intimate knowledge of the area, you should describe anything to the west of Faro as the Western Algarve and anything to the east as the Eastern Algarve.
However, don't make the mistake of thinking that what we're dealing with here is simply a matter of nomenclature. East is east and west is west, and although the twain may meet in the duty-free shopping area inside Faro airport, there are significant differences between them.
The Western Algarve (turn left out of the airport) is stuffed with more famous golf courses than you can shake an olive branch at. They read like a golfing gourmet's menu of irresistibly appealing dishes.
"I'll start with a plate of Penina, followed by a Vale do Lobo (medium/rare), a portion of Palmares and a baked Vilamoura for desert, all washed down with a chilled bottle of San Lorenzo."
Eastern Algarve golf: Cheaper, less crowded
It sounds delicious, but wait until you get the bill. Ah, now we've hit with all the force of a well-struck 3-iron on one of the principal attractions of the Eastern Algarve (turn right out of the airport) - it's cheaper. It's also very much less developed and considerably less crowded.
If the separatists were to triumph and the Eastern Algarve were to go its own way, then Tavira would be the capital of the breakaway state. It's a pretty port with narrow cobbled streets, a roman bridge over a tidal stretch of river, loads of great restaurants and almost enough churches to enable the devout to visit a different one every Sunday of the year.
The old quarter, with its ancient castle, is certainly worth a visit, and the energetic could comfortably walk around the town in less time than it takes to play nine holes. In the summer at least, that probably should be done at night, when it's both cooler and the whole area is beautifully illuminated.
Golf courses in the Eastern Algarve
All the best golf courses in the Eastern Algarve are packed into the 25 kilometer (15 mile) stretch between Tavira and the Spanish border. Those close to or abutting the sea, such as Quinta da Cima Golf Club, Quinta da Ria Golf Club and Benamor Golf Course are more easily reached by driving lazily along the old coast road, the N125, while the ones up in the hills, such as Monte Rei, Castro Marim Golfe and Country Club and Quinta do Vale Golf Resort, can be speedily reached via the A22 motorway.
As this is the quieter end of the Algarve, neither road is particularly busy, and because the pace of life is altogether slower you might opt for the N125 simply to keep in tune with the gentle rhythm of things. If you do, not only will you be able to take advantage of the bright orange "Golfe" signs, which clearly indicate where all the courses are, but you will also arrive on the first tee in an appropriately relaxed mental state.
Although the golf courses are sited in convenient clusters, they are strikingly as dissimilar as the architects who designed them. For example, Jack Nicklaus's magnificent Monte Rei is a very different animal to Seve Ballesteros's altogether more technical Quinta do Vale.
Apart from impressive quality, what they all share is a deliberate and profound attempt to fit in with, and make as little impact on, the natural environment.
Seemingly less affected by the recent economic downturn and boosted by the addition of courses of undoubted quality, the Eastern Algarve is undergoing a modest boom.
However, it is keen to retain its distinctively quieter character and not to repeat the mistakes, it perception has been made by its busier and bustling western neighbor. Rudyard Kipling was right, east is east and west is west.
More photos
«
»
September 15, 2009
Although in his 60s, with a handicap of 15 and lifetime earnings comfortably below $100, Clive Agran nevertheless still believes he can win a major. Arguably England's most gifted golf writer, when not dreaming of glory he's scouring the globe simultaneously searching for lost balls and great golf courses. Follow Clive on Twitter at @cliveagran.