Puerto Rico's golf capital is still scenic Dorado

By Jason Scott Deegan,
Senior Staff Writer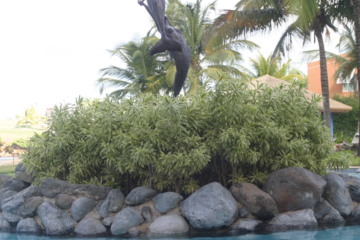 View large image | More photos
The pool complex at the Dorado del Mar Beach & Golf Resort steals many bathers away from the beach. (Jason Deegan/GolfPublisher.com)
DORADO, Puerto Rico - The signs on the city's streets may still direct visitors to the shuttered Hyatt Dorado Beach, but the golf capital of Puerto Rico is moving on.
The Hyatt shut down in May 2006, abandoning a beautiful beachfront hotel complex and its relationship with the 36-hole Dorado Beach Golf Club. But longtime director of golf Junior Colon said the that turn of events won't affect the club's ambitious plans for its two Robert Trent Jones Sr. golf courses.
Along with slight modifications to its West Course, Dorado GC will do an extensive revamp of its East Course, a former Senior PGA Tour site. Robert Trent Jones Jr. will be entrusted with reshaping his father's designs.
"We are going to wipe out all the greens and start from scratch," Colon said. "We want to get them up to USGA standards. We'll add length to the course to get a PGA Tour event. We'll cement the cart paths, add drainage to some holes."
And there's a resort ready to fill the void left by the defunct Hyatt. The Embassy Suites Dorado del Mar Beach & Golf Resort offers many of the amenities of the former Hyatt: a beachfront setting, multiple restaurants, a fabulous pool and good golf, along with 174 luxury suites, many with ocean-view balconies.
Recent changes have created an almost all-inclusive experience for guests, with several complimentary amenities: wireless Internet access, full-service breakfast buffet and a nightly manager's reception with drinks and snacks.
This remains Puerto Rico's top golf destination for players who crave variety and convenience, with a wide choice of quality golf courses within an 10-minute drive. It's also just minutes from one of the island's most popular attractions, the Bacardi rum distillery, and an hour's drive from the Rio Camuy Cave Park, home of the third-largest cave system in the world.
Dorado golf courses
The Dorado del Mar Golf Club is just a chip shot from the Embassy Suites, with a lighted driving range and putting green for evening practice - a real blessing during tropical summers.
What the 6,940-yard course lacks aesthetically (the main resort road cuts right through it) it makes up for with strategy and variety. Native son Chi Chi Rodriguez routed a challenging test with water on 10 holes. The climax comes on the par-5 10th, where the fairway climbs to a cliff-perched green with stunning water views.
Dorado del Mar is the area's best golf value, but Dorado Beach East delivers the best golf experience. The sound of the waves is always in earshot on this 7,000-yard track, and the par-5s rival those of any course anywhere.
Jack Nicklaus called the Z-shaped 525-yard No. 4 one of the best holes in the world; two large ponds force players to carefully analyze every angle of attack, and ocean breezes caress its elevated green. The 590-yard 14th tumbles downhill toward jungle that feels more likeJurassic Park than country club.
The East course gets the praise (it's routinely rated one of the island's top three tracks), but Colon favors the 6,975-yard West, with its zigzag fairways.
"From the back tees, it demands more shots," he said. "You use the whole bag."
Just across the street from Dorado Beach and sharing management (by KemperSports), the Plantation Club sports two Raymond Floyd designs, the Pineapple and Sugarcane courses. Both got a spruce-up as part of a $6-million upgrade that also included a grand two-story clubhouse.
In response to the Hyatt's departure, the Plantation Club opened 36 guest cottages.
Dorado dining
You can't go wrong with any of Dorado's clubhouse restaurants. The Oregano Italian Grill & Bar at Dorado del Mar serves good pizza in a casual setting. Hacienda del Sol, overlooking the Dorado Beach East course and the ocean, serves Latin American cuisine, and there's eclectic new world cooking at Zafra Restaurant at the Plantation.
For great mofongo, a local stew served with crushed plantains, try La Terraza just outside Dorado del Mar. There's no better way to enjoy a steamy afternoon than lunch, and perhaps a vacation cocktail, on the covered patio, with fans circulating a cool breeze.
More photos
«
»
March 26, 2007
Jason Scott Deegan has reviewed more than 700 courses and golf destinations for some of the industry's biggest publications. His work has been honored by the Golf Writer's Association of America and the Michigan Press Association. Follow him on Twitter at @WorldGolfer.