When golfing Cozumel, try these can't-miss restaurants

By
Tim McDonald
,
Contributor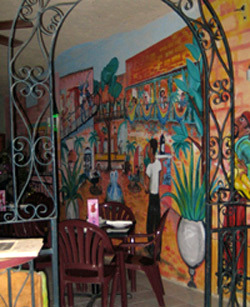 View large image
The French Quarter in Cozumel serves fine Cajun food. (Courtesy Photo)
You haven't had real Mexican food until you truly head south of the border. And that includes the Island paradise of Cozumel, where any number of great Mexican - and international - restaurants await you after your round of golf.
You might think you've had real Mexican food here in the United States if you've stopped by your local Pedro's Taco Outlet, but you might be surprised if you ever go to Mexico to golfand sample the real deal.
Real Mexican food can be quite different, even from the famous Tex-Mex dishes found in border states with great golf climates like Texas.
Tortillas, for example, can be made with flour but are also made more traditionally from maize, especially down south.
Frijoles - beans - are usually boiled before they are fried, and you absolutely must remember this: The bigger the chilies are, the milder they tend to be. The small habanero will have you calling the fire department.
You've never had guacamole until you've had it in Mexico; it just seems to taste so much better there. Made from avocado, onions, chili and cilantro, it is delicious and healthy.
With this little intro in mind, remember to sample some of the Mexican restaurants on a Cozumel golf trip. Try to order some Mayan dishes as well as Mexican.
Being on the water, some of the better restaurants specialize in seafood, serving dishes like ceviche: fish or conch marinated with lemon, vinegar, onions, tomates and cilantro.
You'll also find fresh fish and shellfish like lobster, shrimp and grouper, with subtle and not-so-subtle Mexican spices.
Still, Cozumel is an international destination and if you tire of Mexican food - or if your palate just can't take anymore - you have options. Here are some Cozumel restaurants we recommend.
French Quarter
One block off the plaza, French Quarter serves, quite obviously, Cajun food. The big terrace overlooks the busy street below, or you can start the evening with a drink at the restaurant's big bar inside.
How about some Cajun Caribbean chicken tenders, fried crawdad tails or gumbo?
Guido's
Guido's has been around for 30 years and is still run by the founding family.
It's an open-air eatery that specializes in Swiss-Italian food, but also serves fresh, local seafood.
Try the thin-crust pizza from wood-fired ovens and their hand-made pastas with sangria.
Wynston
This is a Mediterranean-Asian fusion restaurant at the top of the El Cantil Hotel, across from City Hall, with panoramic views of the sea.
It serves steak, veal, lamb and local lobster and seafood, and claims the largest wine cellar in the golf-happy Yucatan. The Sunday champagne brunch is very popular.
Palmera's Restaurant and Bar
Palmera's is in front of the main plaza, across the street from the pier and ferry landing. It's been there since 1972.
Pepe's Grill
Pepe's is great for steaks, as well as prime rib and lobster.
Chi Restaurant
This Chinese restaurant serves food made by four chefs from the golf destination of Hong Kong. Try the Cozumel King Crab, salt and pepper calamari, and sushi. It also has an extensive Sunday brunch, not to mention free wireless Internet. A great ocean view.
La Cabana del Pescador or 'Lobster House'
The Lobster House is right across the street from the Playa Azul Golf and Beach Hotel, a few minutes away from the hubbub of downtown.
It claims to serve the freshest lobster in Cozumel; it is fresh indeed. You pay by the weight. Also, the steak, grilled grouper, barbecue shrimp and chicken are excellent. For dessert, try the Key Lime pie.
La Cocay
La Cocay specializes in Mediterranean food with a touch of Mexico and the Caribbean. It also serves steak, sushi, and fresh seafood, like tuna. A large wine selection is available.
Pancho's Backyard
Pancho's backyard is a longtime favorite on the island, inside the Los Cinco Soles mansion.
The food is considered fine Mexican dining, and the margaritas are top-notch.
July 24, 2007
Veteran golf writer Tim McDonald keeps one eye on the PGA Tour and another watching golf vacation hotspots and letting travelers in on the best place to vacation.