CordeValle resort near San Francisco offers low-key luxury in the heart of California's wine country

By
Katharine Dyson
,
Special Contributor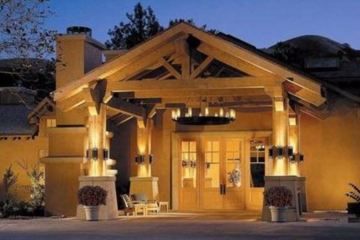 View large image | More photos
CordeValle, a Rosewood Resort in northern California appeals to golfers as well as couples looking for romantic getaways. (Courtesy of CordeValle, a Rosewood Resort)
SAN MARTIN, Calif. -- At CordeValle, a Rosewood Resort, about a half hour from California's San Jose International Airport, it's all about personal service and low-key luxury in a secluded, extraordinary setting. With just 45 rooms terraced up the foothills hills of the Santa Cruz Mountains and a scenic Robert Trent Jones Jr. golf course, CordeValle appeals to golfers as well as couples looking for romantic getaways.
Set on close to 1,700 acres, CordeValle is also home to Clos LaChance Winery, a clubhouse, meeting facilities, a fitness center, restaurants and Sense, a 5,000-square-foot Rosewood Spa with a simple but elegant menu of services, many incorporating indigenous natural products such as its Grapeseed & Cherry Bark Scrub.
"We work hard to create a customized program for our guests," Nicole Hollinger, spa manager, said. "If they want a private, guided hike with an instructor up to one of our yoga platforms in the hills, we can arrange it. If they want to work with a personal trainer or set up a program for healthy eating, it's done."
Right from 1999, when CordeValle Golf Club opened, it attracted prestigious events such as the PGA Tour's Frys Open, the 25th PGA Cup and the 2013 USGA Senior Women's Amateur Championship.
Playing 7,360 yards from the tips with five tees, the course rolls through canyons and hillsides planted with sycamores and oaks, while water comes into play on a handful of holes, such as the 18th, a par 5 where a pond runs along the left.
"The big thing here is the subtle elevation changes and fast greens," Tom Gray, golf course superintendent, points out.
And the green on the par-5 third, considered one of the toughest holes on tour at 605 yards, has only been reached in two by John Daly and one other.
CordeValle options: Bungalows, villas and homes
CordeValle's rooms in bungalows, villas and homes are furnished in posh California-craftsman style with creamy walls, wood trim, fireplaces, wet bars and tan leather chairs. Appreciated luxuries include bathrobes, slippers, goose-down comforters and Frette linens along with double marble vanities, whirlpool tubs and large glass showers.
Villas have steam showers, enclosed patios, outdoor showers and private whirlpools. Fairway Homes -- configured with four bedrooms, each with a private bath, entrance and garden, and grouped around a stunning living room, butler's kitchen and dining room -- are good for traveling foursomes and couples
Memorable dining at CordeValle
Executive Chef Luca Rutigliano cooks with locally grown produce creating dishes such as the house-made pumpkin gnocchi.
When you dine in Il Vigneto, think Tuscany meets California with specialties such as white sweet potato fries stacked in a cone, bison strip loin with condiments and sauces like wild mushroom or béarnaise. The 24 oz. rib eye, said Gray, is, "thick and juicy like you'd find at Gibsons in Chicago. Just incredible."
Lion's Peak Grill is a causal, outdoor restaurant. Try this: Instead of eating on the patio, order your meal and have it delivered to you on the golf course.
The One Iron Bar is the place to order a specialty drink such as a martini or margarita, then a light meal, perhaps a wedge salad with a trio of pork sliders or 9 oz. Wagyu Kobe burger.
CordeValle caddie Jon Guenther described the resort as "a nice little slice of heaven in the middle of nowhere."
It may seem like "nowhere," yet CordeValle is less than an hour from San Francisco. And miles away from stress and flash mobs.
"I pinch myself everyday. It's just so neat out here," said Gray.
Golf near CordeValle: Pasatiempo Golf Club
Not that far from CordeValle in Santa Cruz, visitors can tee up at the classic semi-private track Pasatiempo Golf Club. It was designed by Dr. Alister MacKenzie and founded by U.S. Women's Amateur Champion Marion Hollins, who set out to "build the best course west of the Mississippi." A sign near the first tee leads up to her former home, now a restaurant where you enjoy great views of Monterey Bay.
The cedars and Austrian pines have grown tall, but the course has changed remarkably little since Bobby Jones, Glenna Collette Vare, Brit champ Cyril Tolley and Hollins teed off in 1929. Sure it's been updated with a better irrigation system and new grasses, but Pasatiempo's slick, crowned, undulating greens, dramatic elevation changes, carries over ravines (such as on holes No. 10, No. 11 and No. 18) and routings remains true to MacKenzie's original masterpiece.
The par-4 16th, thought to have been MacKenzie's favorite, is where Bobby Jones talked him into designing Augusta National.
Patty Sheehan, former LPGA player, summed it up when she said, "It is one of the real secret sleepers in the world of golf."
More photos
«
»
January 10, 2012
Katharine Dyson is a golf and travel writer for several national publications as well as guidebook author and radio commentator. Her journeys have taken her around the world playing courses and finding unique places to stay. She is a member of the Golf Writers Association of America, Metropolitan Golf Writers of America; Golf Travel Writers Organization and Society of American Travel Writers. Follow Katharine on Twitter at @kathiegolf.