The Club at Spanish Peaks in Big Sky, Montana: A majestic mountain golf escape

By
Mike Bailey
,
Senior Staff Writer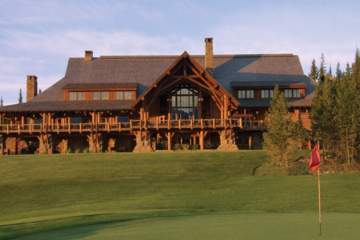 View large image | More photos
The 25,000-square-foot Spanish Peaks clubhouse offers lodging as well as fine dining. (Courtesy of the Club at Spanish Peaks)
BIG SKY, Mont. -- Southwest Montana is "America the Beautiful." It's that land of spacious skies and purple mountain majesties that we sing about.
Just seeing it is enough for most Americans, but imagine playing golf in this environment. And not on just any old course, but one that's well laid out, incredibly conditioned and supported by first-rate service and accommodations.
Such is the case at the Club at Spanish Peaks, a private ski and golf club with limited resort play located near Yellowstone National Park. Here you can experience eagles of both kinds, on the scorecard and in the sky.
Golf carts come equipped with a can of grizzly bear mace, and the scenery around the golf holes is so breathtaking, the occasional blow-up hole that Tom Weiskopf's splendid 7,200-yard layout occasionally produces isn't that upsetting.
A four- or five-day trip to Spanish Peaks -- whether with a group of buddies, families or another couple -- is the great escape from everyday life. Here time has little meaning as you soak up the long summer days, wondering about the super volcano underneath that formed this remarkable landscape millions of years ago.
And golf is just the beginning. As a ski resort, Spanish Peaks may be one of the best in the country and certainly one of the most exclusive. But this story is about summers and falls.
Guests here can enjoy everything the great mountain West has to offer -- fly-fishing, hiking, horseback riding, mountain biking, hunting. You name it, anything outdoors -- they can hook you up at Spanish Peaks. But best of all, you can stay here in a rustic but luxurious environment, whether it's at the resort's clubhouse or one of its other stay-and-play options.
"There are a lot of great mountain golf courses, there are a lot of great ski hills in the West, but nowhere can you combine the year-round activities all under one roof," said Scott Johnson, Spanish Peaks marketing director and host extraordinaire. "You can ski out the back door or tee off out the back door.
"And we're still wild. We're part of the Yellowstone ecosystem. You can see wolves, moose, and grizzly bear at any time. It's something that makes it a little more exciting than some other cool places."
Staying at Spanish Peaks
Spanish Peaks has only 262 members (with a goal of 900) so there's plenty of room for prospective members and guests. Most who come to Spanish Peaks fly into Bozeman. From there it's a 45-minute drive to the club, which sits on 5,700 acres, the majority of which will always be wilderness.
Lone Peak, at 11,166 feet, is the highest mountain and most dominant feature of the area. From the resort, you can ride chairlifts to the summit of Lone Peak. In the wintertime, that means world-class skiing; during the summer, it's just incredibly scenic.
"Five lift rides, and you're standing on the summit of that thing," Johnson said. "It's insane because you look into Idaho and Yellowstone."
To the north of the club are the Spanish Peaks, which is part of the Lee Metcalf Wilderness area. And from the tee on the 15th hole, you can see Madison and Gallatin mountain ranges.
Guests have their choices of accommodations. They can stay at the 25,000-square-foot grand log cabin clubhouse where there are seven luxurious rooms that even come with heated bathroom floors. There are also seven cabins with three to six bedrooms each and three luxurious, large custom homes, and the staff can arrange for in-room spa services such as massage therapy. The resort offers all-inclusive four-day packages in the cabins.
The resort also offers two dining options in the summer -- a more formal main dining room and the casual Saloon, which offers bar fare such as sandwiches, soup and salads. The main dining room features fine steaks and fish as well as wine selections from a 1,300-bottle cellar and tasting room.
Future plans also call for a large lodge behind the 18th green. When completed in the next couple of years or so, it will have 65 units for rent.
Golf at Spanish Peaks
Weiskopf was able to pick the best part of the property to lay out the golf course in 2007. The real estate developments and other amenities followed, which allowed Weiskopf his best routing possible.
And even though there are homes on the course, they are well out of play, and the majority of the holes may never have homes on them.
Spanish Peaks' signature hole is the downhill, par-3 15th, but every tee has postcard views. Still, the 15th is special, with a manmade lake fronting the green and the mountains in the background, as far as the eye can see. The hole is 210 yards from the back tee, but at 7,000 feet above sea level with the tee well above the green, big hitters can get there with a 7- or 8-iron.
In fact, like most mountain golf courses, all the clubs go at least 10 percent farther, but the course doesn't really play any easier. With plenty of doglegs off the tee and tightening fairways, you can't overpower Spanish Peaks. Good course management is critical for scoring, and accuracy off the tee is rewarded.
The course has plenty of memorable holes, too many to recount, really. The second, for example, is a downhill right-to-left par 5 that's easily reachable in two but very risky because the green is tucked around the bend of a lake and hill, with hazard to the left. Coming in with anything longer than a mid-iron is very risky.
The par 3s are particularly intriguing. The third hole is 231 yards and plays downhill; the 174-yard eighth is particularly scenic. No. 11 and No. 18 are well-designed, risk-reward par 5s, and the 17th, as is Weiskopf's trademark, is a drivable, downhill par 4, which sets up well for match play.
Other things to do at Spanish Peaks
No trip to Spanish Peaks would be complete without a visit to nearby Yellowstone National Park. Home of the famous Old Faithful Geyser as well as scores of other geysers, hot springs, fumaroles, mudpots and a lake, Yellowstone covers more than 2.2 million acres and covers parts of three states.
More than a million visitors come to Yellowstone, where you can hike, fish, camp or simply take in nature and the many forms of wildlife, which include bison, bears, coyotes, wolves, bighorn sheep and endless fowl.
The Club at Spanish Peaks can set guests up with excursions to Yellowstone as well as other sites, on and off property. The resort can arrange fly fishing, kayaking, guided whitewater rafting, horseback riding and mountain biking on its own property or the surrounding wilderness.
Fly fishing, for example, doesn't get any better than the Gallatin, Madison, Jefferson, Yellowstone and Missouri rivers and all their feeder creeks. If you're skeptical, just rewatch the movie, "A River Runs Through It."
More photos
«
»
August 1, 2011
Mike Bailey is a senior staff writer based in the Houston area. Focusing primarily on golf in the United States, Canada, the Caribbean and Latin America, he contributes course reviews, travel stories and features as well as the occasional equipment review. An award-winning writer and past president of Texas Golf Writers Association, he has more than 20 years in the golf industry. Before accepting his current position in 2008, he was on staff at PGA Magazine, The Golfweek Group and AvidGolfer Magazine. Follow Mike on Twitter at @Accidentlgolfer.