The Cliffs at High Carolina: Tiger Woods to add to a world-class golf development near Asheville, N.C.

By
William K. Wolfrum
,
Contributor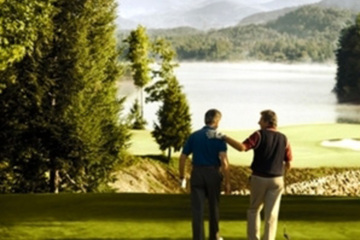 View large image | More photos
The Cliffs is proud to be ranked once again by Travel + Leisure Golf as "one of America's Top 100 Golf Communities." (www.CliffsCommunities.com)
When Tiger Woods announced that his first golf course design in the United States would be at The Cliffs at High Carolina - the eighth community in The Cliffs' collection of private, master-planned residential developments - it was easy to start thinking that the brain trust at The Cliffs was playing at a level far beyond the rest of the field.
After all, golfing members at The Cliffs already have a bounty of riches at their disposal. The Cliffs counts two Jack Nicklaus Signature designs, two Tom Fazio designs and a Gary Player Signature design among its eight golf courses. And now Tiger Woods - who previously announced that his first-ever golf course design would be in Dubai - will put his mark on this esteemed collection of communities. Could this all have been part of some brilliant master plan? Not entirely, says Scott Beville, president of sales and marketing at The Cliffs.
"This is far beyond even what (founder and president) Jim Anthony thought we would grow into," Beville tells WorldGolf.com. "It's really a testament to the team Jim Anthony has put together."
More than anything, The Cliffs has used strong organization and spectacular land to help convince some of golf's biggest names to help create one of the most distinct golf experiences on the planet.
"Our company's goal is simply to create the best place to live, work and play in America," Anthony likes to say.
And with the riches of the region's land, it gets easier to see how The Cliffs has grown into a unique group of communities. Each of The Cliffs' communities is located in the Carolina Preserve - a quality-of-life corridor connecting Asheville, N.C., to Greenville, S.C., that features 14 state parks, three national forests and one national park. Add to that the fact that Asheville has long been considered one of the best places to live in the U.S. - it was named one of the "Top 20 Places to Live in the World" by Barron's and one of the "Top 10 Places to Buy a Second Home" by MSN Money - and it's easy to see how Woods was charmed by the area.
"I chose The Cliffs at High Carolina because of the great people and the amazing location," Woods said when announcing the design. "I'm really looking forward to making it a premier destination to share with my friends and family."
Woods' design will bring The Cliffs' line-up of championship courses to eight, with the additional seven designs located just minutes apart. All are accessed by one membership, making it "one of the most comprehensive and impressive club memberships in the world," according to Resort Living magazine.
North Carolina is a hotbed for golf, as some of the game's greatest names have put their mark on a unique landscape that appears created for the soul purpose of inspiring amazing golf course layouts. But even for The Cliffs, where the elite have already made their mark, the announcement that Woods would make it his first U.S. design sent ripples of excitement through the private communities.
"The members love it because it really adds to the reciprocal membership," says Beville. "Now they'll have included in that membership Tiger Woods' first U.S. course. This whole area is really excited about it because it's not often you get the word's No. 1 golfer on your team."
Beville says the deal for the land was closed at the beginning of the year, and that The Cliffs' management met with Woods through a mutual friend. After that, it took a few months to woo the world's No. 1 golfer. Beville says that while they were excited about Woods and his design team coming on board, they are prepared for the work ahead.
"For us as a company, it's a wonderful opportunity and also a big responsibility," Beville says. "It adds a level of excitement and enthusiasm, but it's not our first golf course. Our guys have been through this before and have a lot of experience."
Routing has already begun on the land, and Beville says they intend to break ground at some point in 2008. With the unique landscape, Woods and The Cliffs are looking for a "walking course" where players can get as much from the spectacular scenery as the golf course itself.
"The land lends itself to a walking golf course," Woods said in a press release. "Walking is integral to golf, and it will be very unique to have a walking golf course at elevations up to 4,000 feet."
More photos
«
»
August 23, 2007
William K. Wolfrum keeps one eye on the PGA Tour and another watching golf vacation hotspots and letting travelers in on the best place to vacation. You can follow him on Twitter @Wolfrum.