Cherokee Run Golf Club in Conyers, Georgia: An Atlanta-area favorite returns to form

By Kevin Dunleavy,
Contributor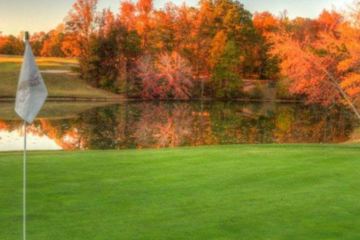 View large image | More photos
Cherokee Run's greens are better than ever, writes one GolfNow reviewer. (Courtesy of Cherokee Run G.C.)
Atlanta golfers are delighted to see an old favorite, Cherokee Run Golf Club, return to its previous form, even if that means one of the area's toughest tests is as hard, fast and challenging as designer Arnold Palmer envisioned.
After Cherokee Run was rescued from bankruptcy in 2010 by the city of Conyers and closed down for restoration, the course has regained its luster, producing reviews such as this on GolfNow.com from hardwoodtrail.
"Huge, positive change over the past 18 months," hardwoodtrail wrote. "New greens are 1,000- percent improved! Removal of trees that had over-grown fairways and greens made overall course more playable."
Cherokee Run has five sets of tees between 7,016 yards and 4,948 yards. The rating (75.1) and slope (143) from the tips reflect the challenge. Located 30 miles east of Atlanta and opened in 1995, there is startling elevation change at Cherokee Run. Stately Georgia pines line the fairways and natural granite outcroppings dot the rugged landscape.
Good lies are abundant on the zoysia fairways and the greens have been upgraded by the elimination of 500 trees, providing more air. A switch from bent grass to Bermuda in 2012 has made the greens more durable and true, earning the approval of MKMKMK of Duluth, Ga.
"I can't say this enough times. The greens are fast. Like 12-13 fast. Like PGA Tour fast," he wrote. "I've played here couple years back during the decline. The new management invested the time and money to bring this course back to true form."
Of the 62 reviews of Cherokee Run posted on GolfNow.com -- all since September 2012 -- 23 assign a five-star rating to the course. The only course east of Atlanta with a higher percentage of five-star reviews was The Oaks (17 of 32), located 20 miles to the south of Cherokee Run. Both courses have an average rank of 4.3, ahead of other popular choices in east Atlanta -- The Creek at Hard Labor (4.1) and Ashton Hills Golf Club (4.0).
Many of those who rank the course highly, such as seve4, a single-digit handicap, revel in the challenge.
"A tough but fair layout that rewards good shots and severely punishes errant shots. Lots of forced carries that, if negotiated, provide birdie opportunities but if not negotiated result in double bogey or worse," he wrote. "Last four holes are one of the toughest finishing stretches in the state."
Those final four are nicknamed "The Trail of Tears," a takeoff of the forced relocation of Native Americans in the 1830s. The 18th, a 463-yard par 4 with a creek running across the front of the green complex, is the No. 1 handicap hole and a final reminder of the difficulty and excellence of Cherokee Run.
"The course will demand EVERY shot you have, just to survive it!" wrote SkeezyWeezle of Mesa, Ariz. "It was a vicious test of my abilities, but it was a welcome one. I immediately took the replay and took what I learned to my advantage. In other words, it is going to kick you in the teeth the first time you play it."
More photos
«
»
May 9, 2013
Kevin Dunleavy is a longtime resident of northern Virginia, a graduate of George Mason University, an award-winning reporter covering golf, colleges, and other sports for the Washington Examiner, and a single-digit handicap still seeking his elusive first hole-in-one. Follow Kevin on Twitter at @KDunleavy.