Search for the stars at these celebrity-owned golf courses

By
Jason Scott Deegan
,
Senior Staff Writer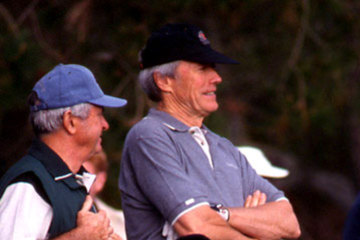 View large image | More photos
An ownership group that included Clint Eastwood purchased the Pebble Beach Company in 1999. (Courtesy of seemonterey.com)
There are thousands of celebrities who love golf.
Famous actors (Samuel L. Jackson), athletes (Tony Romo) and even politicians (President Barack Obama) are hooked on chasing around the little white ball.
Only a select few, however, are so smitten with the game that they spent their own hard-earned money to buy a course of their own. Country crooner George Strait called buying Tapatio Springs Golf Resort & Conference Center in April 2011 a "dream come true."
Celebrity owners -- even those not named Donald Trump -- bring some serious public relations and marketing cache to their properties. Some fans will make a tee time hoping to catch a glimpse of their favorite celebrity just in case they're in town for a meeting or a round.
Celebrities are not guaranteed success, though, especially in a business as competitive as the golf industry.
Former pro hockey player Len Barrie built the beautiful 36-hole Bear Mountain Resort on Vancouver Island with multiple former NHL players as investors before foreclosure gave the massive real estate, hotel and golf development back to the bank.
Private courses and courses owned by golf celebrities aren't included in this story (Sorry, Jack and Arnie). That knocks out a handful of Trump properties, along with Tehama Golf Club, a northern California club owned by Clint Eastwood, and Club de Golf Le Mirage, a private course near Montreal owned by Celine Dion. True to form, Eastwood, Palmer and Trump still found a way to get on our list.
The star power behind Pebble Beach Resorts
The most famous celebrity-owned course just happens to be arguably the most well known course in the world, Pebble Beach Golf Links, located on California's stunning Monterey Peninsula.
In 1999, an ownership group that included Eastwood, Palmer and former MLB commissioner Peter Ueberroth, purchased the Pebble Beach Company for $820 million. Considering tee times cost nearly $500 a round these days, that was money well spent.
Pebble Beach, fresh off the 2010 U.S. Open won by Graeme McDowell, will continue to host a PGA Tour and Champions Tour event each season leading up to the 2019 U.S. Open, the 100th anniversary of this Jack Neville design. There's no better stretch in golf than holes 7-9 along the cliffs.
Spyglass Hill Golf Course and the Links at Spanish Bay are regularly overshadowed but still considered among the top 100 public courses in the country. Del Monte Golf Course has history on its side as the oldest continuous course west of the Mississippi still in operation today.
Try to "Trump" this collection
If you believe the words from The Donald himself, he owns the best links in the world, the new Trump International Golf Links in Aberdeenshire, Scotland, and the best oceanfront course in California, Trump National Golf Club in Rancho Palos Verdes near Los Angeles. For a bit of rational perspective, Golfweek rates Trump National No. 21 among the top public golf courses in California in 2012. Trump's Scottish links, designed by Martin Hawtree, continues to receive mostly rave reviews after opening earlier this year.
Love him or hate him, Trump has been great for golf. His portfolio of 13 courses is fantastic, although most are private. Trump's purchase of the Doral Golf Resort & Spa should greatly enhance that resort and its famed TPC Blue Monster, which is scheduled to be renovated by Gil Hanse in 2013.
The 36-hole Trump International Golf Club in Puerto Rico will host a PGA Tour event, the Puerto Rico Open, the same March weekend as Doral in 2013, once again shining a bright spotlight on the man who can't get enough of it.
Building a Boardwalk Empire in New Jersey
Ron Jaworski might be a "football guy" -- thanks to a long NFL career as a quarterback for the Philadelphia Eagles (among other teams) and as an NFL analyst for ESPN -- but he's a golf guy, too. Jaworski has built a golf empire in New Jersey. He owns four solid courses: Blue Heron Pines Golf Club, Running Deer Golf Club, Valleybrook Country Club and RiverWinds Golf and Tennis Club. Riverwinds was ranked 14th among the best public golf courses in New Jersey by Golfweek in 2009 before falling off the list. Golf Digest gave Running Deer the final spot among the top 20 courses in the state -- public or private -- in 2005-06.
A labor of love in Tennessee
Boy-bander-turned-rock-star/actor Justin Timberlake has spent millions transforming Mirimichi golf course in Millington, Tenn., near his hometown of Memphis, into one of the "greenest" golf courses in the world. Not the color but green as in environmentally friendly.
Timberlake played the former Big Creek Golf Course as a child and jumped at the chance to buy the place four years ago. The 7,400-yard championship course was one of the first 10 courses in the world to be certified by the Golf Environmental Organization (GEO) for its eco-friendly practices. Golfweek ranks Mirimichi (which means a "place of happy retreat" in Cherokee) fifth among the state's top public courses. There's also Little Mirimichi, a par-35 executive course, and the Mirimichi Performance and Learning Center, one of the select few club-fitting facilities in the country featuring Callaway CPAS technology.
Anything-goes golf in Texas Hill Country
Locals don't call Pedernales Golf Club by its name. It's better known as "Cut-N-Putt" or more accurately, "Willie's Place."
Country music legend Willie Nelson bought the little 3,300-yard nine-holer in Spicewood, Texas -- some 45 minutes northwest of Austin -- in 1979. Its Web site indicates the course is just "eight songs" from the capitol city, and the course logo looks like a guitar that doubles as a golf bag with clubs jutting out the top.
If you're looking for a celebrity sighting, this is one course where the odds are just a bit higher. Nelson, who reportedly owns a home overlooking the course, regularly brings friends out to play when he's in town. A large recording studio, used by Tanya Tucker, Merle Haggard and other stars, sits adjacent to the clubhouse.
The course, designed in 1968 by Frank Howard, won't win any "best of" awards, but offers a unique laid-back feel. The different vibe comes from Nelson, who plays the game by his own set of rules. Need a free drop from the hard pan? Willie won't mind. He just wants you to enjoy the day and the views of the Pedernales Valley.
A rebirth for Tapatio Springs
Six months after purchasing the resort, George Strait, and his friend and business partner Tom Cusick, cut the ribbon on the new and improved Tapatio Springs Golf Resort & Conference Center, located in Boerne west of San Antonio in Texas Hill Country. They made extensive cosmetic changes to the 112-room hotel but left the course alone. The rolling hills give the 27 golf holes a nice natural feel. Troon Golf was hired in 2012 to further enhance the golf operations.
"Tom and I always believed that Tapatio Springs could be a true Texas treasure," Strait said. "The renovations are incredible."
"Renewing the resort has been an exciting adventure," added Cusick, who has been a Boerne resident since 1985. "Preserving Tapatio Springs is essential to maintaining the history, culture and beauty of the Texas Hill Country -- and something George and I feel lucky to be a part of."
More photos
«
»
November 6, 2012
Jason Scott Deegan has reviewed more than 700 courses and golf destinations for some of the industry's biggest publications. His work has been honored by the Golf Writer's Association of America and the Michigan Press Association. Follow him on Twitter at @WorldGolfer.