California's Napa Valley has that dream combo of golf and wine
By S. Adam Cardais,
Contributor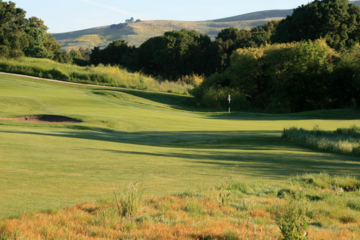 View large image | More photos
Scenic Chardonnay Golf Club ambles through wildlife preserves and vineyards. (Courtesy of Chardonnay G.C.)
California's Napa Valley is a wine-loving golfer's dream: miles of world-class vineyards and wineries complemented by just enough fine golf courses to prevent an all-out bender.
"Golfers who visit the Napa Valley for wine tasting know the area makes a vintage setting for golf," Brandon Tucker wrote in a feature story for GolfCalifornia.com.
"There are sunny skies seven or eight months a year [and] rolling hills with lots of opportunities for interesting layouts. Wine is the main event, but golf is a worthy cause in Napa Valley."
Whether you're looking for a light white to wash down a stroll on some of northern California's best fairways or a big, bold Cabernet Sauvignon to mark a record round, Napa Valley won't disappoint.
Napa Valley golf courses
Chardonnay Golf Club: Unfolding through an actual vineyard, Chardonnay Golf Club has hosted numerous prestigious events, including the Northern California Open Championship and the PGA Tour Qualifier. The course ambles through 130 acres of vineyards and wildlife preserves.
Napa Golf Course at Kennedy Park: Golf Digest gave this Jack Fleming/Bob Baldock design 3.5 stars in its 2004 "Places to Play" listing.
Measuring 6,704 yards from the black tees with a 131 slope rating, the course winds through gradual elevation changes around the Napa River estuary. There's water on 16 holes, and plenty of bunkers, but Napa isn't just for the scratch golfer. Three sets of tees make it accessible to a range of skill levels.
Silverado Resort: Silverado's South Course and North Course cover 360 acres of land boasting flora, several water features (including three creeks), tree-lined fairways and strategically placed hazards.
Robert Trent Jones Jr. designed both tracks in the 1960s. The 6,900-yard North Course at Silverado is the longer track, but the 6,685-yard South, with its dozen-odd water crossings, is considered tougher.
At the white-pillared 19th-century mansion that is the epicenter of the resort, golfers will find two restaurants and several meeting rooms there. Silverado also has eight swimming pools and a spa.
Some Napa Valley wineries
Beringer Vineyards: Opened in 1876, Beringer is the oldest continuously operating winery in Napa Valley, and it's well worth a visit to sample the company's rich wine-making tradition. Beringer offers daily historic tours, food and wine events and two tasting rooms. Its Web site even includes tips for pairing wine and food.
Rubicon Estate: Formerly the Inglenook Estate, this winery was purchased in 1975 by filmmaker Francis Ford Coppola, director of the Godfather trilogy and Apocalypse Now. Located in one of the state's premier Cabernet Sauvignon regions, this property has been producing some of California's finest vintages for more than 100 years. Make sure to try Rubicon, their flagship wine.
Stags' Leap Winery: This 240-acre wine estate opened in 1893 and was named after an old Indian legend that told of a stag bounding across the crags of the nearby palisades to escape hunters. Stags' Leap offers a range of white and red varietals and is best known for its Cabernet Sauvignons. Tours are available by appointment.
More photos
«
»
May 16, 2007