Great golf on the Georgia coast: Brunswick and the Golden Isles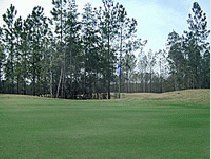 View large image | More photos
Coastal Pines Golf Course in Brunswick, Ga. offers 6,803 yards of golf amid beautifully wooded surroundings. (Courtesy coastalpinesgolf.com)
For great golf on the Georgia coast, Come Coast Awhile in Brunswick & The Golden Isles! From the mainland to the islands, along river, marsh and sea, lie 198 holes on some of Georgia's and the nation's most spectacular and widely acclaimed golf courses.
Mainland Brunswick offers 36 holes on two courses. Coastal Pines Golf Course offers 6,803 yards of golf amid beautifully wooded surroundings. Oak Grove Island Golf Club features 6,916-yard layout by Mike Young, with two signature holes along the banks of the Turtle River.
St. Simons Island offers 45 holes of golf. The King and Prince Golf Course at The Hampton Club is located among the rivers and marshes of the island's north end. Designed by Joe Lee, the King and Prince course includes four challenging island holes amidst the spectacular Marshes of Glynn. Sea Palms Golf and Tennis Resort, located mid-island, features 27 holes and has been the site of numerous state and regional golf tournaments.
The Sea Island Golf Club, on the southern tip of St. Simons Island, offers 54 holes of world-class golf on the Seaside, Plantation and Retreat courses, as well as the Sea Island Golf Learning Center. Sea Island Golf Club courses and the Learning Center are available to Cloister and The Lodge at Sea Island guests, and Sea Island Club members.
The Jekyll Island Golf Club is the largest public golf resort in Georgia, with three 18-hole courses and the historic 9-hole Great Dunes course, originally laid out more than 100 years ago.
Between rounds, enjoy our ribbon-smooth beaches, acres of tennis courts, pier and sport fishing. Take a ride aboard a 60-foot working shrimp boat, explore our rivers and marshes during a dolphin watch cruise, or enjoy the sights from our casino cruise ship. There's a treasure trove of fascinating historic sites and museums, interesting shops and galleries, and great restaurants wherever you go.
You'll find accommodations of every type, from convenient Interstate hotels on the mainland to full-service resorts, national chain hotels, bed-and-breakfast inns and rental cottages on the islands. There's even a private island retreat. Many hotels offer year-round stay-and-play golf packages, so you can focus on your game rather than your wallet.
Located on the Georgia coast, Brunswick & The Golden Isles of Georgia are just minutes from I-95 at Exits 42, 38, 36 and 29. Brunswick Golden Isles Airport offers roundtrip regional jet flights to Atlanta, aboard ASA/Delta Connection. International airports are located in Jacksonville, Fla. and Savannah, Ga., each about a one-hour drive.
Remember, for great golf on the Georgia coast, just add water! Start your own golf tradition in Brunswick & The Golden Isles of Georgia. Call today for a free Visitors Guide or visit our official website, ComeCoastAwhile.com. While you're there, be sure to check out the online, printable Visitors Guide and the "Special Offers" section, which contains information about special hotel packages and other discounts.
More photos
«
»
February 11, 2008