Golf in British Columbia: A dream come true for nature lovers
By
S. Adam Cardais
,
Contributor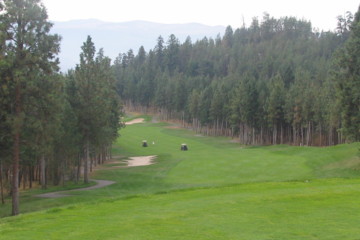 View large image
Quail Golf Course at Okanagan Golf Club is one of the most difficult courses in the Kelowna, British Columbia. (Chris Baldwin/GolfPublisher.com)
There's desert golf, there's coastal golf, and then there's mountain golf. For the latter, no place compares to British Columbia, a can't miss showcase of the best in Canadian golf.
This province of nearly 4 million sandwiched between Alberta and the Pacific Ocean is known for its natural beauty, with transfixing snow capped mountains and glacial lakes providing picture-perfect views. British Columbia is also home to fine golf courses designed by famed architects such as Jack Nicklaus, Arnold Palmer and Robert Trent Jones Jr.
Bottom line: British Columbia golf is an unparalleled experience for nature-lovers. Here's a rundown of some of best British Columbian golf courses.
Quail at Okanagan Golf Club: Located in Kelowna, a wonderland of lakes, wineries and golf, the Quail will test your accuracy, your nerve and your good humor - especially the latter. With its tight, tree-lined fairways, the Quail is the narrowest golf course in the area, and arguably the toughest.
"It's a sharp departure from many of the golf courses in this British Columbia wonderland…" Chris Baldwin wrote in a recent review for GolfCanada.com. "In Okanagan, chilling is a way of life; at Quail your knuckles will whiten from gripping that driver extra tight."
Canadian golf course architect Les Furber tests you on every hole of this 6,794-yard golf course. The 10th is a perfect example. "Some Mt. Everest adventurers experience easier climbs," Baldwin says of the 335-yard par 4, which winds uphill and seems to trick on every shot.
Westwood Plateau Golf & Country Club: With its own helipad, this course is one of the best upscale designs in Vancouver. The good news is upscale has a different definition in Canada, than in, say, Las Vegas, where, literally, it means $300 a round. Not at Westwood Plateau, no sir: Greens fees are only around $150 Canadian.
This Michael Hurdzan design is worth every penny. Playing up and down the slopes of Eagle Mountain, Westwood Plateau is an exceptional housing-development-driven golf course. It's full of elevation changes, beautiful Douglas firs and stunning views, offering a tremendous round of golf.
Harvest Golf Club: Another Kelowna favorite, the Harvest Golf Club is every man's answer to the question, 'Are you really playing golf today?' Built in an orchard, this relaxing course plays through 1,000 apple trees, so if your wife is leery about you hitting the links one Saturday morning, just bring her to Harvest - problem solved.
Harvest is about as relaxing a round as you could hope for. The fairways are wide and spacious, and average duffers won't have to fudge their scores to card a few pars. Designer Graham Cooke didn't make a snoozer, however. He keeps play interesting by breaking up the fairways with patches of taller grass. Golfers will also have to contend with the visual obstacles at the Harvest, such as the stunning views of Lake Okanagan from the fifth hole.
Whistler Golf Club: Designed by Arnold Palmer, this is the most affordable of the area's four high-profile golf courses. It's also one of the most playable, an open 6,676 yard design that makes for a walking-friendly round of golf.
The course features very few tricks and gimmicks, making it accommodating to a range of skill levels. And the surrounding scenery is marvelous.
Whistler Golf Club "combines a memorable setting with a relaxing atmosphere like few other courses," Baldwin wrote in another review for GolfCanada.com.
August 14, 2007