Brian Curley: The name behind the big names at China's Mission Hills mega-golf resort

By
Brandon Tucker
,
Managing Editor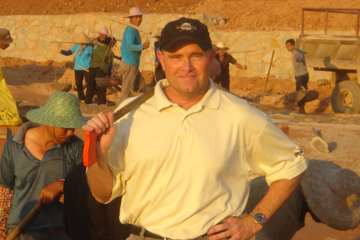 View large image | More photos
Though lesser-known in the U.S. market, Brian Curley is a big name in Asia course design. (Courtesy Tom Breazeale)
Norman, Sorenstam, Couples and Singh are some of the names on the 12 courses at China's Mission Hills, but behind the Tour pro credits is respected course-design firm Schmidt-Curley. Partner Brian Curley talks about his golf journey from Pebble Beach caddie to architect on the world's biggest golf resort.
It's easy to fall for golf when you grow up on the Monterey peninsula.
Golf course architect Brian Curley saw the writing on the wall working as a caddie on the hallowed grounds of Cypress Point and Pebble Beach Golf Links. He knew as a youth that golf would be his profession.
But he also knew he didn't to have the game to make it on the PGA Tour. And he'd "worked around enough disgruntled head and assistant pros in the pro shop to know that wasn't for me." Curley took instead to the design side of the game.
This was the '70s, before the age of celebrity course architects.
"There were a lot of [clubs] back then that had Donald Ross courses and didn't even know it," Curley recalls. "The designer wasn't mentioned anywhere. Now every course is showcasing their designer."
Curley and partner Lee Schmidt have become part of that phenomenon, collaborating on courses with the likes of Jack Nicklaus, Greg Norman and Pete Dye, with whom Curley studied.
Schmidt-Curley's portfolio includes the biggest brand-name design job in golf, the 12-course Mission Hills mega-resort in China - the world's largest golf resort, per The Guinness Book of World Records. WorldGolf.com caught up with Curley between his regular treks to Asia to talk about the state of course design.
WorldGolf.com: When you've got 12 golf courses, all with a different name but built by the same firm on the same property, how different is a Norman course going to be compared to a Sorenstam?
Brian Curley: The most obvious differences would be in the bunker styles. The Norman course is very Australian, like Royal Melbourne. It has tall grasses, rugged, traditional bunker styles. It's not manicured. The Vijay Singh course is more of a Pete Dye, TPC Sawgrass-type course. The Leadbetter and Annika's course are more user-friendly.
WG: There aren't many female names in women's design. Are men going to want to play an "Annika Sorenstam" course?
Brian Curley: I was at Mission Hills [recently] and was asking around what the buzz was, what people are playing. When the Norman first opened, everyone had to play it. It's kind of worn off and is the least demanded now; they're tired of getting beat up. But a few people there told me they're hearing the one many like to play the most is Annika's.
There are also a lot of woman players in Asia, more so than the States. I don't think the name makes much of a difference there. On a one- or two-course complex it might. But when there are 12 courses, I think having a women's name works in its favor.
If the course is a good golf experience and a value, people will play it no matter what the name is. People don't go to movies because of the director. A Martin Scorsese movie might be marketed so, but for the most part a good name won't turn a bad course into a good experience.
WG: When I show up to play a "Gary Player," a "Jack Nicklaus" or another name course, how much of that is the player and how much is his firm?
Brian Curley: It varies from zero to not a whole lot to - sometimes if you can get them involved and they make a few visits to the site, that's pretty good. Everyone knows they don't go out on the Tour, shoot a 66, then say, "I gotta run home and draw up some plans."
WG: Are there players you've worked with who have been far and away more knowledgeable about course design?
Brian Curley: Jose Maria Olazabal was very good at critiquing plans and being on-site with construction, and making comments that reflected he was involved in the design. Fred Couples certainly knows the process and what's going on with any course he's involved in.
Nick Faldo is one as well. Faldo had gotten to the point with us that he kept a notebook in his bag and filled it with little notes. He would pace off shots and let us know whether it was too much or too little club. He's starting to develop his own set of standards.
It really all depends on experience. ... When they're new to it all, they're reluctant to open their mouth. They don't want to say anything stupid. They tend to be tight-lipped. But the more jobs they do, the more confident they are.
WG: There are architects out there like Tom Fazio and Pete Dye whose names stand on their own; they usually don't work with a Tour player to [build a] higher profile. Your firm is less well-known to the golf public.
Brian Curley: We were just voted the No. 2 architect in Asia [behind Robert Trent Jones Sr.] and in front of Nicklaus and Norman. Our name is very strong in Asia. In the States, we're more behind the names, but our brand is getting stronger and stronger on its own.
We get a lot of repeat business from clients we've worked with before. We're also finding more and more people are coming to us and saying, "We don't need a 'Fred Couples' name, yours is fine."
WG: What's your feedback on the great debate about whether classic courses should be lengthened? How much should we tweak courses instead of equipment?
Brian Curley: Everybody gets in a big uproar when the Tour comes to town and tears up a 7,000-yard course. The reality is, even though your average player has gained some distance, your typical course's distance is plenty of golf for almost everybody out there playing. So what if Tiger comes to a members club and shoots 62? What's happening is the gap between the average and the elite is becoming so vast.
You don't have to alter courses for the average player. The game is tough enough. As far as equipment, golf is the only sport without an official ball. Nicklaus has been pushing for a change in the ball. I think he's right.
WG: What project is your firm's biggest triumph, in your opinion?
Brian Curley: The biggest is Mission Hills. I don't think any architect in history has done so many courses in one spot like that. Not only is it big, the process of putting the course down on that ground was a huge achievement. We had to move mountains, literally. It wasn't like plotting a course through dunes.
Brian Curley's top five courses worldwide:
Cypress Point, California
Pebble Beach, California
Championship links at Royal County Down, Northern Ireland
Old Course at Lahinch, Ireland
Pinehurst No. 2, N. Carolina
More photos
«
»
July 3, 2007
Brandon Tucker is the Managing Editor for Golf Advisor. To date, his golf travels have taken him to over two dozen countries and over 500 golf courses worldwide. While he's played some of the most prestigious courses in the world, Tucker's favorite way to play the game is on a great muni in under three hours. Follow Brandon on Twitter at @BrandonTucker and on Instagram at BrandonTuckerGC.