Boston golf clubs: No longer the haunts of blue-blooded Brahmins

By
Joel Zuckerman
,
Contributor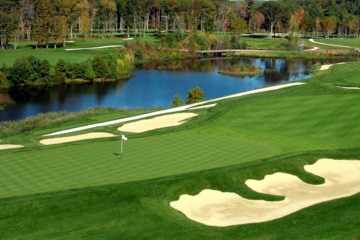 View large image | More photos
The 7th hole at Renaissance Golf Club is one of the most picturesque and challenging on the property. (Courtesy of Renaissance Golf Club)
Think those posh Boston-area golf country clubs are only reserved for New England nobility? Think again. Many new private golf courses have sprung up around the Hub in recent years and the clubs they're attached to are looking for new members. And they don't require that your ancestors have a direct connection with the Mayflower. Looking to join a country club? WorldGolf.com gives you the skinny on accessible private golf in Boston.
Boston Brahmins have any number of excellent private golf clubs at their disposal. The North Shore features the delightful Myopia Hunt Club, which has hosted the U.S. Open four times. The posh Kittansett Club is well south of the city, by Buzzards Bay near Cape Cod, dazzling members and their guests with sweeping water views. In between are stalwarts like Charles River, Brae Burn and Winchester. And of course, the Country Club in Brookline, site of Francis Ouimet's shocking U.S. Open win in 1913, and the equally shocking American comeback in the 1999 Ryder Cup Matches..
But there's good news for those not born directly into Boston's aristocracy: There are several excellent Boston country clubs that are aggressively seeking new members. Here are a few to consider.
Renaissance Golf Club in Haverhill
This 2005 Brian Silva signature course is well-named, as the design inspiration comes from the great Scottish links of the 19th century and landmark American layouts of the 1920s. Some of the green complexes contained here are direct adaptations of British design classics such as the Redan and Punchbowl. Alternate routes of play are possible on most holes, with generously wide fairways punctuated by random bunkering common throughout the course. Raised putting surfaces necessitate a variety of approach shot techniques, and oftentimes the best shots will be played along the ground.
It's a "core course," with no homes on interior, set on 210 acres. One of Renaissance's highlights is a massive practice facility, with an acre dedicated just for teeing grounds, so divot-laden turf is a non-factor. There are also five bunkered, target greens from 100 to 260 yards that simulate playing characteristics.
The course was designed with walking in mind, though carts are certainly available. Almost 60 caddies went through a caddy program in the summer of 2006 and a similar program is planned for 2007.
Current initiation fee is $15,000 (non-refundable), with annual dues set at $5,500 & $6,750 (individual and family). The club wants a total of 350 members, and already has 175.
Bay Club at Mattapoisett
Bay Club is near, but not actually on, Cape Cod, tucked into the southeast corner of the state, a landscape that makes this impressive Brad Faxon—Brad Booth co-design even more desirable. This gated golf community spreads over 625 acres, cut among the maritime forests just an hour from Boston and 40 minutes from Providence, R.I.. Of all the club's attractive geographical attributes, the best might be that it's just a quarter mile from deep water dockage on scenic Buzzards Bay.
The par- 71 parkland course plays just over 7,000 yards from the championship tees, and features old fashioned square tee boxes, push-up greens and 105 strategically placed bunkers.
Membership Deposit is currently $120,000 and is 100% refundable for the time being. Annual Dues are $9,500 for use of all-inclusive country club facilities. There are 240 members currently, with a total of 375 memberships available.
Sterling Country Club
Value is the watchword at pastoral Sterling Country Club, about 50 minutes west of Boston and 20 minutes north of Worcester in the rural community of the same name. While many other private courses have initiation fees well into the five, and even six, figures, Sterling is accessible for just $6,000.
This 1991 Michael Hurzdan design features five par-3s, several with either water or wetland carries. Sloping greens with notable undulation are the primary challenge on this woodland course, with few parallel fairways, but a surfeit of solitude amidst the pines and other hardwoods on property. Barely a dozen homes encroach on this 6,600 yard stroll of seclusion.
Sterling has approximately 275 members, looking for another 50, with current dues between $4,100 and $4,700.
More photos
«
»
April 25, 2007
Joel Zuckerman is based in Savannah, Georgia and Park City, Utah. He is the author of five books, and his golf and travel stories have appeared in more than 100 publications around the world, including Sports Illustrated, Golfweek, Travel+Leisure Golf, Continental and Golf International.