A century later, golf and gaming destination Biloxi, Mississippi lights up the Gulf Coast

By
Brandon Tucker
,
Managing Editor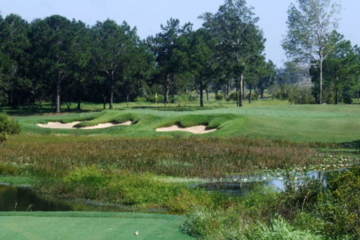 View large image | More photos
Opened last year, Fallen Oak has helped to elevate Biloxi as a golf and gaming destination. (Brandon Tucker/GolfPublisher.com)
BILOXI, Miss. - The year 1908 saw trains full of golf-thirsty Chicagoans take a 13-hour ride from the Windy City south towards the warm, sun-kissed Gulf Coast waters of Biloxi and the brand new Donald Ross-designed Great Southern Golf Club.
Advertisements for the service in those days tempted the Chicago business class with the slogan, "At your desk today, golfing tomorrow".
Going on 100 years after the first Gulf Coast golf course, there have never been brighter days for the Southeast's top golf-and-gaming destination. Today, it's just a 90-minute non-stop flight from Chicago to Biloxi via American Airlines, and new golf courses better than ever are still opening. The rest of the nation continues to discover its unique mix of Vegas-style gaming, Southern hospitality and lowcountry golf.
Two years ago after Hurricane Katrina, the success story of Biloxi wasn't a given. But the coast has used the devastation to galvanize the destination. All the courses, hotels and casinos that were destroyed weren't just rebuilt, but made better.
"When Katrina hit, I think we looked at the opportunity to not get back to where we were, but we collectively decided we had to be better than we were, or we're not going to get through this," said Kevin Drum, executive director of the Gulf Coast Golf Association.
"I'm shocked how quickly we're getting there," Drum said.
Floating barge casinos have been replaced with bigger, brighter Vegas-style hotel & casinos on land. Smaller hotels have been replaced by new condos, a favorable choice for the golfing foursome.
Today, the case can be made for Biloxi as America's top golf-and-gambling destination. What it lacks in the flash of Las Vegas - or the scenic mountain beauty of Lake Tahoe, it makes up for with a collection of scenic, lowcountry golf courses at an unmatched value.
Value in a 24-7 casino market? That can be hard to believe, but Biloxi comes up aces. Few courses peak out over $100 even on high season weekends, and loads more cost half that. No bad night at the tables will prevent you from enjoying a pleasant round of golf the following morning.
Biloxi Must Play Golf Courses
The Preserve - The Preserve plays through 1800 acres of beautiful and natural lowcountry terrain filled with old oaks and native wild grasses.
It's shorter yardage, just 6,774 yards is misleading, as each hole is framed by tall wild grasses, pitcher plant bogs or marshy wetlands. With several short, risk-reward par 4s, this Jerry Pate design has a little bit of everything, and plenty of high drama.
Fallen Oak - No expense was spared in this ultra high-end Tom Fazio design that opened on the one year anniversary of Hurricane Katrina. It was a symbolic statement to Biloxi, announcing the region's golf offerings were now better than ever. Most holes are framed by giant oak trees - many of which were transplanted from various spots on the property (the 18th features the giant fallen oak to which it gets its namesake).
Only guests of the Beau Rivage have access to Fallen Oak (though few whales who put up big cash on the casino floor will be turned away here).
Shell Landing - Playing through a beautifully natural sanctuary of wildlife and wetlands, Shell Landing has plenty of eye candy. But the Davis Love III design features slick greens, many of them crowned and sloping that put a premium on approaches and short game. Several holes, most notably the 6th and 17th, play right along open wetlands, making for the most scenic - and challenging - holes here.
Biloxi Solid Seconds
Great Southern - The golf course that started it all in Biloxi is still relevant in many ways. It's set right on the gulf, which gives it some of the best coastal scenery of any Gulf Coast course, but that also means it took it on the chin from Katrina. The course has since been renovated and is back in prime condition.
Ninety nine years later, Great Southern doesn't stack up with the Nicklaus and Fazio designs of Biloxi, but it's still a charming layout that purists will relish.
The Bridges - Located in the Bay of St. Louis, Arnold Palmer's The Bridges received a massive facelift after Katrina. The result is a course that was already among the top courses along the gulf now even better. Nearly a mile of bridges over 17 lakes and 14 acres of marsh dot the 600-acre natural property.
Grand Bear - Jack Nicklaus' Grand Bear is another casino-owned golf course. You'll find few Nicklaus designs cheaper than this one, though its course is all natural and inspiring. An imaginative figure-eight routing ensures no side-by-side holes, and the final stretch of holes playing along the sandy Biloxi River makes for a dramatic finish.
Biloxi Hotels: Where to stay
About the only thing that survived Katrina at the Hard Rock Hotel & Casino was the giant guitar out front. Newly re-opened, the Hard Rock is better and trendier than ever. Guest rooms go far beyond the basic casino room offerings, with sleek and stylish decorum and a three-point shower system that you better hit snooze one less time in the morning to fully enjoy. Night owls can enjoy the hip rooftop nightclub Rise.
You'll need to stay at the Beau Rivage at least one night if you want to play Fallen Oak, and that's no hardship. This elegant hotel, casino and spa reminiscent of the Bellagio in many ways features spacious guest rooms and numerous fine dining options, including master chef Todd English's Olives.
More photos
«
»
October 2, 2007
Brandon Tucker is the Managing Editor for Golf Advisor. To date, his golf travels have taken him to over two dozen countries and over 500 golf courses worldwide. While he's played some of the most prestigious courses in the world, Tucker's favorite way to play the game is on a great muni in under three hours. Follow Brandon on Twitter at @BrandonTucker and on Instagram at BrandonTuckerGC.