Susan Choi chasing her long-shot LPGA dreams on The Golf Channel's Big Break Kaanapali

By
Chris Baldwin
,
Contributor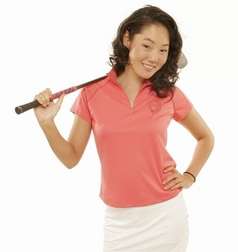 View large image | More photos
Susan Choi, the only amateur to make Big Break Kaanapali, might be the series' best story. (Courtesy of The Golf Channel)
No one wants to go to Hawaii and get their dream golf trip rained on. Susan Choi didn't just get rain during her first Maui experience - she got historic rain.
"They told us it hadn't rained that much in 30 years," Choi said, laughing. "I didn't mind the rain though. I love playing in it. I'm a Mother Nature girl."
Hey, when you're getting your big break, you keep swinging through the drops. Choi is one of the competitors in Big Break Kaanapali, the golf reality program that showcases longshots like Choi and luxurious travel settings - in this case, the Maui resort land of Kaanapali. The first elimination episode in the series airs on The Golf Channel Tuesday, April 22.
Expect to see plenty of Kaanapali, that rain (the producers surely hated the prospect of the all-female cast - which they've featured in swim suits in promos - getting wet while competing) and probably a good dose of Choi, who's one of the best stories the Big Break series has ever had.
Kaanapali is probably the most commercial of Maui's resort areas, which aren't as commercial as those on the big island of Honolulu or as secluded as those on smaller islands like Kauai or Lanai. Kaanapali's a place where you can lounge on a world-class beach during the day, then shop at a Tommy Bahama store or munch at a Haagen-Daz ice cream shop in an outdoor mall at night.
There are also two golf courses - Royal Kaanapali and Kaanapali Kai - which bring you close to the ocean on a few holes, and in Kai's case by the tracks of a steam engine tourist train that causes some vacationing golfers to stop and snap photos. It's overseen by a staff that tries unconventional golfer-friendly things like wine-and-nine specials (a late nine played while drinking a bottle of wine and munching on cheeses).
It's just the type of fantasyland resort setting that Susan Choi would never have been able to afford a vacation trip to on her own. The daughter of Korean immigrants who came here chasing the American dream and haven't found anything close to easy street, Choi is remarkably honest about her parents' failed businesses and her own tenuous financial situation.
She often cannot enter tournaments because she does not have enough money for the travel or the fees. That's a sharp contrast to many of the more established players on Big Break Kaanapali, which features mini tour regulars (including seven-time Futures Tour winner and former LPGA player Lori Atsedes) and even relatively well-known Ladies European Tour player Sophie Sandolo (think racy calendars).
"I remember one time we were sitting on the (golf) carts and talking and this one girl was telling us how she had 270 pairs of these jeans and 40 different pairs of Ecco shoes," Choi said. "And I'm thinking I have two pairs of jeans and three pairs of shoes I've recycled and kept using over the last five years."
That contrast in means and life outlook will likely play out over Big Break Kaanapali's season.
The show's winner receives an exemption into this September's Navistar LPGA Classic, entry fees waived for all the 2009 Futures Tour tournaments, an Adams Golf endorsement deal and a brand new BMW Z4 Coupe.
While all the Hawaii action was filmed in a little over two weeks, Choi and the other 11 contestants have a million reasons not to reveal who won. That's the fine amount for breaking the confidentiality agreement all Big Break contestants must sign.
"If you pay me a million and a half dollars, we can talk," Choi laughed.
Big Break's Hawaii free-spirit
Choi's refreshingly joyful golf attitude is featured prominently in Big Break Kaanapali. In a golf world of cold-hearted killer stares, Choi jumps up and down after good shots, smiles like you don't get charged for every grin, just genuinely seems happy to be playing.
The only amateur among this season's contestants - she had to give up her amateur status to compete in Big Break - the 23-year-old Choi took anything but the typical phenom track to Kaanapali. She went to Wellesley College (vaunted female-only academic home to Hillary Clinton) thinking pre-med and didn't become serious about golf until her junior year.
Her former coach at Wellesley, Bill McInerney (who still coaches her individually - for free now that she's out of school), asked her questions for a Big Break audition tape when she still had little idea what it was for. Then she received a show rejection e-mail from The Golf Channel by mistake.
"They sent me another e-mail that said disregard that last e-mail, but I figured the second e-mail had to be another error," Choi said. "Just out of curiosity, I called up to see if I could find out on what basis I'd been cut. Then, they were like 'No, no, you're still in the running. We sent you another e-mail.'"
When Choi finally received word she'd made the show, she was sitting in a Starbucks, "so I couldn't even scream. And I wanted to scream."
For someone who believes in signs, the second chance increased Choi's belief that she's supposed to chase her once-very-unlikely pro golf aspirations. This is someone who picked up the motivational saying she tries to follow - "Play like you're in first, train like you're in second" - from the wall of an UNO's pizzeria.
"It was just up there, not credited to anyone or anything," Choi said. "Crazy huh? Great quote."
Something to think about when you're in a lush Maui resort, playing for a better career chance in the rain with cameras all around.
More photos
«
»
April 21, 2008
Chris Baldwin keeps one eye on the PGA Tour and another watching golf vacation hotspots and letting travelers in on the best place to vacation.