Troon Trifecta: Top-shelf golf in Ocean City, Maryland at Bayside Resort, Bear Trap Dunes and Bay Club

By Kevin Dunleavy,
Contributor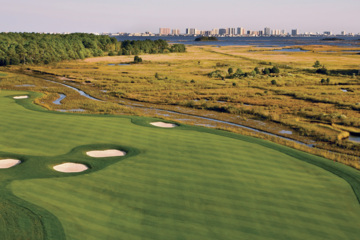 View large image | More photos
Bayside Resort in Selbyville, Del. is 18 dramatic holes in a spectacular coastal setting. (Courtesy of Bayside Resort G.C.)
To a player, the common thread linking Troon Golf's three golf courses near Ocean City, Maryland isn't readily identifiable.
Bayside Resort Golf Club in Selbyville, Delaware is 18 dramatic holes in a spectacular coastal setting. Bear Trap Dunes, further inland in Ocean View, has 27 holes defined by man-made dunes. The Bay Club in Berlin, Maryland includes 36 conventional holes cut through woodland.
While the facilities have vastly different origins, settings and pedigrees, they currently share a similar mission as they are owned by the Freeman Companies and managed by Troon Golf. With an emphasis on hospitality to match the agronomic excellence of its courses, Troon runs more than 80 resorts in the United States including Indian Wells (California), Silverado (Napa), Kapalua (Maui), Pronghorn (Bend) and LaCantera (San Antonio).
Freeman entered the golf market in Ocean City when it tasked Rick Jacobson to construct Bear Trap Dunes. After opening in 1999, the course was so successful that an additional nine was added a few years later. In 2000, Freeman purchased the Bay Club and has done little to alter its mission as a playable, affordable beach staple. In 2005, when Freeman opened Bayside, it delivered the area its only Jack Nicklaus Signature course, demonstrating it was upping its ante in the Ocean City golf landscape.
Universally acclaimed since it opened, Bayside has been ranked by Golfweek the no. 1 public course in Delaware every year since 2007. Bayside owes its success to an extraordinarily diverse layout which traverses woodlands, salt marshes, and open meadows, while incorporating stunning views across the Assawoman Bay of the Ocean City skyline.
At 7,545 yards with water hazards on every hole, Bayside plays to a rating of 77.4 and a slope of 146, making it the most stringent test in the Ocean City area. For high handicappers, however, the course remains playable as it includes five sets of tees, with the next most distant measuring a manageable 6,835 yards. Eight years ago, Nicklaus demonstrated it was not too much course from the tips for a 65-year-old as he fired an even par 72.
With a 4.6 player ranking on GolfNow.com, Bayside is among a select group of beach elites.
"Fairways are bentgrass and were in terrific shape, same for the greens," wrote GolfNow user Dressure, of Wilmington, on GolfNow. "One of the most difficult courses to play at the beach but a great test for any golfer because of multiple tee boxes."
While comparisons could be made between Bayside and the Links at Lighthouse Sound, five miles to the south, Bear Trap Dunes remains one of the most distinctive courses anywhere, thanks to some outside-the-box thinking by Jacobson. The former Nicklaus disciple, who also helped build Bayside, was handed a featureless parcel of farmland and tasked with building an upscale, housing-development course.
Digging deep to create ponds and using the sandy soils to build man-made dunes, Jacobson constructed a faux links course a few miles inland. The result is holes that are bordered vast waste bunkers and by dunes covered with native seagrass, giving Bear Trap an Outer Banks feel.
"A lot of the holes look tough from the tee as you look down the fairway with dunes on both sides," Jacobson said. "But you get out there and the fairways are really wide and forgiving."
Known for building courses that appeal to players of all handicaps, Jacobson favors wide fairways and sprawling greens. It's his goal to fire the imagination of players, not intimidate them. Bear Trap is a good example. The original 18, the Grizzly and Kodiak nines, measure 6,834 yards with a rating of 71.9 and a slope of 130. Jacobson refined his craft further on the tougher Black Bear nine, which opened in 2001. When coupled with the Grizzly, the numbers increase to 72.8 and 135.
Troon's attention to food and beverage is apparent in particular at Bear Trap Dunes, where DiFebo's Bistro has a steady clientele thanks in part to leather sofas, fireplaces and enticing views of the golf course.
Troon's oldest offering, the Bay Club, opened in 1989 with the parkland-style West Course, designed by Russell Roberts. It features the area's first island green and an hourglass-shaped double green serving the parallel par-5 finishing holes, no. 9 and no. 18, both with approaches over the same water hazard.
The East Course, designed by Charles Priestly and opened 10 years later, also has an island green and a pair of finishing par 5s. The East is longer at 7,004 yards but has wider fairways and spongy zoysia grass, playing to a slope of 122 and a rating of 72.4.
The views can't compare with those at Bayside, and the design isn't as compelling as that at Bear Trap Dunes, but the Bay Club has a loyal clientele drawn by its straightforward, walkable layout, affordable rates and faith that the course is aging gracefully.
"The two of us finished in less than 3 1/2 hours," wrote GolfNow.com user Shoreterp of Ocean City. "I have been playing on and off at the Bay Club for the last seven years, and I think the course is in the best condition that I have seen."
More photos
«
»
August 12, 2013
Kevin Dunleavy is a longtime resident of northern Virginia, a graduate of George Mason University, an award-winning reporter covering golf, colleges, and other sports for the Washington Examiner, and a single-digit handicap still seeking his elusive first hole-in-one. Follow Kevin on Twitter at @KDunleavy.