Australia golf: Can't-miss golf courses Down Under

By
William K. Wolfrum
,
Contributor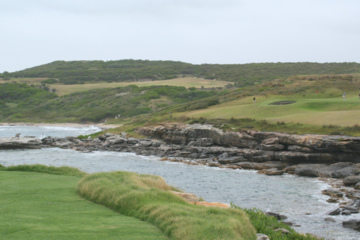 View large image | More photos
New South Wales Golf Club is an Alister MacKenzie design in Sydney that is one of the top courses in Australia. (Courtesy New South Wales Golf Club)
Australia, known for its rough sports, is also home to great golf. Royal Melbourne Golf Club and New South Wales Golf Club are just a few of the golf courses to check out on an Australian golf vacation.
It goes without saying that they are a sports-crazed bunch in Australia. With Australian Rules Football, rugby, soccer and extreme sports occupying the leisure time of many Aussies, it's easy to get the impression that Australians tend to love sports that could lead to serious bodily harm. But while Australia is the perfect home for games that will lead to bumps and bruises, golf continues to thrive as one of the most important sports Down Under.
Not only have Australian golfers like Greg Norman, Adam Scott, Stuart Appleby, Geoff Ogilvy, Aaron Baddeley and others made their mark on the PGA Tour, but Australia has become one of the top golf destinations around the globe. And the government of Australia is more than happy to continue that trend, going as far as helping to fund what will be the longest golf course in the world.
Australian Tourism Minister Fran Bailey recently announced that the government would help out with the funding of the new golf course. The course will be a full 18 holes running across the Nullarbor Plain in the south of Australia, with one hole placed in each town along the way, and one at a remote sheep farm. The total length of this treeless, desert golf course? A whopping 750 miles.
While this whopper will definitely help draw attention to golf Down Under, Australia has plenty to showcase already. There are golfing delights throughout the continent, and here's a quick taste of some of the brilliant golf Aussies have at their fingertips.
Australia golf's must plays
Royal Melbourne Golf Club: Ranked the number six golf course in the world by Golf Digest and host of the 1998 Presidents Cup, Royal Melbourne is no stranger to accolades. Featuring two links-styled runs - the East and West courses - Royal Melbourne is a creation of legendary golf course architect Alister MacKenzie, and is one of the oldest places to play golf in all of Australia. Wide fairways and inviting greens highlight what is otherwise a superb challenge, making Royal Melbourne a true can't-miss Down Under.
New South Wales Golf Club: Also designed by the great Mackenzie, the NSWGC continues the great master's work in Australia, giving golfers a true Down Under challenge. This Sydney course has been consistently rated as one of the top-50 golf courses in the world, and while it will challenge golfers with diverse risk-reward opportunities, it will also dazzle with spectacular vistas of the Pacific Ocean as a backdrop for a truly memorable round of golf.
Royal Canberra Golf Club: Built on a site with classic antiquity, Royal Canberra has been a part of the Australian golf scene for nearly a century. Compared to famed Augusta National, Royal Canberra was originally designed by John Harris, with popular Australian golfer Peter Thomson designing the course's third nine. A links-styled run that has always drawn raves, Royal Canberra is synonymous with golf in Australia.
"This would have to be one of the most beautiful courses anywhere in the world. With an abundance of Australian flora and fauna it is often hard to concentrate on the golf, and that can be a big mistake. A must play if in Canberra and a must if in Australia," wrote WorldGolf.com reader Steve Da Costa.
Also playing
Wentworth Falls Country Club: Another New South Wales run that bubbles with history, Wentworth Falls is a golf course that will both dazzle with its scenic views and overall playability. A perfect course for walking, the natural vegetation will delight, but be prepared to have your game ready, as this shot-maker's course will surely challenge.
Victoria Golf Club: Another Down Under run that has drawn world-class attention, Victoria Golf Club combines great service and well-maintained conditions with a superior design to make it a favorite for many who make their way to Melbourne's Sandbelt region. Host to the 2002 Australian Open, the course will easily challenge golfers of all levels.
Murray Downs: Just three hours from Melbourne, Murray Downs Resort features an excellent layout, as well as brilliant scenery in this riverside region. Originally designed by Ted Parslow, Murray Downs opened in 1991, and has quickly vaulted up the rankings of the best Australia has to offer.
Australia Golf Fast Fact
Former Australian Prime Minister Stanley Melbourne Bruce (1883-1967) was a founding member of the Royal Canberra Golf Club in 1927.
More photos
«
»
September 26, 2007
William K. Wolfrum keeps one eye on the PGA Tour and another watching golf vacation hotspots and letting travelers in on the best place to vacation. You can follow him on Twitter @Wolfrum.