Golf courses think 'outside the cup' to expand business

By
Kiel Christianson
,
Senior Writer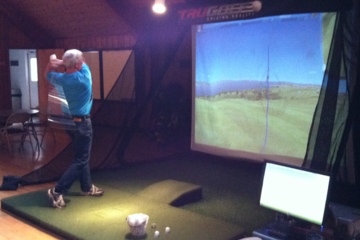 View large image | More photos
Winter simulator leagues have turned golf at Lake of the Woods G.C. in Illinois into a year-round business. (Kiel Christianson/TravelGolf)
The February 2016 issue of Golf Magazine featured an article entitled "59 Reasons Why Now is the Best Time to be a Golfer." Although the reasons that the editorial staff marshaled in support of our beloved game ring true, the overall tone seemed a bit desperate.
We've all heard how golf is in decline: Even longtime golfers are playing less, and fewer new players are filling the void.
The subtext of the piece reads, "Please, please, please give golf a chance!"
No matter how impressive, flashy, and yes, even sexy today's PGA and LPGA Tour players are, the stark reality is that all but the highest of high-profile facilities are struggling to keep their tee sheets full. According to an Aug. 21, 2015 article by my colleague Jason Scott Deegan on GolfAdvisor.com, some 643 golf courses closed down in the U.S. between 2006-13.
It might be the best time to be a golfer, but few would claim that it is the best time to own a golf course. Competition is stiff for recreational dollars, and the time, cost and sheer difficulty of golf make it a tough sell in today's fast-paced world. Course operators are being challenged to think "outside the cup" to increase traffic and expand business.
Maybe the traditional 18-hole round isn't for everyone, but so what? Golf courses have land, natural beauty and usually fairly spacious clubhouse facilities, all of which can be parlayed into activities that appeal to demographics beyond serious golfers.
A case-study in diversifying the golf business
Lake of the Woods Golf Course is located 15 minutes outside of Champaign, Ill., in the Lake of the Woods Forest Preserve. Along with the golf course, the 900-acre forest preserve contains the Museum of the Grand Prairie, a botanical garden, a lake stocked with trout and muskie, a covered bridge, miles of hiking and biking trails, dozens of picnic and playground areas, and nearby year-round RV parks.
For golfers, though, it's the 6,520-yard 1951 Robert Bruce Harris designed course that is the gem of the park. Despite its classic design, tree-lined fairways and the hilliest terrain in Champaign County, the Lake of the Woods Golf Course has experienced plenty of boom-and-bust cycles. If the course weren't part of a protected forest preserve, who knows if it would have survived for 65 years.
Today, though, thanks to improved conditioning and the imagination of the dedicated, close-knit staff, the Lake of the Woods Golf Course is beginning to attract non-traditionalists along with its core of longtime golfers. The traditional 18-hole players appreciate the improving fairways and greens, while nongolfers are experimenting with the par-3 course, Foot Golf, and indoor simulators.
Although it is not new, Lake of the Woods' par-3 course draws a steady stream of families, teens and couples, especially those who would not feel comfortable on the big course. Even my 17-year-old daughter, who normally does not have patience for golf, will join her friends and their boyfriends for a lark on the par-3 course.
A couple years ago, a Foot Golf course was interwoven into the par-3 course. Never heard of Foot Golf? Don't worry, it's pretty simple to figure out: Foot Golf is played by kicking a soccer ball from tees to large holes, cut off to the side of the usual golf greens. Soccer is played by more kids in the U.S. today than any other sport, so it makes sense to appeal to this demographic, and their families.
"Foot Golf has allowed us to connect with a completely new recreational group than our traditional core golfers," says Dave Huber, PGA head professional at Lake of the Woods. Players can bring their own soccer ball or borrow one from the pro shop. Mom or dad can even play regular golf while the kids play Foot Golf. According to the official Foot Golf Web site, there are hundreds of registered Foot Golf courses across the U.S., including longtime golf destinations like Shanty Creek Resorts in Bellaire, Mich.
But what about the offseason, especially in cold-weather climates? Some Northern courses operate cross-country skiing and sleigh rides on their snowy fairways. Others, like Lake of the Woods, are moving the game indoors into high-tech golf simulators. With a number of new entries into the full-swing simulator market, initial set-up costs are coming down, allowing even smaller courses to set up one or more simulators for lessons and winter leagues.
"The golf simulators have changed the 'offseason' to a fun and productive way to work on and improve your game," says Huber, who first installed one simulator in the pro shop to support winter lessons, and, frankly as a bit of a novelty. Soon, however, interest spread among the regulars, and Huber decided to start an indoor winter league. One year later, he convinced the park board to buy a second simulator, and both were moved upstairs into the event room, along with a flat-screen TV, food and drinks. Shortly thereafter, the balance sheets moved into the black, thanks to the expanding winter league.
"The indoor golf league on the simulators has really been fun," he says. "We have several father/son teams that are getting a great reason to spend time together."
Full disclosure: My 12-year-old son and I constitute one of those teams, and it has been a blast -- we even won the game of the week a while back, thanks in part to the strokes we got for my son's 36 handicap. Most important, he's gotten to know the staff and the pro shop, and he's excited to spend his newly-won shop credit on a pair of golf shoes that he'll wear on the big course come spring.
60th reason why now is the best time to be a golfer
A conspicuous omission from the Golf Magazine feature was that golf courses are being transformed into family recreation centers, with activities that appeal to demographics beyond the declining numbers of traditional golfers.
All it takes is a bit of imagination.
More photos
«
»
February 4, 2016
Kiel Christianson has lived, worked, traveled and golfed extensively on three continents. As senior writer and equipment editor for WorldGolf.com, he has reviewed courses, resorts, and golf academies from California to Ireland, including his home course, Lake of the Woods G.C. in Mahomet, Ill. Read his golf blog here and follow him on Twitter @GolfWriterKiel.