Arizona has nine-hole golf courses aplenty for desert duffers
By S. Adam Cardais,
Contributor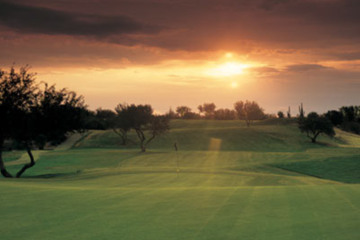 View large image | More photos
In Tucson, El Conquistador is a stunning and popular resort that also features a nine-hole run. (Courtesy of El Conquistador Resort)
Could the nine-hole golf course be more underappreciated that it is now?
Probably not.
"Nobody plays on a nine-hole course anymore," TravelGolf.com's Chris Baldwin wrote recently.
"This would be like actually talking to someone when you could text message. Part of it's a macho golfer thing. But a bigger part of it is an industry so rigid thinking that it believes 'outside the box' is putting a few tees in the carts."
Yet playing nine is the best way to get in some golf without committing to a marathon, all-afternoon session - and, if you're golfing in Arizona, without getting burnt to a crisp.
Fortunately for both your schedule and your skin, Arizona is loaded with first-rate short tracks - Jack Nicklaus designed three at one Tucson golf club alone. Here are some of the best.
La Paloma Country Club: This Tucson layout is divided into three nine-hole Nicklaus tracks, Ridge, Canyon and Hill. The Canyon is the most scenic and rewarding - "both a beauty and a beast," Rodney Campbell wrote in a GolfArizona.com review.
The Hill course, while challenging, is more accessible to a wider range of players, and all three tracks have five sets of tees to accommodate a variety of skill levels. All have deep, formidable bunkers, but you'll find few blind shots.
The Phoenician: The golf facility at this palatial Scottsdale resort also has three nine-hole courses.
The Phoenician's Oasis course takes golfers on a tour of the Phoenician grounds and into a housing community before bringing them back to the splendor of the hotel at the ninth, with the resort a backdrop for the green. Don't be lulled into complacency by the view: There is a significant water hazard there.
The Canyon course at The Phoenician features views of Scottsdale and is the easiest of the three courses, with water on only four holes. The Phoenician's Desert course will challenge you with its length and the surrounding desert landscape.
El Conquistador: A favorite of Adam Sandler, who played an unlikely golf phenom with an anger-management problem in the movie "Happy Gilmore," this Tucson resort offers a nine among its 45 holes - Pusch Ridge, 2,788 yards of enough obstacles to make Gilmore break every club in his bag.
"Diabolically arranged, frustratingly narrow short track or devilishly fun, unabashedly scenic resort course - [Pusch Ridge] has a reputation as both depending on whom you ask," Shane Sharp wrote in a 2004 review at GolfArizona.com.
More photos
«
»
September 8, 2006