Arizona's Green Valley a hidden southwestern golf playground

By
William K. Wolfrum
,
Contributor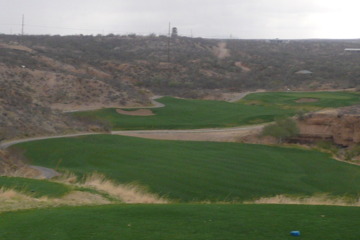 View large image | More photos
Canoa Ranch Golf Club in Green Valley features elevated greens and immaculate conditioning. (Chris Baldwin/GolfPublisher.com)
Twenty miles south of Tucson, Green Valley is a hidden Arizona golf paradise. Those in the know will bring their golf clubs to play excellent courses such as Canoa Ranch Golf Club, Canoa Hills Golf Course and Tubac Golf Course.
GREEN VALLEY, Ariz. - If you drive past Green Valley, Ariz., you'll notice something - you're just about in Mexico. As a retirement community with less than 20,000 residents, Green Valley truly is a city that puts the "south" in Southwest.
Twenty miles south of Tucson, and 40 miles north of Nogales, Mexico, Green Valley is a boomtown for retirees, and as a result, is a somewhat hidden golf paradise. Those in the know will bring their golf clubs, as Green Valley boasts nine golf courses alongside its year-round warm weather, modern city image and friendly residents.
While much of Green Valley is age-restricted as far as residents, and a few of the golf courses are private, several of its layouts are world-class and not to be missed. Here's a look at some of the great golf Green Valley has to offer way down south. Because if you're a golfer and have made your way to Tucson, you need to drive just a little farther to see what this surprising city has to offer.
Green Valley golf courses
Canoa Ranch Golf Club: When it comes to Green Valley, Canoa Ranch truly steals the show. While the blistering 139 slope rating will gladly pummel the golfer who overestimates his or her abilities and plays from the back tees, the course is fair if you pick the right tee box. Just don't expect many gimmes on this run designed by Lee Schmidt and Brian Curley.
But even if your game isn't up to the challenge, Canoa Ranch will surely delight, offering spectacular views of the Southwest.
"The scenery is not discounted from any set of tees. Stunning is a word that's way overused in the golf world, but Canoa Ranch is stunning," wrote Chris Baldwin at GolfArizona.com. "Everywhere you look there's more desert and mountains stretching into the distance."
Challenging play, brilliant scenery and extremely reasonable green fees make Canoa Ranch one of the great secrets of Arizona golf.
Canoa Hills Golf Course: This Dave Bennett design gives golfers several risk-reward opportunities, as well as inviting fairways. The signature 15th hole - a 537-yard par 5 - will test golfers with a double dogleg, while the whole of the back nine will dazzle not just with the unique design, but also with spectacular views of the surrounding mountains and desert.
"Awesome course, awesome hotel - a great Wyndham property, play, stay and have a great time all weekend," wrote WorldGolf.com reader David Daniel.
Tubac Golf Course: If you're looking to play where many scenes from the movie "Tin Cup" were shot, Tubac is the course for you. Of course, there's much more to it than it's filmed past. Opened in 1959, designer Ken Kavenaugh added another nine to the run, giving players 27 holes to chose from. Well-manicured greens and fairways will be your guide through a round at Tubac, and the modern clubhouse will take care of all a player's needs. Located on the historic 500-acre Otero Ranch, a stay at Tubac Golf resort will give a player unparalleled amenities and a relaxing stay with a great southwestern flavor.
Other good Green Valley golf courses
Haven Golf Course: This popular daily-fee course plays 6,905 yards from the back tees with a slope rating of 121. What will really grab you, however, are the green fees. Just $24 will have you in Haven, with cart. As an added bonus, Haven also has a nine-hole par-3 course, Tortuga, you can play for less than $10.
San Ignacio Golf Course: Talk about a hidden gem, this Arthur Hills designed run will challenge golfers of all levels, playing to a sturdy 135 slope rating from the back tees. Great conditioning and a scenic layout make it a course you'll want to give a try. And afterward, have a meal at the Coyote Grille, which serves food with a southwestern flair in a relaxed and classy environment.
More photos
«
»
October 29, 2007
William K. Wolfrum keeps one eye on the PGA Tour and another watching golf vacation hotspots and letting travelers in on the best place to vacation. You can follow him on Twitter @Wolfrum.