Arizona and ASU keep up the fight for college golf dominance

By
Brandon Tucker
,
Managing Editor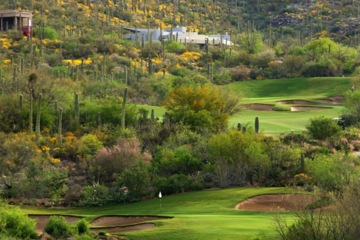 View large image | More photos
Arizona National G.C., Arizona's home course, has been rated among the "Top 100 Places You Can Play" by Golf. (Brandon Tucker/TravelGolf)
Over the last two decades, some of the brightest young golfers in America have chosen to take their higher education and golf to the southwestern desert in Arizona.
Can you blame 'em?
The action is just a little hotter here. From many of the world's top courses to the legendary parties and bronzed bodies, few young co-eds will pass up a shot to spend four years at the University of Arizona in Tucson or Arizona State University two hours up the road in Tempe.
Both the men's and women's golf teams have been among the top programs in the country over the past two decades.
From home turf, to titles and alumni, here's how they stack up versus each other.
Home turf
Arizona makes its home in Tucson, a buzzing town of about half a million residents 120 miles south of Phoenix. There's tons of golf -- known for being almost as good as the Valley of the Sun and a little less pricy.
Arizona's home course is Arizona National, a Robert Trent Jones Jr. design and rated among the "Top 100 Places You Can Play" by Golf magazine and the "Top Course in Tucson" by the Arizona Republic. It's short -- less than 6,800 yards -- and vintage desert target golf.
Located in Tempe, Arizona State is nestled in the East Valley right next to the Phoenix-Scottsdale mecca, home to some of the West's premier layouts. Phil Mickelson still calls the Valley of the Sun home after he left ASU in 1992.
The ASU Karsten Golf Course is a Pete Dye design that opened in 1989, right around the time ASU's dominance had begun in the college ranks. Karsten is longer than Arizona National at more than 7,000 yards.
Edge: draw -- Arizona National is the better course, but there's no better place to be than the Valley for golf.
Titles
Arizona State men's team captured its first Pac-10 title in 1979 and has 11 total, including six in a row from 1995-2000. The women's team has six conference championships. In the NCAA Tournament, the men's team has two titles while the women have six of their own.
Individual winners of the NCAAs include Danielle Ammaccapane, Emilee Klein, Kristel Mourgue d'Algue and Grace Park. For the men, Mickelson captured three titles while Alejandro Canizares and Todd Dempsey have one each.
The Wildcats men's team has just one national championship, 1992, when ASU finished second behind Mickelson's performance that brought him his third NCAA individual title. They have three conference championships while the women have six.
The men's team has no individual NCAA titles, but the women have four: Annika Sorenstam, Susan Slaughter, Marisa Baena and Jenna Daniels.
Edge: Arizona State
Alumni
ASU's alumni include Mickelson, Billy Mayfair, Paul Casey, Howard Twitty, Heather Farr and Grace Park.
Arizona boasts the LPGA's best golfer possibly ever by the time she's done: Annika Sorenstam. Other Wildcat golfers include Jim Furyk, Natalie Gulbis, Rory Sabatini and recent grad Lorena Ochoa, who won player of the year in 2001 and 2002 and in May was named the NCAA's most outstanding women's golf student-athlete for her accomplishments while at Arizona.
Edge: Arizona -- A one-two Sorenstam-Furyk punch puts the Wildcats over the top
More photos
«
»
November 3, 2006
Brandon Tucker is the Managing Editor for Golf Advisor. To date, his golf travels have taken him to over two dozen countries and over 500 golf courses worldwide. While he's played some of the most prestigious courses in the world, Tucker's favorite way to play the game is on a great muni in under three hours. Follow Brandon on Twitter at @BrandonTucker and on Instagram at BrandonTuckerGC.