Gary Graf's "And God Said, 'Tee it Up!'" explains golf's spiritual connection

By
Mike Bailey
,
Senior Staff Writer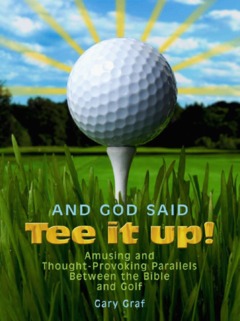 View large image
"And God Said, 'Tee it Up!'" is author Gary Graf's book on the connections between the big man upstairs and golf. (.)
It's easy to tell the difference between a good sermon and a bad one. All you have to do is scope out the congregation and check out how many people are yawning, or better yet, still awake.
A good preacher knows how to tell a story first and foremost. He gets you hooked on a good joke or anecdote about how a friend made a fortune, dated hundreds of women and then lost it all. Then, once you're reeled in, he drops some Scripture on you.
That's kind of what Gary Graf does in "And God Said, 'Tee it Up!'" Claiming to be neither a Biblical scholar nor much of a golfer, Graf comes across quite knowledgeable in both areas, making countless connections and parallels between this hallowed game and the Good Book.
Early on, Graf points out the many religious connections to golf. The church pews of Oakmont, Augusta National's Amen Corner and the Valley of Sin at St. Andrews are but a few examples.
Golf is, of course, played outdoors among the Lord's vast creations, and his name has probably been invoked on the golf course more often than anywhere else. Golf, however is a good teacher, and Graf, who also wrote "And God Said, 'Play Ball'" and "And God Said, 'It's Good,'" finds the lessons on the course and in the Bible. Along the way, he covers golfers from Ben Hogan to Tiger Woods, Walter Hagen to Lee Trevino and courses from Augusta to Oakmont to Spyglass Hill.
Even if you're not particularly religious, or if you follow a faith other than Christianity, you'll find this book useful as a golf reference.
Graf divides the book into 18 chapters -- or holes, if you will -- recounting the best holes around the world and the stories behind them, both in terms of architecture and great moments in tournaments.
For example, if you were having a discussion on the best opening holes in golf, all you have to do is check out Chapter 1, "In the Beginning." Among several examples, Graf recounts how Arnold Palmer drove the first green off the elevated tee on the 404-yard opening hole at Cherry Hills Country Club near Denver en route to four straight birdies and his only U.S. Open title, in 1960.
You find out in the fourth chapter about some of the great fourth holes around the world, like the 528-yard, par-5 fourth at BethPage Black and the cross bunker that makes it so difficult. Four, of course, is a significant number in golf and in the Bible. There are four tournaments that make up the Grand Slam; there are the Four Gospels of Matthew, Mark, Luke and John.
In Chapter 7 you can read about the 106-yard, par-3 seventh at Pebble Beach Golf Links. Seven is also called "the number of plenty" in the Bible, and Graf references, among other things, the seven churches, seven golden lamp stands, seven stars, seven angels, seven seals, seven trumpets and so forth that appear in the Book of Revelation.
Then, of course, when you get to the 10th hole, you have to mention Winged Foot's Pulpit, the par 3 on the West Course with a giant bunker that Julius Boros likened to a national park.
Graf goes on to chronicle miracles of golf and God, the importance of faith in both endeavors and how golf and Christianity both offer redemption. In the 18th chapter, Graf talks of Ben Hogan and Arnold Palmer overcoming adversity and tragedy to rise to the top and how Biblically, it's never too late for ordinary people to overcome hardships.
"As the Bible provides us with hope, remarkably, so too does golf," Graf writes.
"And God Said, 'Tee it Up!'": The verdict
A while back I read another golf/Christian book called "Golf's Sacred Journey: Seven Days at the Links of Utopia," by sports psychologist David Cook. Going in, I knew it was Cook's calling to spread the good word, but the book was such a good read that you hardly knew he was attempting to save your soul.
The common link between these two books is that there are great golf parallels in both. Neither is heavy handed, and the messages of faith are universal, no matter what you believe.
At worst, "And God Said, 'Tee it Up!'" is a valuable reference guide. I'll keep it handy just in case I'm trying to figure out a great 12th hole for comparison in one of my golf course reviews. On my own, I might have come up with Golden Bell at Augusta National, but probably not the difficult dogleg par 4 at Southern Hills Country Club in Tulsa, Oklahoma.
You can purchase "And God Said, 'Tee it Up!'" online at Amazon.com.
April 20, 2009
Mike Bailey is a senior staff writer based in the Houston area. Focusing primarily on golf in the United States, Canada, the Caribbean and Latin America, he contributes course reviews, travel stories and features as well as the occasional equipment review. An award-winning writer and past president of Texas Golf Writers Association, he has more than 20 years in the golf industry. Before accepting his current position in 2008, he was on staff at PGA Magazine, The Golfweek Group and AvidGolfer Magazine. Follow Mike on Twitter at @Accidentlgolfer.