Mark Rypien looks to shine again at the American Century Championship golf event

By
Mike Bailey
,
Senior Staff Writer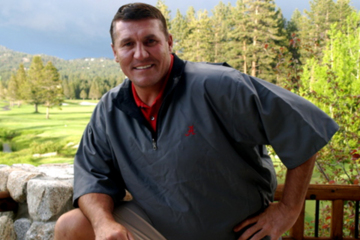 View large image | More photos
Former NFL quarterback and Super Bowl winner Mark Rypien won the first American Century Championship back in 1990. (Mike Bailey/WorldGolf.com)
STATELINE, Nev. - It might not compare to winning a Super Bowl, but former NFL quarterback Mark Rypien is pretty proud of the fact that he won the inaugural American Century Championship in 1990.
It may have been his finest hour in golf, a sport he's loved since his late father, Bob, introduced it to him as a youngster. And he's finding a little more time to play now that he's been removed from football for close to a decade.
Back in 1990, the field at golf's most popular non-PGA Tour celebrity event wasn't as good as today - both in terms of star power and golf prowess - but Rypien put on a show nonetheless. After opening the 54-hole event with a 78, Rypien played the next two rounds 1-under.
Now, he just wants to contend (maybe even win) and have a little fun in the 20th edition of the American Century Championship, held once again at Edgewood Tahoe's Lakeside Course July 14-19. And he wants you to have some fun, too.
The three-round tournament, which includes celebrity-ams and practice rounds during the week, is probably the most relaxed and fun-loving event in golf. Athletes and celebrities like Michael Jordan, Dan Marino, Mario Lemieux, Ozzie Smith, Ray Romano and Kevin Nealon will be there, letting their hair down and mingling with fans - at least until they find themselves in contention on the final day.
When the competitive juices flow, these guys turn it on. They might even ignore the offshore party of 250 boats near the par-3 17th.
"It's hard to play golf at 17, unless you're in the hunt," said Rypien, referring to the scantily clad offshore spectators who sometimes use questionable tactics to distract the players.
Somehow, though, defending champion and seven-time winner Rick Rhoden made it past 17 last year, then drained a 12-foot putt on the final hole to finish one point ahead of four-time winner Dan Quinn.
Rypien in a good place
Rypien, the former Super Bowl MVP with the Washington Redskins, has been working on his game a little more since retiring from football in 2001. He ended his NFL career with the Indianapolis Colts.
"I passed on everything I knew to Peyton (Manning) and said, 'Here you go,'" Rypien said with a laugh.
Now, Rypien is kicking back a little, but not too much. Recently, he participated in a fund-raiser at the University of Alabama, where his daughter Ambre is going to school and working in the football office for coach Nick Saban.
The same afternoon, he flew to Reno, Nev., to get in a few holes at Edgewood Tahoe.
Playing with a few members of the media, it was evident that Rypien could challenge this year if he gets it going. At 6-foot-4 inches tall, Rypien showed plenty of length off the tee and touch around the greens on this George Fazio-designed masterpiece. His game appears to be in pretty good form, and in the last four years he's finished no worse than eighth in the 80-man field.
"We've got a lot of good players out there now," said Rypien, who lives in Spokane, where he went to college at Washington State University. "But I love this golf course. You never know what might happen."
Rypien has played in all but one of the past 19 events. He skipped the one in 1998 when tragedy struck.
A year earlier, his then two-year-old son Andrew was diagnosed with a malignant brain tumor. Rypien put everything on hold in 1998, including football, which he left for three years. He and his family spent as much time as they could with Andrew, who died on Aug. 22, 1998.
Rypien has since dedicated much of his time to the Rypien Foundation, which was created to provide hope for families battling childhood cancer. The American Century Championship also raises funds for Lance Armstrong's LiveStrong Global Cancer Campaign.
Tickets are available daily at the event. Prices are $15 for Tuesday, Wednesday and Thursday for the celebrity-ams and practice rounds. Cost is $25 each day of the competitive tournament on Friday, Saturday and Sunday, or you can get a $60 gallery pass for the whole week.
More photos
«
»
July 13, 2009
Mike Bailey is a senior staff writer based in the Houston area. Focusing primarily on golf in the United States, Canada, the Caribbean and Latin America, he contributes course reviews, travel stories and features as well as the occasional equipment review. An award-winning writer and past president of Texas Golf Writers Association, he has more than 20 years in the golf industry. Before accepting his current position in 2008, he was on staff at PGA Magazine, The Golfweek Group and AvidGolfer Magazine. Follow Mike on Twitter at @Accidentlgolfer.