Alsace region of France a dream destination for golf and wine lovers

By
William K. Wolfrum
,
Contributor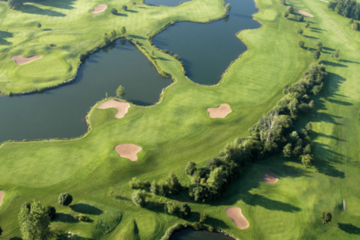 View large image
Golf de La Wantzenau is just one example of the scenic and interesting golf available in the French region of Alsace. (Courtesy Golf in Alsace)
Known for its superb wine country, Alsace, France, also boasts great golf courses such as Alsace Golf Club, Golf D' Ammerschwihr Trois-Epis and Golf des Bouleaux, just to name a few.
STRASBOURG, France - One of France's most charming and historic regions, Alsace is known throughout the world for its scenic wine country. But while Alsace, which has switched hands between Germany and France several times over the centuries, is a wine lover's dream destination, it's also a vacation spot where golfers won't want to forget their clubs.
Known for the abundance of small wine-producing towns dotting the landscape, the famous Wine Route of the Alsace region is a memorable trek through history, as visitors can tour wineries that have literally been owned by the same families for centuries. And with wine comes food, as culinary delights are available at a slew of top-rated restaurants. Add to that the majesty of the castles spread throughout the landscape, museums and other odes to the history of this amazing region, and you'll easily see why Alsace is a top tourist destination for people from across the globe.
While wine and food make Alsace memorable, its golf options add a spark to this region on France's eastern border. Here's an overview of the golf Alsace has to offer.
Golf in Alsace
Alsace Golf Club: Brilliant views of the Vosges Mountains highlight this 18-hole course, which has a links feel and water coming into play. Designed by David Abercrombie, the course plays to more than 6,500 yards from the back tees and is open to daily play with green fees topping out at 50 to 60 euros.
Contact info:
Moulin de Biltzheim
F-68250 Rouffach
Tel.: 03 89 78 52 12
E-mail: info@alsacegolfclub.com
Golf D' Ammerschwihr Trois-Epis: Near the delightful border town of Strasbourg, this private course was designed by Robert Berthet and opened for play in 1990. Ammerschwihr's 18-hole course plays to nearly 6,000 yards from the back tees, while it also has a nine-hole executive run. You'll very likely need to know a member to get on.
Contact info:
Trois-Epis
68770 Ammerschwihr
Tel.: 03 89 47 17 30
E-mail: golf-mail@golf-ammerschwihr.com
Golf des Bouleaux: With green fees that often run under 50 euros, Bouleaux is a great course for golfers looking to take a break from their wine tour and enjoy their favorite game. Not a pushover, the 18 holes, which opened in 2003 (previously it was just a nine-hole run), play to a sturdy slope rating of 135.
Contact info:
238 rue de Reiningue
F-68310 Wittelsheim
Tel.: 03 89 55 55 07
E-mail: info@golf-bouleaux.asso.fr
Golf Club Le Kempferhof: Ranked as the No. 2 golf course in all of France, Golf Club Le Kempferhof is a Bob Von Hagge design that will test golfers to the limit while giving them an uninterrupted view of the spectacular Alsace region. It's a perfect spot for golf and wine lovers to make their home base, as its 18th century residence has been transformed into lodging rooms.
Contact info:
351 rue du Moulin
F-67115 Plobsheim
Tel.: 03 88 96 37 73
E-mail: info@golf-kempferhof.com
Golf de La Largue: With 18 holes playing to nearly 6,500 yards and wide fairways, La Largue is a great spot for players to take out their driver and take their best swing. More impressive than the golf, even, is the restaurant on site, which will dazzle with its Alsace cuisine.
Contact info:
Rue de Golf
F-68580 Mooslargue
Tel.: 03 89 07 67 67
E-mail: lalargue@golf-lalargue.com
Golf de La Wantzenau: Water is a constant companion at Golf de La Wantzenau, which features stellar views and a well-conditioned layout. It's also a good place to get your game into gear: four practice holes, a house pro, a golf school and a full array of practice facilities make it a course locals love.
Contact info:
67610 LA Wantenzau
Tel.: 03 88 96 37 73
E-mail: golf.wantzenau@wanadoo.fr
Golf de Soufflenheim: European star and former Masters champ Bernhard Langer worked with golf course designer Kurt Rossknecht to create this course that's a 30-minute drive from Strousburg. Tree-lined fairways showcase the natural landscape, while water and sand will keep golfers honest. A spectacular clubhouse and practice facilities make Soufflenheim a great day at the links and worthy of green fees that average 75 euros.
Contact info:
Baden-Baden
F-67620 Soufflenheim
Tel.: 03 88 05 77 00
E-mail: info@golfclub-soufflenheim.com
France Golf Tip
If you haven't planned your France golf trip in advance, always be sure to call ahead to find out any restrictions, such as the golf club being private, or extra fees for foreigners. Planning well ahead, however, is always the most advisable plan of action.
February 8, 2008
William K. Wolfrum keeps one eye on the PGA Tour and another watching golf vacation hotspots and letting travelers in on the best place to vacation. You can follow him on Twitter @Wolfrum.