Kiva Dunes G.C. and Peninsula Golf and Racquet Club in Gulf Shores: Gems beyond Alabama's golf trail

By
Joel Zuckerman
,
Contributor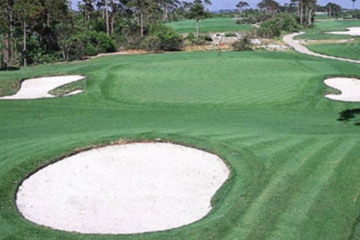 View large image | More photos
Kiva Dunes Golf Course is just one of the gems you'll find if you leave Alabama's golf trail for less-trammeled environs. (Courtesy of kivadunes.com)
Alabama has the Robert Trent Jones Golf Trail. But if you are looking for a golf vacation that goes beyond the trail, head to Gulf Shores and check out Kiva Dunes Golf Course and the Peninsula Golf and Racquet Club, two gems of Alabama golf.
Only one notion will generally come to mind when traveling you think of Alabama golf: the world famous Robert Trent Jones Golf Trail, the most ambitious public golf course project in history.
The original construction some years ago was mind-boggling in scope. The project consisted of 324 holes at seven different golf sites throughout the state. The end result moved Alabama from an afterthought in Alabama golf tourism, and has inspired similar "Trail" projects in nearby states like Tennessee, Mississippi and Louisiana.
But you can find great Alabama golf beyond the Trail. of the Trail. Check out tiny Gulf Shores, for example. This sleepy beach community little more than an hour south of Mobile has only about 5,000 residents, but there are two golf courses here that are well worth a visit.
First and foremost would be Kiva Dunes Golf Course, a Jerry Pate design that has received a number of well deserved accolades since it debuted in 1994.
Kiva Dunes Golf Course is tucked into a beautiful piece of land on Fort Morgan Peninsula, a narrow sliver of earth separating Mobile Bay from the Gulf of Mexico. Jerry Pate doesn't spring to mind on the shortlist of successful players turned architects like Nicklaus, Crenshaw and Weiskopf do, but he should.
Pate won the U.S. Open, U.S Amateur, Players Championship, and was both a Walker Cup and Ryder Cup participant. But to some, he's anonymous as both player and golf course designer. The latter is destined to change.
Kiva Dunes Golf Course offers a scenic nature walk through the sand dunes, scrub oak, pine, and natural wetlands that are endemic to this beach area. As can be expected on such an exposed piece of property, the buffeting wind can be as difficult as any other hazard on the 7,100-yard course. The immaculate conditioning of the Tifway Bermuda fairways will doubtless impress those who can keep the ball in play. Those who have to scramble to find the putting surface will be equally pleased at the Tifdwarf Bermuda greens, which are large and undulating, but not prohibitively slick.
Pate kept the rolling nature of the dunes evident on the fairways, made liberal use of fairway bunkering (filled with native sand), and dug cavernous sand pits greenside. The end result is a facility that's both daunting and stunning, and one of the must play courses in Lower Alabama.
Peninsula Golf and Racquet Club
Not 10 minutes away on the peninsula is the aptly named Peninsula Golf and Racquet Club, a 27-hole Earl Stone design. This is a much larger property than the 250-acre Kiva Dunes. The Bon Secour National Wildlife Refuge touches the 820-acre parcel on two sides, and part of the property abuts Mobile Bay.
Thirty lakes, abundant vegetation and numerous waste areas that line the fairways are the most notable difficulties on yet another finely conditioned track. How does one explain the consistently excellent quality of the turf in Lower Alabama? Is it some combination of climate, growing conditions, conscientious players and hard-working superintendents? Whatever it is, there are no shortage of private clubs in more northern environs that could learn a few lessons.
At Peninsula, the original 18 holes are the Marsh and Lake nines constructed in 1995. The Cypress nine was added in 1999. The Lake nine is the most scenic, with views of the nearby bay, and also contains the majority of housing in the development. The Marsh course is considered the most difficult, and Cypress, with its subtly bending fairways and abundance of bunkering, offers the most shot-making challenge.
More photos
«
»
November 20, 2007
Joel Zuckerman is based in Savannah, Georgia and Park City, Utah. He is the author of five books, and his golf and travel stories have appeared in more than 100 publications around the world, including Sports Illustrated, Golfweek, Travel+Leisure Golf, Continental and Golf International.