Top public golf courses in Naples, Florida: Here are the most affordable tee times

By
Katharine Dyson
,
Special Contributor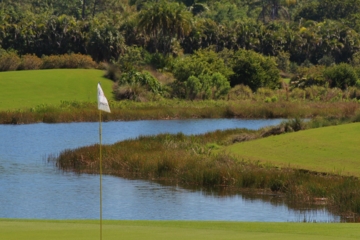 View large image | More photos
Affordable TPC Treviso Bay is one of the toughest golf courses in Naples, Florida. (Jason Scott Deegan/TravelGolf)
There may be close to 100 golf courses in the posh pocket of Naples, Florida, a coveted warm-weather destination. But many are private or part of exclusive gated communities like Mediterra or Quail West.
Still, you can find affordable good plays with some interesting design twists to keep your mojo going. For example ...
TPC Treviso Bay
In 2008 when Arthur Hills designed the TPC Treviso Bay golf course in East Naples, Fla., his goal was to "create a truly memorable golf course." Hills, along with Hal Sutton, did that, bringing the layout together as a united design of wide, sweeping fairways winding through grass-fringed lagoons, strategically positioned bunkers and undulating large greens.
Treviso Bay, a well manicured track with Paspalum fairways rolling gently over the flat Florida landscape, is the focal point for the Treviso Bay community. Several holes lie adjacent to the Rookery Bay National Estuarine Research Reserve, so there are few buildings to intrude. At times the only sounds you hear are calling birds and rustling reeds. Bald eagles? Yes.
Here, doglegs rule as fairways wind around lagoons with a nod to a right-to-left direction running toward the water -- left-handed players have the edge here. Par 3s challenge with over-water carries, and risk-and-reward holes like the fifth and 11th taunt you to bite off as much of the water as you dare on your drive.
With five tees playing 7,367 to 5,211 yards you have choices. A clubhouse is expected to open in 2016 but in the meantime, operations run out of a temporary structure. Before you tee off, ask for a yardage guide. You'll need it.
Quail Village Golf Club
Don't let Quail Village Golf Club's scorecard deceive you. Although the yardage at about 4,800 yards from the tips indicates an executive layout, the drives from a couple of the back tees require hefty 200-yard-plus carries over water with no bailouts. And there is water on almost every hole -- along the fairways, behind the tees, to the right of the greens, to the left of the greens, in front of the tees. But relief sneaks in starting with the 10th hole, when you get a break from the ponds on a few holes.
Quail Village (not to be confused with Quail Creek Country Club or Quail West) is for those who like to come out and play with their friends and enjoy a pretty, well groomed track with a good mix of roll-up and elevated greens. Sure you'll see a flurry of handicap flags on a few carts, but that only helps to keep less mobile golfers moving.
Most of Quail Village's fairways are lined by condos and mid-sized homes, making for some tight fairways, yet you'd have to be way off course for them to get in the way.
Quail Village has a modest-sized pro shop, pool and outdoor patio adjacent to a clubhouse -- not fancy but welcoming. There is a practice putting green and a handful of tee stations where you're hitting into nets.
Stoneybrook Golf Club
You know you are playing a public facility when you pull up to the modest clubhouse and see in the courtyard a billboard-sized sign: one side announcing Stoneybrook Golf Club; the other a local realtor with his message, "I sell more because I do more." Located just north of Naples in Estero, Fla., Stoneybrook is popular for its design, its non-nonsense style, and its price -- one of the most affordable, sound plays in the Naples area. First opening in 1999, the course was renovated in 2010.
Although Stoneybrook's course routing occasionally detours through settled-in neighborhoods, houses are set back and do not interfere with play. The course is well bunkered with some large waste areas, but negotiating the water hazards can be a big factor in how you score. Some fairways are bordered by wetlands all the way from tee to green, and there's the par-3 fifth, where tees are on their own little islands interconnected by walkways. Then on the driving range, you're hitting floaters out to a large pond.
Greens are moderately fast and in remarkable condition considering the heavy amount of play they get. But with seven tee boxes ranging from 7,314 to 3,438, you should have no trouble finding a comfortable range for your game. The back nine requiring more precise shots gets the nod for being more challenging.
You'll understand when you enter "Talons Grip," 11-14. Keep your retriever handy.
The course can back up, especially in the winter season, but roll-up greens, wide landing areas and GPS-equipped carts help keep the course moving.
"I like it. They keep it in good shape even though it's a public course," said Ann Grywalski, a resident of nearby Pelican Landing who often plays here with her husband, Frank.
Raptor Bay Golf Club
Certainly the egrets, pelicans and other feathered species are living the good life on the two nines at Raptor Bay Golf Club -- the Hawk and the Osprey -- which lie adjacent to a nature preserve. Although the Hyatt Regency Coconut Point Resort and Spa stands sentry in the distance, there are no real estate neighborhoods on this Audubon International Gold Certified Signature Sanctuary course, just an Old Florida-meets-Ernest Hemingway clubhouse.
Designed by Raymond Floyd, Raptor Bay celebrates nature with its wetlands, natural grasses, wildlife and thick vegetation along with sprawling waste bunkers filled with crushed shells -- you drive right through them and hit off them. There are no traditional sand bunkers.
The course is fair yet challenging for all levels with elevated mounded greens that tend to fall off the back and fairways that widen and narrow. More than 200 acres of wetlands, lakes and preserve areas are all artfully worked into the layout and penalties can be severe if you stray off course as balls can run down banks into ponds and reeds. With tropical vegetation all around, Raptor Bay provides a great walk on the wild side.
More photos
«
»
March 11, 2015
Katharine Dyson is a golf and travel writer for several national publications as well as guidebook author and radio commentator. Her journeys have taken her around the world playing courses and finding unique places to stay. She is a member of the Golf Writers Association of America, Metropolitan Golf Writers of America; Golf Travel Writers Organization and Society of American Travel Writers. Follow Katharine on Twitter at @kathiegolf.