Our Myrtle Beach dream golf course - the front nine

By
William K. Wolfrum
,
Contributor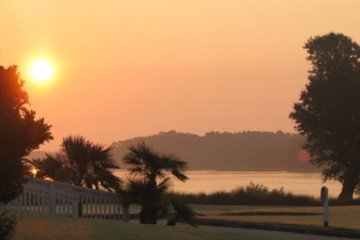 View large image
Sunset at Glen Dornoch Waterway Golf Links looks even better after you've tackled the course's strategic 16th. (Tim McDonald/WorldGolf.com)
With more than 100 golf courses sporting the biggest names in golf architecture, Myrtle Beach is well-known as a prime golf-vacation destination. If you need a little more convincing, we've taken our favorite Grand Strand golf holes and combined them into what would be our dream Myrtle Beach play.
'Tis the season for a Myrtle Beach golf vacation. You've been putting it off for too long. The prices are right, the Grand Strand courses ready. All that's missing is you.
Still need a push to book a trip to this golf mecca with more than 100 courses, many designed by the biggest names in golf architecture?
Okay. Here are 18 reasons to hit the links in Myrtle Beach - a course's worth of great Grand Strand golf holes. We're not saying these are the 18 best holes in Myrtle Beach golf - just whetting your appetite for some of the options in this South Carolina golf mecca.
In this first of two parts, we look at Nos. 1-9. Each hole on our "course" corresponds to its placement on the actual course.
A dream Myrtle Beach front nine
No. 1 - Willbrook Plantation Golf Club: This Pawleys Island charmer is the perfect place to start your day. The 400-yard par-4 hits you with a dogleg right as well as trees and water.
"I have a hard time imagining a more difficult starting tee shot than this one," WorldGolf.com's Brandon Tucker wrote about this stellar opener.
No. 2 - Arcadian Shores Golf Club at Kingston Plantation: Accuracy is everything on this 178-yard par-3, as it is throughout the acclaimed Rees Jones design.
No. 3 - World Tour Golf Links: The 126-yard par-3 third at this replica course is based on the famed No. 17 at TPC Sawgrass Stadium course in Ponte Vedra Beach, Fla.
"Most of the ingredients are there, including, obviously, the island green, but the green is much smaller than the real thing," Tim McDonald wrote in a course review at MyrtleBeachGolf.com. "It may actually be tougher than the real deal."
No. 4 -Moorlands at Legends Golf Club:: Hills and bunkers make for an adventurous trip on this 350-yard par-4 from the mind of P.B. Dye.
"Once you get to the green, having survived, it feels like you're in a forest amphitheater," Chris Baldwin wrote at TravelGolf.com.
No. 5 - Brunswick Plantation, Magnolia course: The 425-yard par-4 fifth at this Calabash, N.C. club is a real test. "You have to be accurate off the tee here, both in direction and distance. The green is crowned, falling off in all directions," McDonald wrote.
No. 6 - Myrtle Beach National King's North: This 568-yard par-5 through a myriad of water is "undoubtedly one of the best holes along the entire Grand Strand, a hole that will have you standing around scratching your head as you stand on the tee box overlooking it," according to McDonald's review.
No. 7 - Long Bay Club: Want to know why Jack Nicklaus has a rep for designing killer tracks? Look no further. Long Bay is full of tough holes, none more so than this 543-yard par-5 that will have you squeezing your approach through trees on the right and water on the left.
No. 8 - Blackmoor Golf Course: You say you like risk-reward options? This is the hole for you, with a choice of fairways, one offering a kinder, gentler 370-yard trek to the green, the other a 290-yard voyage over a waste bunker.
No. 9 - Palmetto at Myrtlewood Golf Club: This challenging 390-yard par-4 will keep your attention, with water your companion all the way down the right side of the fairway.
Front nine stats
Par: 36
Yardage: 3,345
You've made it to the turn; now get ready to hit the back nine of our Myrtle Beach dream 18.
June 11, 2007
William K. Wolfrum keeps one eye on the PGA Tour and another watching golf vacation hotspots and letting travelers in on the best place to vacation. You can follow him on Twitter @Wolfrum.