Our Myrtle Beach dream golf course - the back nine

By
William K. Wolfrum
,
Contributor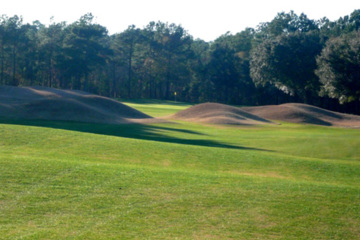 View large image
Legends Moorland Course, Myrtle Beach, P.B. Dye Hills No. 4 (Chris Baldwin/WorldGolf.com)
With more than 100 golf courses sporting the biggest-name architects in golf, Myrtle Beach is well-known as a prime golf-vacation destination. If you need a little more convincing, we've taken our favorite Grand Strand golf holes and combined into what would be our dream Myrtle Beach play.
Our front nine took in spectacular tracks like the Long Bay Club and King's North at Myrtle Beach National. Now, we head home - our back nine closes the show in style. Each hole on our "course" corresponds to its placement on the actual golf course.
A dream Myrtle Beach back nine
No. 10 - Prestwick Country Club: Prestwick's 383-yard par-4 10th offers a delectable start to a delicious back nine - the same purpose it serves in real life, according to golf writer Tim McDonald, who in his course review of Prestwick, called the second half of the course "the front nine jacked up on steroids."
No. 11 - Caledonia Golf & Fish Club: You get what you pay for at this upscale Grand Strand club, and this 167-yard par-3 gives you the scenery and style that make Caledonia a Myrtle Beach golf favorite.
No. 12 - King's North at Myrtle Beach National: You'll be shooting downhill to an island green on this nerve-wracking 140-yard par 3. Bunkers and a tricky green make this not only one of the Grand Strand's prettier par 3s but one of the most challenging.
No. 13 - Tidewater Golf Club & Plantation: Tidewater's memorable holes are almost too numerous to pick just one. "It's a gorgeous course, with overhanging oaks, marsh everywhere and high bluffs overlooking the sun-sparkled Intracoastal Waterway, complete with cruising sailboats and dotted with local fishermen," McDonald wrote.
We'll go with the 539-yard, par-5 13th so you can savor the ocean views.
No. 14 - Palmetto at Myrtlewood Golf Club: There's plenty to choose from among Myrtlewood's 36 holes. but you'll want to save your best swings for this 366 par-4 that will have you dodging water.
No. 15 - Willbrook Plantation Golf Club: Listed in the book "The 100 Greatest Holes Along the Grand Strand," Willbrook's 15th cements the course's sterling rep. While many praise the club's women-friendliness, this 538-yard par-5 will require some heavy hitting.
No. 16 - Glen Dornoch Waterway Golf Links: Plenty of golfers will tell you Glen Dornoch is about as good as it gets in Myrtle Beach. This 431-yard par-4 begins what many consider the most treacherous closing trio on the Grand Strand.
"The 16th is classic strategy hole, with a hill on the right and the fairway narrowing to a trickle on the left. Hit to the crest of a hill to have the best angle down into the green, over marsh. And put away your driver or suffer the consequences," McDonald warned.
No. 17 - TPC of Myrtle Beach: This Tom Fazio design shows a little more sympathy for the duffers than usual on this Grand Strand standout, but it still packs considerable punch, as the 145-slope rating attests.
This par-3 17th is a scenic 193-yard delight that will have you shooting to a near-island green. Victory or a two-shot penalty could be yours.
No. 18 - Heritage Golf Club: You might as well finish strong, and this Pawleys Island delight brings it home right. The grand oaks frame your way through this 530-yard par-5 that shows off everything that's grand about Grand Strand golf, from clubhouse to green.
Back nine stats
Par: 36

Yardage: 3,231
Total stats for a dream 18 in Myrtle Beach
Par: 72

Yardage:6,576
June 11, 2007
William K. Wolfrum keeps one eye on the PGA Tour and another watching golf vacation hotspots and letting travelers in on the best place to vacation. You can follow him on Twitter @Wolfrum.