A European's take on the 10 best golf courses in the United States

By
Stephan Guertler
,
Contributor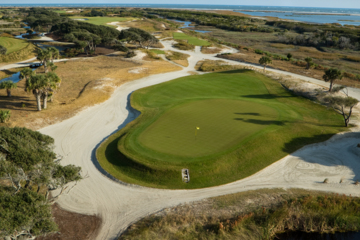 View large image | More photos
The Ocean Course at Kiawah Island Golf Resort is a Ryder Cup and PGA Championship venue. (Courtesy of Kiawah Island)
EDITOR'S NOTE: The managing editor of ExtraGolf, a golf and travel magazine in Austria, Stephan Guertler travels to the United States four to five times a year to play the country's best golf courses. WorldGolf.com asked him for his perspective on golf courses in the United States.
I have always been a huge fan of golf in the U.S. and it is my goal to play as many different courses as I can. I am amazed by the variety that American golf has to offer.
You can play a 100-year-old "old-school" course or a "modern classic" designed by a contemporary architect. The scenery, design, climate and vegetation in various parts of the country are so different that the styles of golf courses are also drastically diverse.
I especially appreciate the conditioning of the top courses, which is always immaculate. It is a lot of fun to play a links that is so perfectly manicured it could basically host a major tournament on any given day.
I also appreciate the attitude Americans generally have toward golf. They drink a few beers, maybe smoke a cigar and gamble. They are on the golf course to have a good time. Most players in my home country worry about their score and they tend to forget that the game is supposed to be fun.
One thing that complements the golf is the outstanding service by the golf staff. From the moment you enter the golf club until you leave, there are always friendly and attentive employees who make sure golfers have everything they need. European visitors are blown away by the service, which enhances the golf experience even more.
Here are my 10 favorite golf courses in the U.S.
Even as an obsessed golfer I tend to call it lunacy to sleep in your car in order to get a tee time. I happily make an exception for "The Black." I got an advance tee time but would have been willing to spend the night in the parking lot had it been necessary. The course hosted the U.S. Open in 2002 and 2009 and is a tribute to the "Golden Age" of golf course design and the legendary A.W. Tillinghast.
This five-star, five-diamond resort (one of my favorite resorts) is home to three 18-hole courses. The East Course is a combination of holes designed by Donald Ross and Robert Trent Jones Sr. It has played host to a number of USGA championships, including the 1995 and 2011 U.S. Women's Open and the 2008 U.S. Senior Open. The course is renowned for having just about the most diabolical greens west of Augusta.
The Bandon Dunes Resort on the Oregon coast, which currently consists of four 18-hole courses and a 13-hole par-3 course, is arguably the world's best golf resort. Golf is Bandon's "raison d'etre" and Tom Doak's bona fide links course is the shining star. The unorthodox layout features back-to-back par 3s and only two par 4s on the back nine.
The famously infamous Ocean Course received instant worldwide recognition when it hosted the "War by the Shore" -- the 1991 Ryder Cup -- shortly after its inception. The punishing Pete Dye creation, which will entertain players at this year's PGA Championship, features a number of bunkers, water hazards and gorgeous ocean views.
Another Dye design that has already played host to two PGA Championships (2004 and 2010), he built a faux links on a formerly dead-flat airfield that sits right along the edge of Lake Michigan. The course is famous for the lake views, 900-plus bunkers and Dustin Johnson's mishap playing the last hole (he grounded his club, not knowing he was in a trap).
This course in the Bend area has to be considered a "sleeper." Jack Nicklaus designed this challenging layout that stuns guests with outstanding mountain views. The conditioning of the course was the closest to Augusta National I have seen so far (probably the best manicured "public course" I have played today). The club is currently managed by Troon Golf and also offers luxury lodging.
Pebble Beach obviously needs no introduction. The course is not only world famous for the cliffside holes but also for the notoriously high greens fee ($495). I am not a millionaire but I would pay the greens fee just to play holes 7-10 and 18. Every serious golfer needs to make a "pilgrimage" to Monterey to play Pebble Beach at least once in a lifetime.
Bill Coore and Ben Crenshaw designed the newer of the two 18-hole courses in Fountain Hills, east of Scottsdale. Saguaro is a walkable lay of the land course that follows the natural terrain and stuns with a great variety of long and short holes. The lack of homes (almost unheard of in this part of the country) and breathtaking views enhance the playing experience.
If I had just one favorite course, Sand Hills might be it. Bill Coore and Ben Crenshaw built a minimalist, low-cost masterpiece in the rolling sand dunes of Nebraska. Coore-Crenshaw laid out 136 holes on the 8,000-acre property before deciding on the best 18-hole routing.
Unfortunately, the exclusive club with less than 200 members has an iron clad rule that visitors may only play the course unaccompanied once in their life.
In my opinion one of the most underrated courses in the country. This very exclusive club just north of Atlantic City boasts a Tom Fazio-designed golf course that has a few holes running alongside Reeds Bay. "Galloway is one of my best ever," raved Fazio, who was given carte blanche to carve out the holes on the 200-acre property that has no homes on it. Galloway National is only open to members and their guests. Be sure to play it if you ever get the chance.
More photos
«
»
March 30, 2012
Stephan Guertler is a golf writer and a member of the Golf Writers Association of America. He is based in Vienna, Austria and travels the world to review golf courses, destinations and resorts.