Expect pampering, perfect conditions and a good time at Wynn Golf Club in Las Vegas

By
Mike Bailey
,
Senior Staff Writer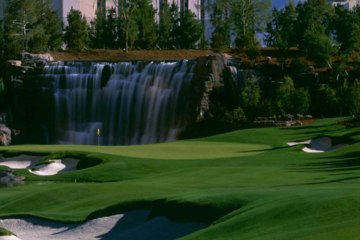 View large image | More photos
The finishing hole at Wynn Golf Club is surrounded by water, including a 37-foot waterfall. (Courtesy of Wynn Las Vegas)
LAS VEGAS -- There's no parking at Wynn Golf Club. If you're playing golf at the Wynn Las Vegas, you simply drop your clubs off with the hotel valet, or if you feel like getting a little exercise, you walk through the convention center of the hotel.
That's your first clue that this is going to be a different experience. There will be many more to come in short order.
The golf shop is in the hotel, right next to The Country Club, A New American Steakhouse, located next to Wynn Golf Club. Once you check in at the shop, you're whisked away to a high-end country club locker room, where you can change, get new spikes (free of charge) for your shoes, enjoy a cup of coffee and watch TV.
Soon, you meet your caddie, who leads you and your group out to the practice area and the first tee.
What unfolds next is an almost Augusta-like experience in terms of conditioning and solitude. Perfect green grass, bentgrass greens, white sand bunkers and a network of pristine streams, ponds and flora create one memorable view after another. What really sets off this experience, though, is the backdrop of Las Vegas casinos and landmarks, like the Stratosphere.
"We're a five-star, five-diamond resort that has a great golf course associated with it," said Wynn Director of Golf Brian Hawthorne. "So our staff goes through the same rigorous training that our hotel staff goes through. It's a seamless experience."
Wynn golf holds its own
The golf course, which was designed by Las Vegas business magnate Steve Wynn and Tom Fazio, opened in April 2005 right on the Strip behind Wynn Las Vegas. It wasn't the first course the pair did together; they also created Las Vegas' Shadow Creek Golf Club, which Wynn eventually sold.
Like Shadow Creek, however, Wynn Golf Club is anything but desert golf. It sits on the old site of the Desert Inn, which played host to 50 years of PGA and LPGA Tour events. The new course is nothing like the old. Desert Inn holes ran east and west, which created problems with the sun. The holes on the 7,042-yard, par-70 Wynn course run north and south. The Desert Inn was flat, but the Wynn features dramatic elevation changes as construction crews moved 800,000 cubic yards of dirt around.
Then there's the other stuff, like the 1,200 mature trees, left over from Desert Inn, that were supplemented by an additional 6,000 tree specimens and 100,000 bushes. The new course has waterfalls, including one that's 37 feet behind the 18th green, streams, ponds, white sand bunkers and impeccable greens.
As for the course itself, it's simply one visually stunning hole after another. From the tips, it's certainly a challenge, but the fairways are shaped such that if you drive the ball reasonably, it will kick down toward the center. Wayward tee shots, however, can find the aforementioned bushes and other areas where you can lose golf balls.
While the course is known for its long par-4 finishing hole with the water in front of the green and the waterfall behind it, the strength of the course may be its five par 3s. They are all different and none are easy, including the second-shortest hole on the course, the 167-yard 15th, which features water on three sides of a fairly small green.
While the 15th is short, the par-3 ninth is long at 238 yards. And although the course is just more than 7,000 yards, it does tend to play long, especially after overseeding when drives don't get as much roll as they do in the summer. In fact, from the back tees, there are seven par 4s that play 440 yards or longer, including the 17th, which tops out at 498 yards.
Wynn Golf Club in Las Vegas: The verdict
At one time, you had to stay at the resort to play the course, but now anyone who can pay the $500 green fee during peak season can experience it. The course, by the way, is one of the three in the area that command this kind of green fee (Wynn charges $350 in the summer months). Cascata and Shadow Creek are the other two.
It's a premium fee for a premium course, to be sure, but it does include amenities that many other courses charge for, including free coffee, fruit, non-alcoholic drinks and the latest Callaway loaner sets as well as FootJoy shoes. There are also two food stations on the course, and they serve reasonably priced upscale golf course food, including an excellent pressed sandwich.
A forecaddie is mandatory and not included in the fee (10 percent of the green fee per player is recommended). They're also very welcoming here, whether you're a novice or low-index player. One story they like to regale here is that of a couple of players whose caddie asked them to grab their putters from their loaner clubs to the practice putting green to get acclimated. They retrieved wedges instead, thinking the "p" on the bottom of the clubs stood for putter.
There are 13 PGA Professionals who work at Wynn Golf Club. Many of Wynn's 33 caddies are PGA Professionals in their own right and are spot on when it comes to service and reading greens. (They will also find your wayward shots most of the time.) From the locker room attendant to the restaurant, everything about this place is first class. With that said, though, the course is a joy to play and the closest most people will come to playing a venue with Augusta-like conditions. If you're not on a budget and in Las Vegas and looking for serene, enjoyable golf experience, Wynn is your golf course.
More photos
«
»
October 31, 2011
Mike Bailey is a senior staff writer based in the Houston area. Focusing primarily on golf in the United States, Canada, the Caribbean and Latin America, he contributes course reviews, travel stories and features as well as the occasional equipment review. An award-winning writer and past president of Texas Golf Writers Association, he has more than 20 years in the golf industry. Before accepting his current position in 2008, he was on staff at PGA Magazine, The Golfweek Group and AvidGolfer Magazine. Follow Mike on Twitter at @Accidentlgolfer.