Wicked Stick Golf Links in Surfside Beach, South Carolina: A taste of bad-boy golf near Myrtle Beach

By
Lisa Allen
,
Contributor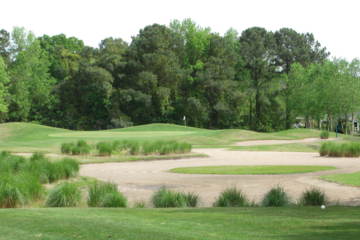 View large image | More photos
The motto at John Daly's Wicked Stick Golf Links? "Grip it and rip it," of course! (Lisa Allen/TravelGolf)
SURFSIDE BEACH, S.C. -- If you want to try to hit a golf ball as far as you can and have a few beers while you do it, there is a course truly designed for that: John Daly's Wicked Stick Golf Links just south of Myrtle Beach.
Ever since the golf course opened in 1991, business has been brisk.
"John Daly's name attracts a lot of attention," said Calvin Arnold, second assistant professional at Wicked Stick. "We get calls all the time: 'As a John Daly course, does that mean we can drink beer and have some room if we hit some bad shots?'"
The answer is most definitely, yes! Co-designer Clyde Johnston's thumb print is on the course, too, with pot bunkers, open areas and mounds appearing often.
It also helps business that Wicked Stick is very visible on the U.S. 17 bypass, which carries millions of cars per year up and down the Grand Strand, many of them containing golfers looking for a place to tee it up.
In over-the-top Daly fashion, the course includes some monsters, such as the 265-yard, par-3 No. 7 and several par 5s that push toward 600 yards. The tips, dubbed the Daly tees, add up to 6,886 yards. Three others tees pull down the distance to 4,911 yards in the front.
A group of golfers pulling into the lot said they picked Wicked Stick to play first on their spring golf trip because it lets you blast some shots without running into a lot of trouble. The course's motto is "grip it and rip it."
Joe Rueden hadn't played the course. He chose it after reading online reviews that mentioned it was nice and roomy.
"I like the fact that there was water and bunkers, but there was always a way out," Rueden said, a bit pale after a long Wisconsin winter.
Wicked Stick Golf Links: Tough holes
The first hole is a warm-up, a short par 4 (254 yards from the middle tees) with few problems and nice fairway hills that add even more length to a drive. Off to the right, there is a sharp drop to a collection area on the fairway that can boost your distance by 20 or 30 yards, leaving you just a pitch to the green but possibly with a side-hill slant.
That sets the tone for the course. It's a playground for people who like to blast it in the general direction of the green and still card a good score. But don't take the course lightly. The challenges come toward the green and build toward the end of each nine.
For example, the par-5 third hole has a few hills that can propel your drive to surprising distances. Getting there in two is not out of the question for everyday golfers. How cool is that? But the green is only 21 yards deep. OK, so maybe you can get close to the green in two.
Wicked Stick's par-3 fifth hole is handily equipped with backstop mounds. The sixth fairway is sandwiched between water right and houses left. (The starter tells you if you land in someone's yard, leave it there, and they'll replace it after your round.) The green is guarded by a huge bunker on the right and mounds on the left.
Then there is the monster, par-3 seventh, playing 265 from the tips in a location where wind is its own hazard.
The back nine doles out more hazards and terrain changes, figuring you're past your travel fatigue. The 10th leaves it open until the cluster of bunkers right of the green.
The 14th is one of two doglegs on the course, a par 4 with bunkers being the risk if you run through. Sand stays with you on the left side for the rest of the hole.
The 15th, a par 4, makes the last 80 yards a bear, with water, then bunkers, in front of the green. Calculate your drive carefully, then make sure you follow through. This hole is right up there with 9 and 18 for drama.
Seventeen and 18 are great. One is a par 4 with a trio of bunkers stretched across the fairway, the last a sharp dogleg left with a water carry to the green sandwiched between the wet stuff and a row of elevated bunkers behind it. It's a great closing hole.
Wicked Stick Golf Links: The verdict
Wicked Stick Golf Links has a great tempo, building on each nine to awesome holes. Both nine and 18 are very memorable.
In between, especially on the front, are a lot of wide-open holes perfect to refine your game or blast off some stress. The back requires you to step up your game a little and give each hole a little thought before choosing a club.
It's an entertaining play at a golf club with a great porch overlooking the course. Grab a rocker after your round, hoist a couple and tell tall tales.
Daly wouldn't have it any other way.
More photos
«
»
May 19, 2011
Lisa Allen is a golf, travel and business writer based in Beaufort, S.C. She has edited newspapers, magazines and books in Michigan, Indiana and South Carolina. Follow her on Twitter @LAllenSC.