Original Cholla at We-Ko-Pa Golf Club near Scottsdale, Arizona is no backup to heralded Saguaro Course

By
Brandon Tucker
,
Managing Editor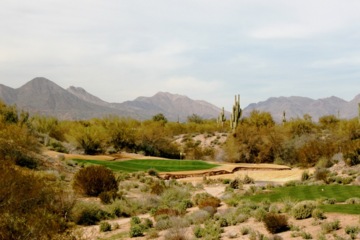 View large image | More photos
The Cholla Course at We-Ko-Pa Golf Club features a collection of dynamite par 3s. (Brandon Tucker/TravelGolf)
SCOTTSDALE, Ariz. -- If you only have time to play one of the courses at We-Ko-Pa Golf Club, don't be too picky.
The original Cholla Course at We-Ko-Pa has a new brother, the Saguaro. Both courses, delivered by the Yavapai Native American tribe, are plenty worthy, no matter where you're staying for your Valley of the Sun golf vacation.
The Saguaro opened in 2006 and was designed by the red-hot team of Bill Coore and Ben Crenshaw. The Cholla was designed in 2001 by lesser-known Scott Miller, who has about a dozen designs to his credit, including the Coeur D'Alene Golf Club.
The Cholla comes off as the more "designed" of the two layouts. Many tees are gently raised or elevated, and the property's only water hazard comes into play on the 18th hole. There are a handful of large, split fairways, whether by bunkers or desert areas, highlighted by the ninth, bisected by a cluster of deep bunkers.
Naturalist-inclined golfers may lean toward the Saguaro, but scratch and lower handicaps in search of a top area challenge from the tips will probably give a nudge to the Cholla. The course plays longer at 7,225 yards from the championship tee box, including a collection of par 5s that are plenty meaty for big swingers. The eighth hole is the longest -- and most spectacular -- of the four, playing more than 600 yards. After a sharp dogleg right off the tee, it tumbles downhill and over a desert wash to a well-guarded green. It's hard to believe even the biggest of hitters would be able to reach this hole in two unless conditions are firm and the wind is favorable.
As good as the par 5s are on the Cholla, the four par-3 holes steal the show. They play short and long, downhill and flat, and all demand a solid strike or peril awaits. Each is an artistic beauty, whether it's for their backdrops of the Four Peaks mountain or the springing Fountain Hills fountain that springs up regularly, or simply the hole design itself, particularly on the front side. Both the third and fifth holes feature greens tucked into the desert with plenty of peril surrounding them.
We-Ko-Pa Golf Club players split on which is better
With no residential component, big fairways and plenty of views, it's easy to see why both the Cholla and Saguaro Course at We-Ko-Pa have so many four- and five-star ratings on WorldGolf.com's exit polls. While the Saguaro has a few more reviews than the Cholla, it's by no means a lopsided argument.
Rater "Minneapolis King" wrote: "We have played both and now lean towards the Cholla if we had to choose. The design, vistas, conditions and service are low-key and excellent."
Said Lance Dodson of the Saguaro: "I've played on both coasts and in Hawaii. It's one of my best golf experiences. Take a friend and enjoy!"
Or better yet, try and book both on the same day. Replay rates are available. Or book a golf package at the tribe's Radisson Fort McDowell Resort next door.
We-Ko-Pa Golf Club: The verdict
About a 20-minute drive east from downtown Scottsdale, We-Ko-Pa's two golf courses are hardly a secret anymore. Both courses are less expensive than much of Scottsdale's top-shelf plays. They're also two rare Valley of the Sun courses void of residential development.
Facilities are a bit more humble than the resort courses of Scottsdale such as Troon North or TPC Scottsdale. But the clubhouse is a modern, spacious building with a great bar and grill, pro shop and large practice range.
Stay and play in Scottsdale: Fairmont Scottsdale Princess
To get the best of Scottsdale, factor in the TPC Scottsdale Stadium course and stay at the nearby Fairmont Scottsdale Princess resort, which sits just behind the course's fourth and fifth holes. In southern Scottsdale, it's a good base that's pretty close to the airport as well as most of the valley's must-plays. Troon North and Grayhawk are also very close.
There are more than 600 rooms to choose from. There are 119 casitas, including a range of suites starting at 850 square feet for larger groups or the ultimate splurge. To get the full VIP treatment, become a Fairmont Gold member through the President's Club and enjoy larger guest rooms with spacious patios, plus your own lounge with breakfast, bar, afternoon hors d'ourves and personal concierge.
More photos
«
»
March 9, 2011
Brandon Tucker is the Managing Editor for Golf Advisor. To date, his golf travels have taken him to over two dozen countries and over 500 golf courses worldwide. While he's played some of the most prestigious courses in the world, Tucker's favorite way to play the game is on a great muni in under three hours. Follow Brandon on Twitter at @BrandonTucker and on Instagram at BrandonTuckerGC.