Feel the Open magic at Royal St. George's Golf Club in England

By
Clive Agran
,
Contributor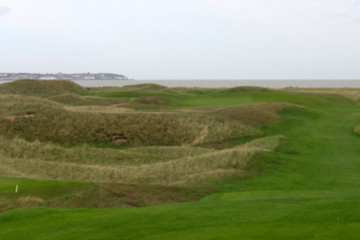 View large image | More photos
The fifth tee at Royal St. George's Golf Club provides a wonderful view of the sea and surrounding countryside. (Clive Agran/WorldGolf.com)
It may not be a classic links golf course, but steeped in history - British Open Champions from Greg Norman to Walter Hagen have hoisted the claret jug here - there's something magical about Royal St. George's Golf Club in Kent, England.
Reluctant though I am to sound incredibly smug, there aren't that many golf courses I haven't already played/damaged that I have a burning desire to experience. Apart from Augusta National, I can't really think of any. Muirfield, perhaps, because everyone who has played it bangs on about how wonderful it is. And possibly Pebble Beach because I once birdied the last three holes on a computer game and so am labouring under the ludicrous misconception that my game might be ideally suited to it.
Royal St. George's Golf Club, next to the pretty town of Sandwich on the English Channel coast just north of Dover, is one that I had wanted to play for a long time and for all sorts of reasons. For a start, it was the venue of the first British Open I ever attended. That was back in 1981 when Bill Rodgers won. Although he never achieved much else after that, I was inspired by the whole experience and enjoyed several Stableford successes and two nearest-the-pin prizes over the course of the next quarter of a century.
I was there again in 1986 when, despite a dodgy chip at the last, Sandy Lyle ended a lengthy inability on the part of British golfers to win their own Open that stretched back to Tony Jacklin in 1969.
By 1993 I had developed into a fully-fledged sports journalist complete with surly expression and cynical outlook. In July, Sky Television sent me to cover my first Open Championship as an accredited journalist, which was, of course, at Royal St. George's. That was the year Greg Norman romped home.
Finally, there was 2003 when a little known American named Ben Curtis, playing in his debut major and on a links course for the first time, stole the claret jug at Royal St. George's. I remember it rather more vividly than I would like because I had wagered the biggest bet of my golf gambling career and stood to win a considerable sum if Thomas Bjorn hadn't bunkered my dreams on the 16th.
Playing Royal St. George's Golf Club
Naturally the place looked very different without the grandstands, marquees, TV trucks and all the other paraphernalia that accompanies the Open circus. Apart from a few dogwalkers, there was no one about to provide the "oohs" and "aahs" and thunderous applause. As I entered the pro shop, the only noise was from seagulls screeching overhead.
In a concerted effort to absorb as much of the magic of the place as I could, I took in a few deep breaths of the deliciously salty air before I began to feel giddy. Perhaps that was the fate that befell the hapless Bjorn. Maybe he breathed too deeply in an effort to calm his nerves as he stood on the brink of capturing golf's greatest prize, overdid it and the world swirled about him as the ball twice rolled back into the bunker and his chances vanished along with my anticipated windfall. What the hapless Dane would have given for the almost flawless bogey that I recorded at 16.
Inside the pro shop you'll find the affable Andrew Brooks. He played in the 1969 Walker Cup in Milwaukee and was the only undefeated British player, winning two and halving one of his matches. The U.S. edged home and Brooks believes that the result would have been different had he not been inexplicably rested on the second afternoon.
After the Walker Cup, Brooks turned pro and played on the European Tour in the 1970s. Having shot an opening 66 in the first round of his first British Open at St. Andrews in 1970, he went out with none other than Arnold Palmer in the second round. He also played with Ray Floyd when the Open was at Turnberry in 1986.
Appointed pro at Royal St. George's in 1995, Brooks tells the story of how he went though the course planner explaining to Ben Curtis, who showed up before anyone else, how to play the course. Although he can't guarantee the same sensational outcome, if you ask nicely, he'll do the same for you.
From the moment you step onto the first tee, you realise this golf course is something rather special. The springy turf, spectacular dunes, murmuring surf, savage rough and singing skylarks combine to create a memorable experience that will stay with you long after the final putt has dropped.
To single out any holes seems almost disrespectful to the others, as they are all truly marvelous. However, the third is worthy of mention as it is the only par three on the British Open Championship rota that doesn't have a bunker. The fourth is unforgettable not least because the biggest bunker you are ever likely to encounter is staring straight at you as you tee off. From the back tees, it's 250 yards to clear the sand. The very high fifth tee provides a wonderful view of the sea and surrounding countryside. And so it goes on and on - every hole distinctive, challenging and unforgettable.
Unlike the familiar nine out/nine back layout you often find on classic links, St George's spins you around all the time so only the distant cooling towers provide a reliable reference point; otherwise the visitor is totally lost amongst the mighty dunes. The turn is somewhere in the middle of the course and the rather longer inward nine is every bit as fabulous as the outward nine.
Now that the fourth is being elevated to a par five, the final hole is the toughest on which to make a par and will surely sort them out when the Open returns to this gloriously quirky corner of the county of Kent in 2011. Personally, I can hardly wait.
The verdict on Royal St. George's Golf Club
There is unquestionably something magical about this glorious golf course. Rich in history and those indefinable qualities that make greatness, this is one that every golfer with a feeling for the game's great traditions, should try and play. Although it's a private members club and you must book in advance, Royal St. George's is a very welcoming place where good manners rather than mere wealth are what matter.
Hotels near Royal St. George's
The Royal Hotel (www.theroyalhotel.com) on the seafront in historic Deal is only about 15 minutes away by car. There is a quick way along the front but the pot-holed toll road is owned by a local residential estate, which charges a greedy £6 to use it.
Steeped in history, this early 18th century hotel provides a perfect point from which to reach the great seaside golf courses or explore the fascinating smugglers town of Deal. The rooms are comfortable if somewhat eccentric - no shower in mine, just a bath - but the restaurant is exceptional, the beer's magnificent and the staff are friendly. Lord Nelson - he of the Battle of Trafalgar - and Lady Hamilton stopped here but, apparently, didn't play golf.
The Black Pig (www.theblackpig.co.uk) is a modest, inexpensive, family-owned, 14th century inn close to Sandwich in the pretty village of Staple. There are five en-suite rooms, all of which have WiFi and televisions. Home-made meals are served every day of the week and there's an a la carte menu in the evenings.
Visiting Kent
For more information on golf and tourism in Kent, see www.visitkent.co.uk.
More photos
«
»
September 10, 2008
Although in his 60s, with a handicap of 15 and lifetime earnings comfortably below $100, Clive Agran nevertheless still believes he can win a major. Arguably England's most gifted golf writer, when not dreaming of glory he's scouring the globe simultaneously searching for lost balls and great golf courses. Follow Clive on Twitter at @cliveagran.