The Founders Club golf course south of Myrtle Beach: Diversity is the name of the game

By Ian Guerin,
Contributor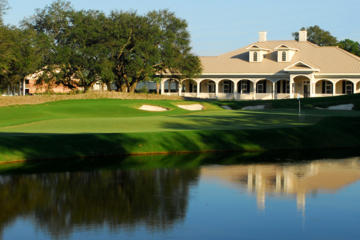 View large image | More photos
Is The Founders Club at Pawleys Island worth the drive from the heart of Myrtle Beach? You bet. (Courtesy of Classic Golf Group)
PAWLEYS ISLAND, S.C. -- If anything stood out to Tod Cox after playing The Founders Club at Pawleys Island, it was his need for a well rounded bag.
Cox, a Greenville, S.C., native, won a week's worth of golf on the Grand Strand through a raffle. And one of the golf courses he picked was like something he'd never seen before.
"I would definitely play this course again," said Cox, a 3-handicap. "It's fair, you just have to be ready. Don't let the sand intimidate you, because there's sand everywhere."
He wasn't talking about traps.
Like many of the golf courses in Myrtle Beach and the surrounding area, The Founders Club doesn't fight the sandy ground it has to work with. Approximately 85 percent of the Classic Golf Group course's cart paths are sand. Likewise is much of the rough.
It's only one area of concern for players of every handicap level on this challenging course.
The Founders Club at Pawleys Island: The course
For well versed players like Cox, The Founders Club plays at 7,007 yards. Average players are set at 6,394 and 6,708, respectively, while the women's tees play at 4,805.
Regardless, all levels of golfers better be ready for just about everything.
Take the 10th hole, for instance.
After teeing off, players can go from a carefully groomed Bermuda grass tee box to either a fairway or challenging rough to that aforementioned sand even before they get to the par 5's green, which is a specialty Bermuda variety (emerald). Should a player overshoot the green, he or she can even be forced to hit off a much firmer zoysia grass.
All that diversity, General Manager and Head Professional Rick Taylor said, leads to an individual look.
"The sand was here. They made the decision on the aesthetics of it," Taylor said. "We are very, very rarely cart-path only. It was about the challenge of it."
The challenge also comes in the form of where the longer holes are positioned. The par-72 golf course features four par fives: No. 6, No. 9, No. 10 and No. 12.
"The back nine, you start on 10, you have two par fives two out of three holes. You're playing 11 holes or so until you play a par five again," Cox said. "The golf course definitely plays easier from the front to the back. On 10, if you have a bad hole, you've got four par 5s, and one of them is gone, there's not much room to escape out there."
The Founder's Club's fairways are -- for the most part -- not terribly difficult to hit. And while there are several holes affected by water and trees, it's the sand that sets this course apart.
Cox immediately ponied up for the replay rate, as he wanted to see how he would do a second time around.
That approach is typical. Many players who set foot on The Founders Club have never played a course like it.
It's exactly what Taylor and Co. are hoping for.
"I think with 100 golf courses (in the Myrtle Beach area), you need to do anything different you can to stand out," Taylor said. "It's nice when people come, and they're looking for something to give them a good memory. I think that does that."
Facilities and golf instruction at The Founders Club
The Founders Club at Pawleys Island offers individual golf instruction. It also includes a wide driving range and two putting greens, one of which is coupled with the black tees on the front nine.
The clubhouse offers a full-service restaurant and bar that overlooks the 18th green.
The Founders Club at Pawleys Island: The verdict
One of the lone critiques of Founders Club is also one of its advantages.
The course, approximately 45 minutes south of the heart of Myrtle Beach, is the furthest of the Classic Golf Group courses. While Pawleys Island is no slouch when it comes to golf, the course does not receive much local notoriety, especially since it is positioned near two of the best courses on the Grand Strand.
During some months, The Founders Club is sending out fewer than 80 people per day. The golf course, already in prime condition, isn't forced to sustain the wear and tear of other similar courses most months out of the year. The prime months at Founders Club are March-May and October and November, when more than 200 golfers per day are playing.
It was awarded a top-30 public access nod from the South Carolina Golf Course Rating Panel. Still, the traffic on this course -- given its location -- seems lighter than deserved.
That is a mistake that benefits players who do find their way there.
More photos
«
»
August 12, 2010
Ian Guerin is a freelance writer and DJ living in Myrtle Beach, S.C. He's decent with the driver and putter; it's everything else in the bag that gives him trouble. Follow Ian on Twitter at @iguerin.