Millstone Golf Club in Tennessee: A golf course in need of some tender loving care

By
Tim McDonald
,
Contributor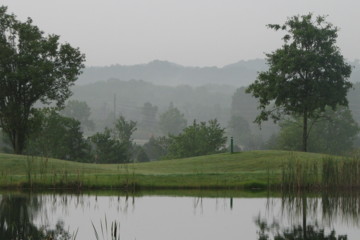 View large image | More photos
Millstone Golf Club in Morristown, Tenn., boasts stunning views of the Great Smoky Mountains. (Tim McDonald/WorldGolf.com)
Millstone Golf Club is a golf course that is not living up to its potential. Weeds on the parimeter of some fairways and greens, chewed up tee boxes and a few run down cart paths distract from what is an interesting layout. Nevertheless, this relatively unchallenging run is still a good budget option in Tennessee golf, because of its cheap green fees.
MORRISTOWN, Tenn. - Millstone Golf Club is like a good-looking woman with her hair uncombed, no makeup and wearing old jeans.
The potential is there, she's just not living up to it.
"It's a beautifully laid-out golf course, but they need to work on some things," said Rob Dyson of Morristown. "I think with some TLC, they'd be right up there."
True enough, Millstone Golf Club has an interesting layout, though the course is short at 6,348 yards from the back tees, and easy, with a slope rating of 125.
The cart paths could use some work, some of the tee boxes are chewed up, and there's a pesky weed problem around the perimeter of the greens, fairways and tee boxes that could use some tidying.
Still, it's a good play for the green fees. The fairways and greens are in good shape. It's the kind of course you can come out to with your buddies and do some betting because you'll still have some pocket change left over. Also, no one will get beaten up too seriously.
Millstone Golf Club opened in 1994 from a design by architect Bill Henry, and the course has the excellent views of the Smoky Mountains that most courses in the area have.
It's an open golf course, so you won't lose many golf balls, and portions of the course have very good elevation changes, while others are relatively flat.
Henry designed extensive mounding to give the golf course some movement where it's lacking elevation, and it has just enough water to keep you focused.
Millstone Golf Club also has an airport nearby and a railroad track, which can be interesting: I do love to hear the sound of a train.
The star of the golf course is the greens. They're bentgrass, which seems to be the favorite of courses in the area, and they are relatively large, with most sporting some very challenging slope and undulation.
If you shoot a high score out here, this is where you will lose most of your shots. Some are multi-tiered and most are in very good shape, even though the course gets quite a bit of play.
Though Millstone G.C. is easy, it has a lot of variety and can be fun to play, if you're not looking for your game to be seriously challenged. There are some very reachable par 5s, some drivable par 4s and some risk-reward options.
The 523-yard par-5 eighth, for example, throws a tricky tee shot at you, where you must hit over mounds and trees right, staying away from trees on the other side of the fairway, which doglegs to the right. The approach is over a pond to an elevated green.
No. 9 is an enticing 300-yarder, but the fairway climbs sharply up to the elevated green, so it's a farther poke than it looks from the tee. No. 11 is a good dogleg left with an uphill approach. The green is big and two-tiered, and it slopes hard back to front with a flat spot on the top shelf.
Millstone Golf Club's closing hole is excellent. It's one of those reachable par-5s, though it's deceptive even at 481 yards because you're hitting uphill over a pond to reach the elevated green.
Still, you can get away with some bad shots here and still be looking at par or even birdie putts, especially on the par-5s.
"This is a good course for mid-handicappers," Dyson said. "The rates aren't nearly as bad as some I've seen in other areas."
Millstone Golf Club: The verdict
Green fees at Millstone are $33 weekdays and $41 weekends. At that price, this is a pretty good deal.
It's a popular course that hosts a lot of area tournaments.
Stay and play
The Holiday Inn Express and Suites is a good place to explore Morristown - the Davy Crockett Tavern is just right down the street, for example.
It still has that new smell, since its grand opening was in early June.
The property is near Interstate-81 and convenient to Knoxville and other area attractions; the Smoky Mountains are a short drive away.
The College Square Shopping Mall is right down the street, as well as a lot of restaurants, including the excellent Sagebrush Steakhouse.
Rooms have free, high-speed Internet and microwaves and refrigerators. There is a small business center, a good continental breakfast, indoor swimming pool and small fitness center.
More photos
«
»
August 14, 2007
Veteran golf writer Tim McDonald keeps one eye on the PGA Tour and another watching golf vacation hotspots and letting travelers in on the best place to vacation.