Near Hilton Head Island, Rose Hill Golf Club is two courses in one

By
Lisa Allen
,
Contributor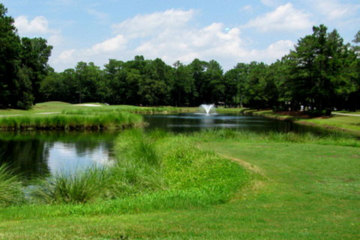 View large image | More photos
The No. 10 tee shot at Rose Hill Golf Club has a lot of water to carry from the rear tees. (Lisa Allen/WorldGolf.com)
BLUFFTON, S.C. - Rose Hill Golf Club is a tale of three nines. When the course opened in the 1980s, it was a 27-hole course that meandered through a tasteful development in Bluffton, beside a two-lane road that led to Hilton Head Island.
About four years ago, Rose Hill hit a bump, a large financial bump, that closed the course for three years while the course owners meandered through court. Eventually, the homeowners bought the course and hired Signature Golf Group of Myrtle Beach to restore and run the golf course that had turned into fields of six-foot weeds with trees taking root in several sand traps.
Rose Hill Golf Club reopened in September as an 18-hole course, two practice holes and a park for the residents. So now it's a tale of two nines.
Assistant Golf Professional Donnie Berryhill said the course's claim to fame is its greens, and he's right. The undulating greens are in perfect condition. The course also is aggressive in attracting golfers, with the latest promotion being a free dozen balls with a round.
Rose Hill Golf Club today
The golf course offers five sets of rose-variety-named tees (only one sloped and rated for women) ranging from Temptation (6,961 yards) to American Beauty (5,137). The others are dubbed Braveheart (6,671 yards), Fair Play (6,281) and Silver Moon (5,732).
The greens are now stellar, once the minverde grass took about mid-summer. The fairways on the front are established but the tee boxes, not so much. Tee boxes will have to be replanted. Those conditions are to be expected for a course that laid dormant for three years, and it's not through its first year of rebirth.
Tale One: Rose Hill Golf Club's front nine
There are few doglegs on the front, instead it's a parade of straight holes. Another recurring feature on several holes was the presence of a single, solitary bunker at the green. An added feature on this day was that most of the flags were positioned right behind that single bunker, which in most cases wrapped a bit around that flag. It grew a little tedious.
Most memorable of the front was the excellent condition of the greens and fairways. Shorter than the back by up to 335 yards from the tips (excuse me, Temptation) and 275 from the mid-range Fair Play tees, it provides a lot of opportunities for par or better.
Noteworthy holes on the front:
No. 8, a par 5, requires a drive that lands just so. Past the tee on the left is a pond that will suck in any dribbling drive. Long drives that stray to the right might play ricochet world among a smattering of tall pines that occupy space usually reserved for the right side of the fairway. If you play a right drive short, you can always try to sniper a shot between them.
No. 9, a par 3, puts the green on the other side of water with three bunkers around it. Hope your iron game is good, with lengths that vary from 181 yards to 125.
Tale Two: Rose Hill Golf Club's back nine
The back seems to be a different golf course - more doglegs, more water, bunkers, length and trees. This is the part of the course where you just try to hold on and talk about over beers later.
It starts with a demonic dogleg left with the first half over water. However, a bunker awaits at the far elbow for any drive that's too long. You're not out of hot water on the second shot, with a marsh dominating the left side to the green.
On No. 11, a long par 5, that pounding in your head isn't imaginary, it's the din of four lanes of highway traffic roaring past just a lob wedge away. The hole is tough enough without the cacophony of hundreds of cars. It's too bad, because 11, with just a short interruption in left-side water and pines right, is an interesting hole.
Fortunately, the rest of the round is nice and peaceful.
No. 16 has a large bunker in the middle of the fairway with just a sliver of fairway on the left side that's open.
No. 17 is a fascinating hole with a string of bunkers along the near side of the curve right. Not only does your drive have to be the right length, it has to be in the right place for that length.
The finishing hole is straight, with a fairway feed between two bunkers. For your approach shot, you get a taste, perhaps, of an unkempt course. The elevated green sits behind a wall of shaggy-edged bunkers, lending an air of uncertainty to any shot that lands near them.
Rose Hill Golf Club: The verdict
Playing the course was a first for both Brian Masotti and Sam Campagna.
"It's a pretty open, basic, daily course," Masottit said.
Campagna enjoyed the par 4s because they weren't too long, and the shorter ones required more precision in approaching the green. "You had to make shots," he said. "It was well-maintained."
It's a perfect course on which to hone your putting and, on the back, your strategy and execution.
The front is a tame warm-up for the back, which will test your mettle. The greens and fairways are, or soon will be, turf at its best.
It's reasonably priced and accessible, being right off the highway.
More photos
«
»
July 20, 2009
Lisa Allen is a golf, travel and business writer based in Beaufort, S.C. She has edited newspapers, magazines and books in Michigan, Indiana and South Carolina. Follow her on Twitter @LAllenSC.