Prestwick Country Club a standout Myrtle Beach-area golf course with a taste of Scotland

By
Jeffrey White
,
Contributor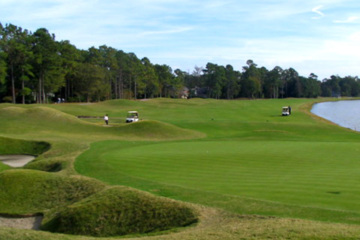 View large image
No. 9 at Prestwick Country Club is one of the Myrtle Beach area's great holes. (Tim McDonald/WorldGolf.com)
Prestwick Country Club in Surfside Beach, S.C. is a Pete and P.B. Dye-designed golf course that employs berms, mounding and other links elements that recall its Scottish namesake. This is one of the standouts in Myrtle beach golf.
SURFSIDE BEACH, S.C. - If it wasn't for the God-awful early hour, it would be hard to deny that the best time to start a round at Prestwick Country Club is at sun up.
The light breaks so gradually over Prestwick's ninth and 18th that the holes seemingly wake up. They are mirror images of each other, separated by a man-made lake that catches this creeping light and turns the sky's colors on end just enough to silhouette darting cranes and herons.
It's enough to make you consider abandoning your round to stare a little longer.
But you pull away and head to the first tee to begin what is thought by many to be one of the best rounds in Myrtle Beach golf.
Located 10 miles outside the Grand Strand here in Surfside Beach, Prestwick C.C. is a formerly members-only golf course that has gone public in recent years.
If the course sounds Scottish, that's intentional: It's named after the famous Prestwick that played host to the first British Open.
Pete and P.B. Dye - is there any more formidable combo in golf design? - teamed-up to bring a little Scotland to Myrtle Beach. Where as a lot of Myrtle Beach golf courses like to play on the Scotland theme, Prestwick delivers, with lots of berms, church-pew bunkers and open front greens.
The Dyes moved some 1.3 million cubic yards of earth to create a lot of the golf course's movement, and incorporated - big surprise - more than 10,000 railroad ties into the layout.
Prestwick Country Club plays like two courses: The front nine takes you through forest and it is here that you wonder whether this isn't really more of a parkland track. There's some nice build-up, however: After three relatively straightforward par 4s, No. 4, another par 4, throws some water at you. You carry water to a wide fairway and face an approach of about 100 yards to green guarded in front by a creek. No. 5, a 183-yard par 3, is another forced water carry to a green with a huge swale in its middle.
On the back-nine, parkland gives way to more of an open, links feel. No. 13, a 152-yard par-3, is all carry, but does not punish you for taking a little more club than you need. The 451-yard, par-4 14th is a gorgeous hole requiring a drive over water to a narrow fairway guarded by a huge trench on its left side and a series of swales on the right.
The par 5s at Prestwick are strong, but give you a chance to score (though you have to be pretty long on the 522-yard sixth to really have a good look at birdie).
Prestwick's two show-stoppers are the aforementioned ninth and 18th, both curving, every so gently, with the subtle bends of the 20-acre lake. No. 9 is the harder of the two, a 537-yard par 5 with the water on your left and a sloping fairway that will force you ball in that direction. No. 18 is a 441-yard par-4 that makes more use of links-like mounding, and you approach to a green that has a large swale guarding its front.
Both holes are framed by Prestwick's gorgeous, 20,0000-square-foot colonial clubhouse.
Prestwick Country Club: The verdict
At a shade over 7,000 yards from the tips, Prestwick C.C. has enough length to it to challenge the low handicapper. But there are five other sets of tees, a nice feature for higher handicaps, especially as there are plenty of ways to find trouble here.
Water comes into play on eight holes, and other holes make use of Dye-trademark mounding and bunkering. You don't have to think too much about your club selection here - you can swing away - and it's often fine to be a little long, as the Dyes have built many greens to slope back towards you.
The course is kept in meticulous conditions, the staff is efficient and pleasant, and the rangers keep place of play moving.
There's plenty to remark on, but one keeps coming back to those early morning hours on the course itself.
There might not be a more beautiful time or place to play golf in Myrtle Beach.
November 28, 2007