The Dye Course at Barefoot Resort can weather a storm and still challenge in Myrtle Beach

By
Jeffrey White
,
Contributor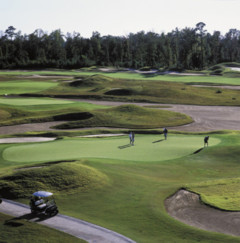 View large image | More photos
The Dye course at Barefoot Resort is considered a vintage Pete Dye course. (Courtesy of Barefoot Resort)
Pete Dye's course at Barefoot Resort & Golf seems likely to keep its place among the upper echelon of Myrtle Beach golf. On a recent visit following significant rains, the golf course performed beautifully.
NORTH MYRTLE BEACH, S.C. -- It's funny how one round of golf can be affected, positively or negatively, by another.
Take a recent visit to the Dye Course at Barefoot Resort here in North Myrtle Beach. The round was preceded, the day before, by a yeoman's effort at Jack Nicklaus' signature Long Bay Club that was itself preceded by a night of torrential rain.
When biblical storms visit an area in drought, you're in for it on the golf course, and Long Bay, difficult at the best of times, proved nearly too penal in wet conditions. It was easy to admire the golf course for what it must play like normally, but not so easy to admire its ability to recover from rain that fell, though not as heavily, through most of the round.
So the Dye Course at Barefoot Resort came as a positive surprise. It seemed the course had handled the rain much better, and that grounds crews had made an effort to dry out greens and at least spread the water out a bit in the bunkers so that there were hardly any of the pools that made the bunkers at Long Bay more like water hazards.
You can tell a lot about a golf course from how it recovers from bad weather -- and when you reside in a golf market as competitive as Myrtle Beach, then good grounds-keeping is a way of separating yourself from the pack.
The Dye Course is one of four at Barefoot Resort, and widely considered the most difficult (though the other three -- the Love Course, Norman Course and Fazio Course -- get a lot of praise too). Opened in 1996, it's vintage Dye: fairways have a lot of movement and mounding, there is significant bunkering, minimum forced carries and the greens are challenging while still giving golfers a chance to score.
It's a hefty golf course, more than 7,300 yards from the tips, and runs through a pretty exclusive residential development.
The front-nine is longer, and though the round starts off easy enough - Nos. 1, 2, 3 and 4 are essentially warm-up holes, with very little, save some waste areas, to negotiate. Dye then takes it up a notch with a 581 yard par 5 that you'll need every bit of three strokes to reach the green in regulaton.
If the back-nine is shorter, it's also more demanding. Water comes into play on the left on the 344 par-4 10th, which requires a specifically-placed iron from the tee to position you correctly for a short approach. The tee shot is key on No. 11 as well, which has a narrow landing area that stares up the throat of a right hand dogleg to a green protected in front by a small pot bunker.
You can always admire Dye's designs for the way they can trick you. No. 13, a 392-yard par 4, seems almost two easy. But what you can't see form the tee is that you'll be hitting a 120-yard approach to probably the smallest green on the golf course. It's way too easy to miss long, left or right.
Dye wins the golfer completely over by saving the best for last. The 471-yard par-4 18th appears to be the most demanding tee shot on the golf course, with water running down the entire left hand side and heavy bunkering down the right. But the needle turns out to be easier to thread (nice to have a pleasant surprise on the home hole) leaving you with a mid iron to a P-shaped green.
Dye Course at Barefoot Resort: The verdict
The Dye Course at Barefoot Resort looks likely to keep its place among the upper echelon of Myrtle Beach golf. The layout and length challenges, but the course turns out to be accessible to the higher handicaps, thanks to several tees to choose from.
Though wet, the course looked like it had fared better in this summer/fall's drought, and a lot of credit has to go to Course Superintendent David Zeidler and his crew for making the course play as well as it did after such heavy rainfall.
The Dye clubhouse is posh and beautiful. Golf carts are all equipped with GPS.
More photos
«
»
November 21, 2007