Myrtlewood Golf Club boasts unbeatable location, affordable golf in Myrtle Beach

By
Brandon Tucker
,
Managing Editor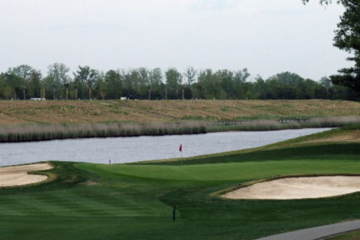 View large image | More photos
The 18th on the Palmetto course closes along the Intracoastal Waterway. (Brandon Tucker/GolfPublisher.com)
Anyone who spends more than the blink of an eye in Myrtle Beach is sure to pass Myrtlewood Golf Club, which boasts a can't-miss location on Highway 17 and whose holes can be seen just across the street from one of Myrtle Beach's biggest attractions, Broadway at the Beach.
There are many reasons why Myrtlewood's two championship courses - the PineHills and Palmetto - see more rounds than just about any course in the Grand Strand, more 100,000 between the two courses.
For starters, they're both playable, with modest slope ratings on two traditional designs. They're also affordable, with green fees never peaking out past $79, and Myrtlewood has a local reputation for keeping its courses in good shape for the money.
But that's not all.
"We got two rounds free here as part of our condo rental," said John Redd, a 20-handicap from West Virginia. That's a common reason why many golfers make their way here. Owned by Myrtle Beach's biggest real estate company, Burroughs & Chapin, sometimes the club is used as an amenity to sweeten deals.
But Myrtlewood also has a strong membership and plenty of regulars who live just minutes away and commonly drop in for a quick nine holes after work. It adds up to two popular golf courses that won't blow you away, but are modest, serviceable and a convenient pick for your Myrtle Beach golf package.
Myrtlewood's Palmetto course
The Palmetto is the original championship course here and is widely popular as a result of its playability for the higher handicap. You'll see a lot of women and seniors out here who enjoy the wider fairways and trouble that lies further away from greens.
The Palmetto is an average, unassuming course until its strong finishing holes.
The signature 17th is a par-3 that plays from an elevated tee over a small creek that funnels out to the Intercoastal Waterway, to a green just below. The shot isn't overly long, but the green is shallow enough to require precision.
The par-4 18th plays right along the Intracoastal Waterway to the left and is the club's most scenic hole. The entire hole slopes towards the water, acting as a magnet to tee shots.
Myrtlewood's PineHills course
Originally just the "Hills" course, it was little more than an executive course until 1993 when architect Arthur Hills was asked to turn it into a championship course. He didn't have much land to work with and the result is a course that is just over 6,600 yards from the championship tees. But despite being well shorter than the Palmetto, its slope is 133 compared to 121. This is a result of more complex greens and heavy bunkers and undulation around them. It's also a little tighter in most spots than the Palmetto, so you're forced to hit a few more irons, and water comes into play closer to most landing zones.
The PineHills doesn't have any stunning holes along the Waterway, but the 9th, a straight par 5 playing between two hazards, and 18th, which doglegs around water, both feature plenty of high drama. Two of its par 3s also feature daring shots over water.
Myrtlewood: The Verdict
Myrtlewood's location, playability and affordability make it one of the area's most popular clubs. Its owners, Burrows & Chapin, also give out a lot of free rounds here to those who book condo rentals at one of their many properties along the Grand Strand.
Trying to decide between one or the other? Better players should book the PineHills over the Palmetto, while those out for a more relaxing round and a couple holes along the Intracoastal Waterway should go with the Palmetto.
Both Myrtlewood courses have the same pricing structure, peaking out at about $79 for walk-in green fees in the high season. And hey, if you booked a condo with Burrows & Chapin you might get a free round or two out here anyways.
More photos
«
»
October 10, 2007
Brandon Tucker is the Managing Editor for Golf Advisor. To date, his golf travels have taken him to over two dozen countries and over 500 golf courses worldwide. While he's played some of the most prestigious courses in the world, Tucker's favorite way to play the game is on a great muni in under three hours. Follow Brandon on Twitter at @BrandonTucker and on Instagram at BrandonTuckerGC.