Bring your straight ball, thinking cap to Indian Wells golf course in Myrtle Beach, South Carolina

By
Brandon Tucker
,
Managing Editor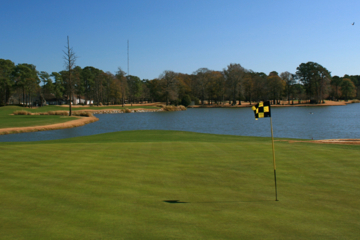 View large image | More photos
Golfers familiar with Myrtle Beach have no doubt passed Indian Wells Golf Club's 15th hole countless times on Highway 17. (Brandon Tucker/WorldGolf.com)
SURFSIDE BEACH, S.C. - Not every golfer who has been to Myrtle Beach has played Indian Wells Golf Club.
But surely everyone that's golfed the Grand Strand has at least driven past its prime Highway 17 location and its flashy electric marquee boasting things like "SUPER SHAPE" and "P.M. SPECIALS" - not to mention two penal-looking holes wrapping around a huge lake behind it.
Indian Wells is no secret, that's for sure. It's one of the most popular Myrtle Beach golf courses over the last two-plus decades, thanks partly to its location but mostly because of its strategic course design and above-average course conditions - conditions some of Myrtle Beach's elite courses might even blush at.
The result is a course that's always popular, even in 2009, when rounds are projected to be down in Myrtle Beach and in most golf destinations worldwide.
"We've actually started 2009 off better than 2008, knock on wood," said Steve Hamrick, general manager at Indian Wells Golf Club. But for golfers, location only means so much, especially in a destination where there's a golf course on every corner. But Indian Wells' conditioning is superior to what its mid-level price point might suggest, which spawns plenty of loyalty.
"The best part about us is our conditions," noted Hamrick. "We host a lot of tournaments and keep it tournament-ready.
"Our guys are working hard out there."
And on this February morning following a vicious thunderstorm, the maintenance crew was certainly earning their paychecks, repairing flooded bunkers, draining standing water and clearing debris. By the back nine, aside from a few puddles in low-lying areas, the course looked ship-shape. The greens? You couldn't even tell they'd been drenched, rolling fast and smooth all day.
For 21st century standards, Indian Wells' 1984 design by Gene Hamm is short on paper, just 6,624 yards from the championship tees (6,225 from the men's, 4,872 from the forwards), but don't think the course is a pushover by any means. Two of the par 3s play over 190 yards (including a fierce 17th that's 215 yards entirely over water). It still carries a solid 136 slope and enough water (14 holes, including several forced carries) to drain anyone's golf bag supply.
If you're going to score birdies here, the par 5s are your best bet. Each of the four are short (only No. 5 is over 500 yards). But three of them utilize well-placed trees to make the hole anything but straight-forward. No. 1 has a tree on the right side of the fairway near the green that will cause havoc with your second shot. And on the 13th, a tall pine on the left side of the fairway will certainly mess with your aiming line, before the hole doglegs sharply to the right.
Both the front and back nines finish very strong, so don't be too fussy about which tee you begin on when the course double-tees. No. 9 is a long, dogleg right over water on the second shot, but the 18th takes it up a notch. It's another long, dogleg right par 4, but this time another tree sits in the fairway and guards the green on the second shot, while even more water lurks short and left.
Suffice to say if your opponent is up two shots going into this hole, you've still got a chance at the match.
Indian Wells Golf Club: The verdict
Indian Wells is a solid pick for a mid-priced golf course in the Grand Strand thanks to an ingenuitive design that employs lots of doglegs and maneuvering around trees and lakes - plus course conditions that make you think you're on a premium-priced golf course. The bermuda greens are usually kept in speedy condition, which should delight lower-handicaps with smooth strokes, they stand to roll in a few bombs here.
Club amenities include GPS in all golf carts, a small driving range and two putting/chipping greens. The clubhouse has a small grill that serves hot breakfast and lunch plates, a pro shop with equipment and even more apparel, and a small locker room.
Indian Wells is part of the Classic Golf Group, and green fees peak at $89, but off-season rates drop to as low as $40. And as with all Myrtle Beach golf courses, it can be booked cheaper through a golf package.
More photos
«
»
March 10, 2009
Brandon Tucker is the Managing Editor for Golf Advisor. To date, his golf travels have taken him to over two dozen countries and over 500 golf courses worldwide. While he's played some of the most prestigious courses in the world, Tucker's favorite way to play the game is on a great muni in under three hours. Follow Brandon on Twitter at @BrandonTucker and on Instagram at BrandonTuckerGC.