From the ashes of Sea Marsh comes Pete Dye's Heron Point golf course at Sea Pines Resort

By
Tim McDonald
,
Contributor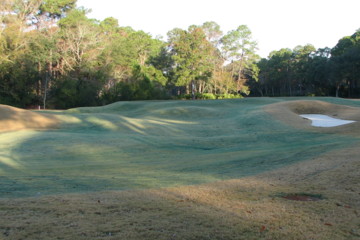 View large image | More photos
The new Heron Point golf course really picks up movement around the green complexes. (Tim McDonald/GolfPublisher.com)
Now called Heron Point, the old Sea Marsh golf course at the Sea Pines Resort on Hilton Head has been completely made over by renowned course architect Pete Dye.
HILTON HEAD, S.C. - Remember the Sea Marsh golf course at the Sea Pines Resort on Hilton Head? If you do, good, because now it's nothing but a memory.
"He took it down to flat earth," said Sea Pines Group Sales Director Jeff Barry of the old course, which has been completely re-done by golf architecture's resident madman, Pete Dye. "When you're out here, you don't see Sea Marsh at all."
Sea Marsh was always known as a scenic layout, meandering along the island's expansive tidal marshes, but was generally considered the least impressive of the sprawling resort's three courses, the other two being the renowned Harbour Town Golf Links and the Ocean course.
The Ocean course, the first on the island, was also recently re-designed, by Mark McCumber.
Sea Marsh had already undergone one major remodeling job, in 1990 by Clyde Johnston, but Sea Pines officials decided to do away with it completely, and they called in Dye, who had designed Harbour Town with Jack Nicklaus, the latter's first major work and one that propelled him into golf design stardom.
What emerged after Dye and his bulldozers drove away is Heron Point, the golf course's new name, and it has Dye's trademark fingerprints all over it. Great for those of you who like Dye and not so great for those of you who don't.
Myself, I happen to think Dye is one of golf's most imaginative architects, certainly its most distinct. And now, Heron Point has that distinct distinction.
"It's unique here on the island because of all the undulation," Barry said. "On the fairways, on the greens, everywhere you look. This is a flat island."
Indeed, the course has a ton of movement, especially as you approach the green complexes. Dye and his craftsmen must have been laughing maniacally, seated in their dozers, pushing up mounds and hillocks throughout the lowcountry routing.
It's a parkland course, with tree-lined fairways, like most of Hilton Head's courses, but the motion really starts around the greens. Knobs, valleys, declivities, hidden bunkers and other assorted hazards - including water, which is generally lurking nearby - will make for nervous approaches and some very tricky short-game duty.
The course shut down for a year and just re-opened in September, and thus the greens, as of this writing, retained their firmness, making stopping shots into the greens even more difficult. They should soften over time.
This is typical of Dye, the old conjurer; he likes to fill the landscape with pretty clutter to distract your eye and fill your head with all sorts of foolish thoughts to clutter your scorecard. There are the other Dye trademarks as well, including visual deception and his classic railroad ties, though the ones here are vertical.
Heron Point: The Verdict
Heron Point is a great addition to Sea Pines, and gives the resort two excellent Dye courses, though of course Heron Point isn't in the same league with Harbour Town.
But, if you like Dye and you like to have the imagination in your short game tested, you will love the new course.
There are some awkward driving angles off the tee, and most holes have water, trees, tricky doglegs or long bunkers to contend with, not to mention obstacles Dye likes to stick in the fairways themselves.
Chance has always been part of Dye's arsenal, and Heron Point is no different. Shots you thought were good can take crazy bounces off the various knobs and mounds and place you in some difficult positions. Getting up and down on these greens takes some doing.
"I played the old course, and I've played that new one and I have to say I like the new one better," said mid-handicapper Phil Summerfield of North Carolina. "I shot better on the old one, but this one is more interesting, to me anyway."
One of Dye's biggest obstacles, believe it or not, was cutting down many of the trees on the property. Residents were concerned about the tree cutting, and it took Sea Pines officials some time before they could convince the town to give authorization.
They did a good job of it, because Heron Point is still pleasantly wooded, though now there is sufficient sunlight to let the grass grow.
The course is open to the public, with green fees in the $130 range, about par for the island.
Hilton Head accommodations
Chechessee Creek Club is a good place to stay within striking distance of Hilton Head. Chechessee Creek has 10 cabins now, most of them privately owned and for rent to members. They conform to the aesthetic standards of the club, with hardwood floors, old-time fixtures and working fireplaces.
The wide porches have barbecued grills and all boast either golf course or marsh views, and sometimes both. They range from two-bedrooms up to four.
More photos
«
»
January 17, 2008
Veteran golf writer Tim McDonald keeps one eye on the PGA Tour and another watching golf vacation hotspots and letting travelers in on the best place to vacation.