Chechessee Creek Club near Hilton Head: Ben Crenshaw and Bill Coore's throwback course

By
Tim McDonald
,
Contributor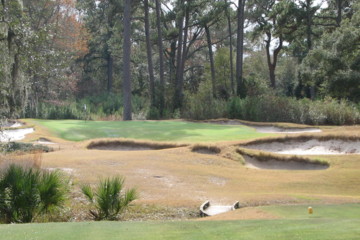 View large image | More photos
The par-3 seventh hole at Chechessee Creek Club in Okatie, S.C. is 168 yards from the back tees. (Tim McDonald/GolfPublisher.com)
OKATIE, S.C. - The Chechessee Creek Club is a private Hilton Head-area golf course designed by Ben Crenshaw and Bill Coore, a duo that has earned a firm reputation in the world of golf architecture as strategic minimalists.
They're both old-school, heavily influenced by the masters of the so-called golden age of architecture, by architects like Donald Ross and A.J. Tillinghast, among others. The pair have done some heralded designs since teaming up in the 1980s, the Sand Hills Golf Club in Mullen, Nebraska, probably being their most famous.
When you hear their names, you instinctively think: simplicity, strategy and subtlety.
That pretty much sums up Chechessee Creek, which fits nicely in the Crenshaw-Coore portfolio.
The club is located on a lonely piece of land bordering Chechessee Creek, which in turn feeds into the Chechessee River, which in turn flows into the Atlantic Ocean. It's about 10 miles from Beaufort and 15 from Hilton Head Island.
The way they built Chechessee is telling. The designers don't like to work that much on paper, like most modern architects, they prefer to "feel" the layout of the land.
They do that by cutting narrow, center lines at first, rather than scraping out entire fairways like many cookie-cutter designers. Then they sit back and consider that for a while before cutting more. Where are the best playing corridors?
In effect, they built the course incrementally, adding, subtracting and changing as they went. Coore and Crenshaw can take the time to do this sort of thing because they never work on more than two projects at a time.
The result is a course not so much carved through classic South Carolina; it's more like it was a very expensive gardening project. Whereas Jack Nicklaus may have come through with hammer and tong, Crenshaw and Coore used surgical scalpels.
As might be expected, they moved little dirt. The tee boxes are only slightly higher than their surroundings, with no fancy flower boxes or ornate steps. Only the pushed-up greens show evidence that dirt was moved around.
The course slithers through the pines and oak trees with a very light touch; when you first pull up and drive around the property, it takes a while, and some focus, to notice the course.
When you're actually out playing, most likely walking, you have time to notice this minimalist approach makes stars out of the stately oaks and pines, not to mention the broad expanses of marsh that give way to the creek and river.
The trees are an intimate part of the course, not just lining fairways but also often as fairway obstacles and aiming points. They let the grass that tips the bunkers grow long, giving them a natural, unruly look and making them more well-defined from the tee boxes.
This low-key approach extends to the clubhouse, which is small but cozy, and even to the darn parking lot, with its shading oaks and irregular design - no cars baking in a big, rectangular asphalt lot.
Another throwback to the old days is length. The course measures 6,606 yards from the "championship" tees, and 6,285 from the back, or blue, tees. The members tees are less than 6,000 yards.
But, the length, or lack of it, is deceptive.
"The scorecard is short. The course is not," said Franklin Newell, the head professional. "There are five par-3s and three par-5s. You have some short par-4s, and you have some that are long. A lot of people look at the scorecard and say afterward they can't believe how many fairway woods and long irons they had to hit."
Chechessee Creek Club: The Verdict
Chechessee Creek opened in 2000 and is one of the better courses in the Hilton Head-Beaufort area, if you like your golf of the traditional, strategic variety.
It's one of those courses that, though short by today's standards, can be deceptively difficult. Bad shots here can put you in some very awkward positions, particularly around the greens.
"It isn't real forgiving," Newell said.
The course, in its relatively isolated location, is reminiscent of Old Tabby Links on nearby Spring Island. There are only 10 cottages around the Chechessee layout as of this writing, though there are 41 lots.
It is a very relaxing walk through a serene part of the lowlands.
The club has a caddie program and membership is by invitation only.
Hilton Head lodging
Chechessee Creek Club has 10 cabins now, most of them privately owned and for rent to members. They conform to the aesthetic standards of the club, with hardwood floors, old-time fixtures and working fireplaces.
The wide porches have barbecue grills, and they all have either golf course or marsh views and sometimes both. They come as small as two-bedrooms and as large as four.
More photos
«
»
January 15, 2008
Veteran golf writer Tim McDonald keeps one eye on the PGA Tour and another watching golf vacation hotspots and letting travelers in on the best place to vacation.