The Arthur Hills Course at Palmetto Hall Plantation Club is a Hilton Head Island favorite

By
Brandon Tucker
,
Managing Editor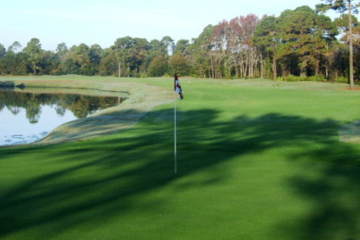 View large image | More photos
The Hills Course at Palmetto Hall weaves through island lowcountry and a sleepy residential community. (Brandon Tucker/WorldGolf.com)
HILTON HEAD ISLAND, S.C. - One of a handful of Arthur Hills-designed golf courses in the Carolina lowcountry is the Arthur Hills Course at Palmetto Hall Plantation Club, located on Hilton Head.
Hills is a popular name around these parts, with designs ranging from Charleston to Dataw Island. His two designs on Hilton Head, the other being his Arthur Hills at Palmetto Dunes, are among the most highly regarded courses in one of the Southeast's top golf hotspots.
The Hills Course at Palmetto Hall opened in 1991 and is the original of two courses at Palmetto Hall, which welcomed the Robert Cupp Course two years later.
Although it's Palmetto Hall's Cupp Course that has received area recognition for having the highest championship slope/rating in Hilton Head (75.2/149), the Hills Course is no slouch itself. It plays a manageable 6,900 yards from the championship tees, though its tight fairways and hazards still pose as a formidable challenge. Hills especially incorporates trees that not only frame holes but require strategic placement around them at times.
The golf course winds through a sleepy residential community, tucked behind shady mossy oaks and Carolina Pines. At two times during the course, you pass through an automatic-fenced gate and dirt road to continue your round.
"It's a fun course to play," said Bob Hunter, a 12 handicapper on a Hilton Head golf vacation from Boston. "It's tough because a lot of holes have out-of-bounds on them, but once your drive is in the fairway, you've got a good chance at par.
"I liked the par 5s especially."
Like many Arthur Hills golf courses, reaching these par 5s in two shots demands bravado and precision. The shortest of the bunch is the fifth hole, 472-490 yards from the mens/championship tees. But a large pond comes into play on the second and approach shot, playing to a green perched on the edge of the water. Even if you choose to lay your second shot up, it's a very delicate wedge shot into the green.
On the par-5 11th, the fairway bottlenecks drastically towards the green, so placement on your second shot is crucial. The most straightforward par-5 of the bunch is the 15th, 500-521 yards and straight, but the green is elevated and guarded by bunkers and heavy rough in front of the green.
The golf course certainly finishes on a high note, perhaps the most penal hole on the golf course. The 18th is a long par-4 with water all down the right-hand side. The approach shot is over water to a two-tiered, sloping green with little bailout room.
The Hills Course at Palmetto Hall: The verdict
Palmetto Hall is your quintessential Lowcountry golf course on Hilton Head Island. It's a solid mid-level course on the island. The woodland scenery won't knock your socks off, but it's still a very laid-back, forested course and presents solid shot values.
"I like Palmetto Dunes just a little better," said Hunter, referring to Hills' other Hilton Head Island design nearby. "It has a few more memorable holes."
Though a little easier than the infamous Cupp Course next door, the Hills Course still offers plenty of challenge, with four sets of tees stretching to over 6,900 yards and a 74.1/142 slope from the championship tees.
More photos
«
»
January 21, 2008
Brandon Tucker is the Managing Editor for Golf Advisor. To date, his golf travels have taken him to over two dozen countries and over 500 golf courses worldwide. While he's played some of the most prestigious courses in the world, Tucker's favorite way to play the game is on a great muni in under three hours. Follow Brandon on Twitter at @BrandonTucker and on Instagram at BrandonTuckerGC.