Located close to the convention center, Disney, Sea World and more, Shingle Creek Golf Club is your hub for Orlando activity

By
Erik Peterson
,
Contributor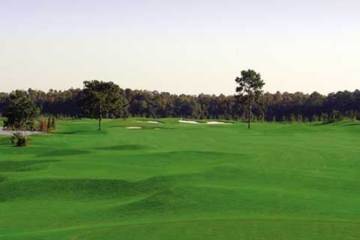 View large image | More photos
No. 1 at Shingle Creek Golf Club is the first of six consecutive holes on which water comes into play. (Courtesy of Shingle Creek G.C.)
ORLANDO, Fla. -- If you want a golf course within a 15-minute drive of Orlando International Airport, the Orange County Convention Center, Disney, Sea World and Universal Studios, look no further than Shingle Creek Golf Club.
Shingle Creek's greatest attribute is its location, but the well-manicured golf course and towering, 1,500-room hotel and convention center make it an inviting Orlando destination - for business or a vacation play.
With rolling fairways, large greens and water hazards on almost every hole, the course is quintessential Florida golf. And like most resort golf courses in Orlando, Shingle Creek caters to low and high handicappers alike, but for different reasons.
No. 1, for example, is a benign, par 4 with a wide fairway that opens into the green. From the shortest of Shingle Creek's five tees, it measures confidence-building 273 yards.
Low handicappers must consider a lake that guards the left side of the fairway. It comes into play more often from the back tees as the hole gently doglegs toward the water.
As you work through the front nine around the grounds the hotel that serves as the centerpiece of the Rosen Shingle Creek resort, the holes turn more demanding. The long, par-3 fifth, in fact, features the most difficult golf shot at Shingle Creek.
A lake juts in on the left, forcing a carry from any tee if you aim at the flag. A massive, gnarly bunker protects the right portion of the green's front side. And the wide, shallow putting surface means a ball struck by your 3-wood or a long iron likely won't stick.
For just about anyone, it's a par 3 and a half.
The sixth hole ranks as the No. 1 handicap, though it's one of just three on the golf course at Shingle Creek in which water is no factor. Instead, No. 6 causes trouble as the longest of any par 4 on the course and also because of an imposing oak tree that snares drives struck down the left side.
The fifth and sixth together mark one of the toughest two-hole stretches in Orlando.
The back nine is slightly shorter than the front, but features water on all but one hole (No. 10), and a par 5 that tips out at 600 yards (No. 12). With 11 fairway bunkers staring you in the face, No. 14 is the most intimidating tee shot of the day.
The Brad Brewer Golf Academy, Shingle Creek Golf Club
As you approach the 14th green, notice the Brad Brewer Golf Academy that sits at the far end of the nearby driving range.
Brewer, who founded the academy and owns it, said he aims to help heighten golfers' awareness of fundamental changes and create a visual picture of their play.
"Our private learning center and studio bays provide online video software for motion analysis, high-speed cameras and launch-monitor technology," Brewer said.
Brewer's academy offers player-development services for all levels of golfer.
Like the Brad Brewer Golf Academy, Shingle Creek Golf Club attracts a melting pot of vacationers, locals and business travelers. With free valet parking, it's easy to leave quickly if you're simply golfing.
But if you're in search of convenient lodging, consider the hotel on property.
Rosen Shingle Creek, all things considered, ranks as a great resort with first-class amenities. Best of all, it's central to nearly every business and tourist destination in the Orlando area.
So if you prefer to spend less time driving a car and more time driving a golf ball, make Shingle Creek your hub and let 'er rip.
More photos
«
»
December 9, 2010
Erik Peterson is a former editor for GolfChannel.com, specializing in courses and travel content. He earned his bachelor's degree at University of Oregon's award-winning school of journalism and communication. He enjoys playing competitive golf and carries a 2 handicap, but appreciates strolling the fairways with people from all walks of life.