Shaftesbury Glen Golf Club near Myrtle Beach, South Carolina holds true on pristine image

By Ian Guerin,
Contributor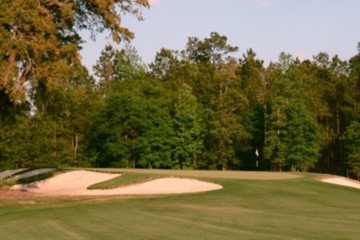 View large image | More photos
Despite it's location away from the heart of Myrtle Beach, it's easy to see why golfers come back to Shaftesbury Glen G.C. (Brandon Tucker/TravelGolf)
CONWAY, S.C. -- Golfers who make the 15-20 minute drive inland from the coast to play Shaftesbury Glen Golf Club are blindsided even before they tee off.
Just off the beaten path in northern Conway, S.C., Shaftesbury Glen relies on pristine conditions. The conditioning here has been well recognized; the course has been awarded best greens on the beach several years in a row by one golf publication.
But it isn't just the greens.
"We put in a pretty hefty penny," Director of Operations Ryan McCarty said. "Even with times getting tough, we always said we'd never compromise the condition of the golf course."
As players approach the Shaftesbury Glen club house, that fact is clear passing by just two of the 18 holes on the course. While some in the area struggle to keep grass the right color or put investments in other avenues, few can doubt Shaftesbury Glen's 10-year-old playing surface is one of the nicest in the Myrtle Beach area.
From the 300 or so members to the 85-percent tourist rate during peak seasons, all that manicured grass stands out.
Sandy Warr, an Ottawa, Ontario resident on vacation with her husband George, said it was impossible to miss, regardless of the grade of the five other courses she played previously during a recent one-week vacation.
"I would have noticed it either way, because it's in good condition," said Warr, a high handicapper. "Our one at home is usually in nice condition, so that's what I [look for]."
Shaftesbury Glen Golf Club: The course
George Warr picked some previous playing partners' minds before his trip to Shaftesbury Glen. And they all told him the same thing: Watch out for the sand traps.
Shaftesbury's 18 holes have exactly 50 sand hazards.
"They sure do," Warr said. "The group we played with [earlier in the vacation] came out here and said there were big traps in front of the green."
The traps, in various sizes, shape and steepness, are quite easy to explain, McCarty said.
Shaftesbury Glen Golf Club owner Paul Himmelsbach, a New York native, was in love with Winged Foot. So he and architect Clyde Johnston put together a golf course with plenty of elevated greens and accompanying traps.
Many are banked at a level that leaves high-handicap players shooting out away from the green. That's not to say they're impossible to avoid, however.
"I thought it was a very fair course, even with the sand traps, because there is an opening there," Warr said, referring to open slots to play through as players approach the most of the greens.
While wide fairways allow for plenty of big hitters to neutralize much of the distance on the course, it's the necessary precision around the greens and all those bunkers that generally determines the final tally on the score card.
The golf course, a 71.5 slope for the average player, measures 6,935 yards from the tips, 6,445 for the whites and 4,976 from the women's tees.
"Generally, people will come out here thinking it's a pretty easy golf course to play," McCarty said. "Until they play it."
Shaftesbury Glen Golf Club: Facilities and instruction
Shaftesbury Glen includes a full-service pro shop -- complete with individual golf instruction handled primarily by Head Professional Ryan Acre. Group instruction is available through the Glens Golf Group at another course in the area.
The course also has a large driving range and putting green.
The clubhouse includes a full-service restaurant/snack bar, and there are restrooms and a beverage cart available on both nines.
Shaftesbury Glen Golf Club: The verdict
If travelers looked at a position map of Shaftesbury Glen Golf Club in respect to other courses, it may appear to be well off the beaten path. But the course truly isn't that far away from the heart of Myrtle Beach, given its proximity to a pair of state highways.
Given that, it's easy to see why the well informed keep coming back.
Shaftesbury Glen doesn't doll up the outskirts of the course, surrounded somewhat by houses, instead dumping all that money into the playing surface. It's an approach that leaves the area from the tee boxes to the flag in prime condition, as well as one that gives golfers more than their money's worth at a price tag that is extremely favorable.
The golf course understands it's not the most centrally located. But for those who have made the short jog, that's easily forgotten after a round at Shaftesbury Glen.
More photos
«
»
May 4, 2011
Ian Guerin is a freelance writer and DJ living in Myrtle Beach, S.C. He's decent with the driver and putter; it's everything else in the bag that gives him trouble. Follow Ian on Twitter at @iguerin.