Pleasure before business: Seven Canyons golf course in Sedona, Arizona provides secluded scenery

By
Scott Bordow
,
Contributor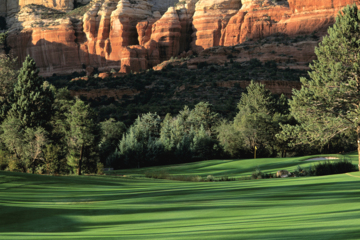 View large image | More photos
Golfers at Seven Canyons in Sedona, Ariz. enjoy a 360-degree view of Sedona's red rock mountains. (Courtesy of Seven Canyons)
SEDONA, Ariz. -- Tom Weiskopf had a visceral reaction when he first saw the land on which the Seven Canyons golf course would sit.
"It took my breath away," he said.
You'll likely feel the same way after playing the par-70, 6,746-yard golf course about 17 miles north of Sedona. Seven Canyons rates as a spectacular golf getaway, so much so that Bradley S. Klein, architecture editor for Golfweek, called it the "IMAX of golf."
"This course is very special," said Joe Gaffney, general manager of Seven Canyons. "We like to think we're one of a kind."
Seven Canyons was built as a private golf club in 2003. But like many private venues across the country, the downturn in the economy hit it hard. And Seven Canyons recently opened its doors to public play.
The golf course still is struggling financially. In late May, Seven Canyons Development Partners filed for bankruptcy. A few members have publicly complained about owner Dave Cavan and the decision to open Seven Canyons to the public.
The indignities continued when a couple of wells failed, and the fairways turned brown in May 2010. But with the water flowing by mid-June when my group played the golf course, the fairways had nearly recovered to their previously pristine condition.
The bankruptcy filing –- and the water shortage -– will not cause future problems, Gaffney said.
"It's business as usual," he said. "Hopefully, over time we'll prove to everyone this is a viable business venture."
Of course, budget sheets and bottom lines probably don't concern visitors. They want a luxurious golf experience. And in that regard, Seven Canyons still delivers.
Simply put, the golf course -– and the scenery -– is gorgeous. More than 100,000 acres of the Coconino National Forest surround Seven Canyons. Golfers enjoy a 360-degree view of Sedona's red rock mountains, and it's common to see wildlife such as deer and javelina. Mountain lions may lurk, too.
But the seclusion separates Seven Canyons from its neighbor courses in Sedona – Oakcreek Country Club and Sedona Golf Resort.
Seven Canyons sits several miles off the main highway, so no traffic or city noise barge in on the experience. Cell phones can't get a signal, but that's okay. You want to turn off the world at Seven Canyons.
The golf course itself is a bear, featuring narrow fairways and large, undulating bentgrass greens. Private clubs generally cater to low-handicap golfers, and Weiskopf followed suit here. Not overly long, it penalizes golfers who aren't on target.
"It's not an easy course," Gaffney said.
The 175-yard, par-3 fourth hole personifies the beauty and the beast that is Seven Canyons, starting with the breathtaking view from the tee box at Rachel's Knoll. You'll then find an 80-foot drop to a green protected by seven bunkers. When the wind blows against you –- and that's almost every day -– club selection is near impossible.
"That hole is always a challenge," Gaffney said. "You can hit anywhere from a wedge to a 3-iron."
All four par 3s pose particular problems, none more difficult than No. 17, which plays 246 yards from the tips and includes a creek that crosses in front of the green in addition to deep bunkers on both sides of the putting surface.
A par there feels like an eagle.
"You can get into a lot of trouble out here," Gaffney said.
Seven Canyons is worth it. Let's just hope business doesn't get in the way of a great golf experience.
Seven Canyons golf course in Sedona: The verdict
Do yourself a favor: If you know you're going to be in northern Arizona for a day or two, book a tee time at Seven Canyons. The golf course is an absolute pleasure, even if it does swallow a few golf balls. And with the incredible scenery, Weiskopf did well at this venue.
Stay and play at Seven Canyons
Can't afford the $300,000 that provides use of a luxurious villa at Seven Canyons for 28 days a year? Don't despair. Sedona features several resorts and hotels. The golf course also offers stay-and-play packages with the Enchantment Resort, Sedona Rouge and the Sedona Summit Resort.
More photos
«
»
June 23, 2010
Scott Bordow is the golf columnist for the Arizona Republic. Follow him on Twitter at @sbordow.