Secret Valley Golf Club in Cyprus offers quiet beauty, and a challenging round

By
Clive Agran
,
Contributor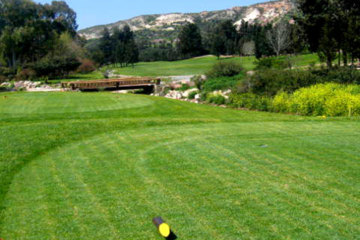 View large image | More photos
There is a significant stream that weaves throughout the entire length of the course at Secret Valley. (Clive Agran/WorldGolf.com)
PAFOS, Cyprus - Secret Valley Golf Club was the second golf course to be opened in Cyprus. Designed by local man Iacovos Iacovou, the first tee shot was struck back in September 1996. Created largely in response to demand from the considerable expatriate British community, for whom one club evidently was not enough, it flourished and rapidly grew in popularity.
Located just 10 miles east of Pafos near the legendary birthplace of Aphrodite, Secret Valley Golf Club's appeal to lovers of golf is principally founded upon its quiet beauty.
No one knows for certain where the name "Secret Valley" came from but, with its tall craggy sides that rise almost vertically on both sides, it's difficult to access from anywhere other than the nearby coast, is easily missed and therefore, perhaps, something of a secret.
Ownership of the club is now in the hands of Cyprus Golf Resorts, who also own Minthis Hills Golf Club. Members, of whom there are approximately 300, are able to play both. Which do they prefer? Almost inevitably, opinion is pretty evenly divided as to which is the better.
Secret Valley Golf Club is only a little above sea level and is therefore noticeably warmer in the winter months when the temperature drops into the 50s and 60s. This advantage, however, becomes a handicap in the summer months when the temperature soars and Secret Valley can become decidedly sticky. Thankfully, a cooling breeze almost invariably blows in from the Mediterranean to make things a little more comfortable.
Secret Valley Golf Club eminently walkable
The single greatest advantage Secret Valley Golf Club has over the other golf courses in the area is that it is eminently walkable. The valley slopes gently towards the sea and there are consequently know steep inclines to be negotiated. The concomitant factor of this is that there are no especially dramatic drops from elevated tees. But the golf course is certainly not flat and what opportunities existed for creating interest have certainly been seized.
There is a significant stream that weaves throughout the entire length of the course. After winter rain it swells to a more impressive feature but even in the summer months, when the water largely disappears, its rocky bed creates a serious hazard that puts a premium on precision off the tee. The numerous pretty wooden bridges that cross it are attractive features that add considerably to the overall appeal. There are also a few ponds by the clubhouse but these are principally ornamental and should not be a serious factor unless you over-club your approach to either the ninth or final hole.
There are quite a few bunkers, but not so many that they pose anything other than the occasional problem. Rather unfairly, in my opinion, a couple are hidden. For example, there is one on the first about 180 yards from the yellow tee that can't be seen when driving off. The suggestion is that you should either hit a really good drive or a pretty dreadful one and you'll be all right; something straight and in between will quite likely end in the sand. Did Iacovos Iacovou deliberately design secret bunkers to reinforce the secretive theme?
A more obvious problem for golfers is the trees which line most fairways. Although not thick enough to form woods let alone forests, they are a considerable and effective factor designed to punish the wayward shot. Because the shortage of water does not permit the rough to grow to any great height and at roughly 6,500 yards off the back tees the course is not too long, these "nuisance" trees are a legitimate means for the golf course to keep players honest.
Secret Valley Golf Club is delightful and well worth a visit preferably in the not-too-steamy months from September to May.
Renovated in 2006, the attractive clubhouse offers a year-round welcome and the veranda is the perfect place to sip a cool beer after the last putt has been sunk.
More photos
«
»
August 6, 2009
Although in his 60s, with a handicap of 15 and lifetime earnings comfortably below $100, Clive Agran nevertheless still believes he can win a major. Arguably England's most gifted golf writer, when not dreaming of glory he's scouring the globe simultaneously searching for lost balls and great golf courses. Follow Clive on Twitter at @cliveagran.