Ruttger's Bay Lake Lodge golf course: Old-school Minnesota rustic at its up-north best

By Judd Spicer,
Contributor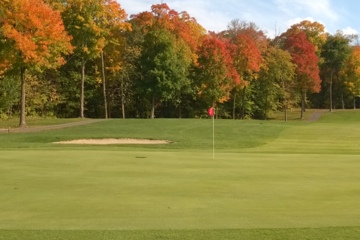 View large image | More photos
In the fall, the colors on the second hole of the Lakes Course at Ruttger's Bay Lake Lodge almost make it looks like it's on fire with all the reds and yellows. (Courtesy of Ruttger's Bay Lake Lodge )
DEERWOOD, Minn. -- If naturalist John Muir had ever created a golf course, it would probably look something like the Lakes Course at the venerable Ruttger's Bay Lake Lodge, located 30 miles east of northern Minnesota's Brainerd Lakes golf hub.
As pleasantly relaxed as the Brainerd region can be, nearby Ruttger's is even mellower, woodsier and, yes, more rugged.
"Some of the great resorts in Brainerd can feel a little bit ... busier in the summer, and weekends can feel congested sometimes with the road and lake traffic," said Dave Sadlowsky, head golf professional at Ruttger's. "We kind of pride ourselves in being more of a 'boutique style' course, a more serene and quiet place."
Cut through 100 acres of Paul Bunyan-like terrain, the late 1970s design from Upper Midwest architectural staple Joel Goldstrand proves pure rustic delight for those with some control of the golf ball.
Think camping, but with a 9-iron in your hand.
"We're very 'up north,' with the variety of lakes and nature," said Sadlowsky, citing the overt presence of oaks, maples, basswooods, birch, white and northern pines carved through the routing.
Ruttger's Bay Lake Lodge: The golf course
Placid, peaceful and totally free of modern encumbrance, Rutter's isn't without its inherent challenges.
"There's some undulation, some naturally rolling hills, along with some blind shots off the tees. But that can make it a course you'd play a lot and certainly not get bored, because of all the different positions you could find yourself in and all the different clubs you'll use," Sadlowsky said. "And I think the holes, for the most part, feel very unique unto themselves; there aren't a lot of holes that look like one another. It's not just going up-and-back past similar-looking holes."
The blind tees, along with myriad doglegs, indeed prove some guesswork for the newcomer, making tee selection paramount to first-timer success.
For both new and returning players, Ruttger's intrigue begins with a fun front-side run on nos. 2-6.
"In the fall, the colors on no. 2 almost make it looks like it's on fire with all the reds and yellows," Sadlowsky said of the short par-5 second.
On the ensuing hole, prudence leads to pars on a 381-yarder with a hard dogleg right to a downhill approach.
"The third can feel a little gimmicky the first time you play it," Sadlowsky said of the curious, yet ultimately engaging hole.
On the top-handicapped fourth, the back tee plays blind through a tough tree-carved chute.
"It's tough to even see the fairway from the tips, but even though there's that needed carry you still don't want to hit driver because it's such a narrow landing area," Sadlowsky said.
The latter nine finds a highlight on the par-4 12th, which charts as the second-toughest hole.
"A tough, but interesting and nice-looking hole," Sadlowsky said. "It's a very undulating fairway. Good luck on this one; you can try and cut the corner and a very tall stand of trees, but even if you do clear it, there's still a marsh tucked into the left side about 150 yards from the green. I like to leave a longer approach and play conservative off the tee with a hybrid and leave around 175 yards in."
Rounding home, Ruttger's concludes with some serious muscle.
"The finishing holes are a bear; there's not a let-up," Sadlowsky said. "The 17th has a blind tee play and then almost an island green with the water all along the front to the left side and really no place to miss. And for whatever reason, the ball seems to just fly long; and you can sense that a bit with the downhill approach. The best play is to the front, even though that scares people because of the water."
Ruttger's home hole will prove one of the toughest par-3 finishers most will ever play. Charting at 215 yards, the final tee shot requires a dramatic carry over lake water. The shot gears up some to overplay with 3-wood, which is why the course crew keeps extra window in stock for folks blasting over the putting surface toward the clubhouse.
"It's very good theater, and a lot of times we'll see groups out here where the first group that finishes will park behind the green or sit up on the deck overlooking the hole to watch the other folks finish," Sadlowsky said. "Take more club, don't even look at the pin placement and just try to hit the big green. It's intimidating for most, and a hole that's always on your mind throughout the round."
Ruttger's Bay Lake Lodge: The verdict
Joel Goldstrand-designed golf courses have a way of looking benign from the view of a scorecard, but always play a little tougher than most people think. Just a word to the wise that Ruttger's -- in all its peace and serenity -- will require a little navigation (and yardage book) for first-time guests.
Ruttger's proves pure up-north forested golf, and the slight drive from nearby Brainerd is well worth the visit, as players will undoubtedly acquire an adoration for the handsome wooded surrounds.
Also at Ruttger's is Alec's Nine, a par-34 design dating back to 1921, making it the first resort course in Minnesota.
More photos
«
»
July 26, 2016
Judd Spicer is an award-winning, veteran freelance writer hailing from St. Paul, Minn. After 12 years of covering MLB, NBA, NCAA and the active golf landscape of the Twin Cities, he relocated to the Palm Spring, Calif. region to further pursue his golf work and Champions Tour dream. Sporting measured distance off the tee, Spicer refers to his pitching wedge as his "magic wand." Follow Judd on Twitter at @juddspicer.